Living in a digital age, many people are abandoning the idea of burdening themselves with a mortgage and everything else that comes with homeownership. Working remotely over the web makes it easy to work from anywhere and see everything the world has to offer in the process. This is the case for Megan and Garrett who recently decided to move into their rig full time and travel to Arizona.
Megan and Garrett wanted to experience more outdoor adventures in the beautiful southwestern United States. The move to a travel trailer gave them more flexibility to adventure instead of managing a home. Living in an RV without your own power source can be limiting though, especially if the whole premise was to adventure and stay away from the crowds. RV parks are not what Megan and Garrett had in mind in terms of adventure. They needed to be able to park their trailer off-grid with a reliable power source in nature. Hauling around gasoline and running a noisy generator wasn't an option for them, so they began researching solar power. Their goal was to power their entire travel trailer with solar.
Being in Arizona, they knew that some days would be very hot. They needed their off-grid solar power system to be able to run the air conditioner 6-10 hours per day. Garrett works remotely so AC power was needed to power computers and internet connectivity. Given their needs, they needed a rather large solar power system. James went to work designing their system. He fitted their travel trailer with (7) REC 310 Watt Solar Panels totaling 2,800 watts. In addition to the solar panels, their system included several Victron components with the most prominent being a 3,000 watt.
The Victron Energy Inverter allows Megan and Garrett to power multiple appliances and the air conditioner simultaneously. The solar power is stored in their SimpliPhi Lithium Ferro Phosphate battery bank.
The solar system exceeded their expectations. When running the air conditioner during the day, they can typically generate enough power through the solar panels to exceed the demand of what they're using. The solar system provided Megan and Garrett their dream of being off-grid and closer to adventure.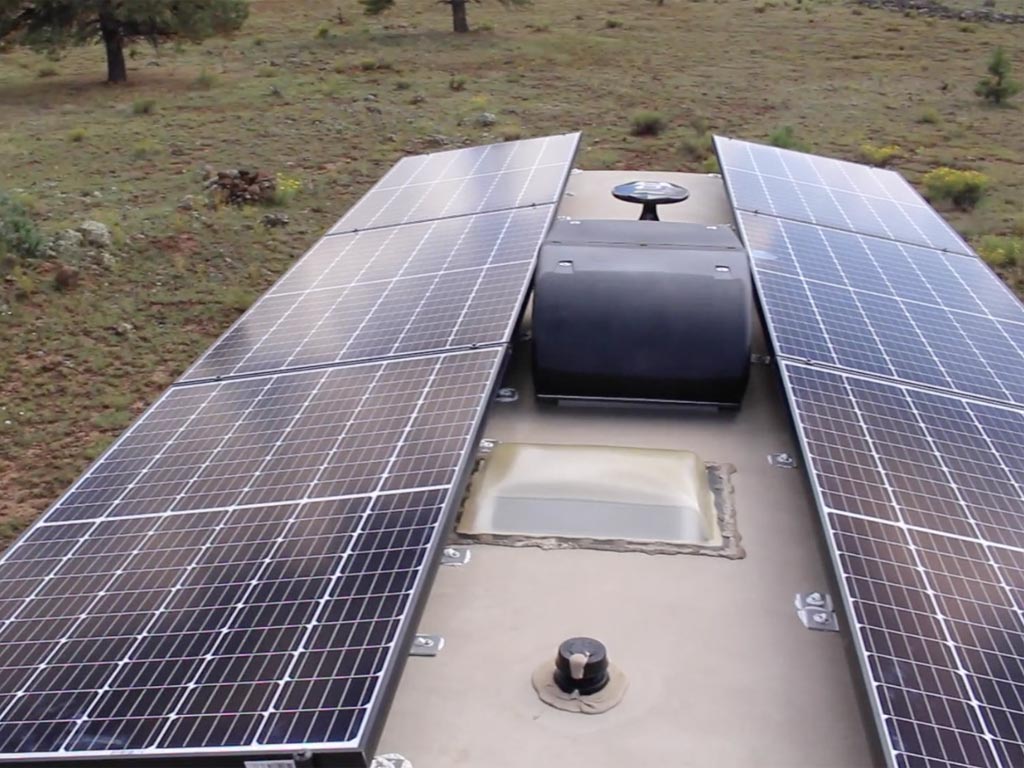 REC TwinPeak2 Mono Series 310 Watt Monocrystalline Solar Panels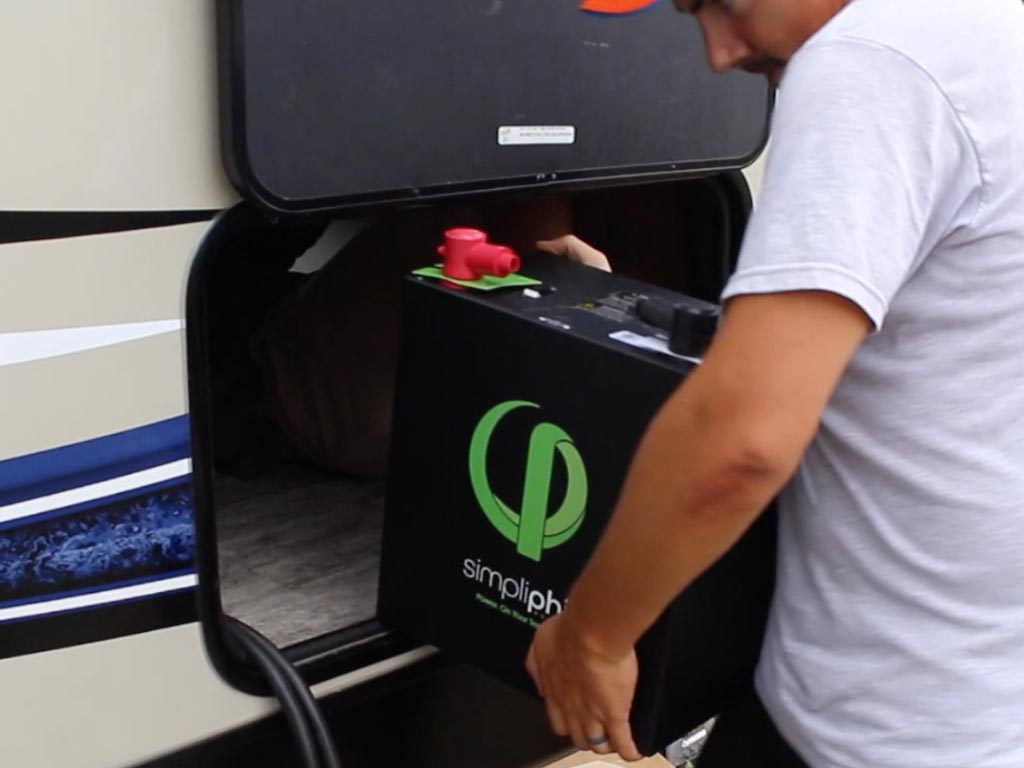 Simpliphi PHI-3.8-48-60 3.8kWh 48 Volt Lithium Ferro Phosphate Batteries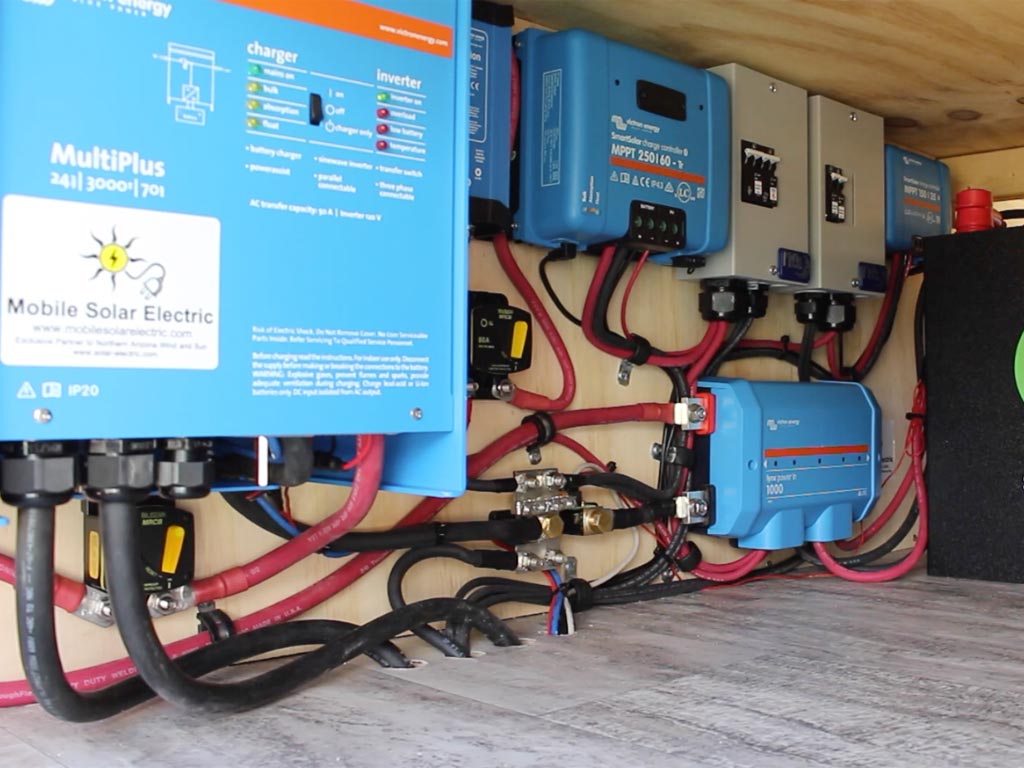 Victron Energy Components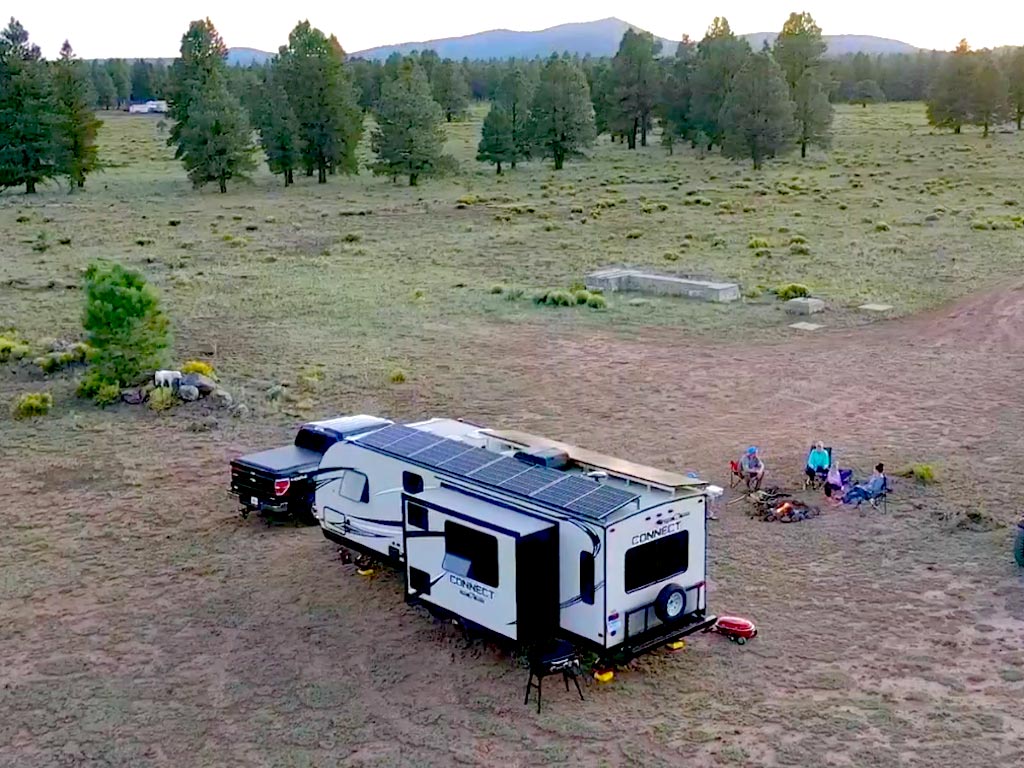 Solar System Install Completed!
Customer Feedback
It's always great to hear directly from the customer about their experience with our company. Feedback is highly valued, which allows us to deliver an even better product to the next customer.
How was the response time when you submitted an inquiry for a consultation?
Very prompt. James was extremely helpful to walk through the calculation on how much solar we needed to meet our wants and needs.
Were our prices competitive compared to other competitors?
The list prices were very competitive. We were comparing to other retailers. The quality was better with Northern Arizona Wind and Sun without the higher price point. In addition having their expert engineers to work with was a huge differentiator far surpassed working with any other retailer.
Do you think the free consultation provided value to you?
Yes, even coming in with an idea of what we would need being able to talk through the challenges with a solar engineer was critical to ensure that we had considered everything. This made us much more confident to move forward with the investment in solar.
How are our customized solar systems more beneficial than out of the box solutions?
Utilizing Victron's charge controllers we were able to optimize the production of each of our solar arrays to keep our batteries charged and prolong the reliability of the system.
How would you rate the solar system installation process?
The installation process went very smooth and this was no small feat considering how much equipment we packed into a travel trailer. Being able to get the install done in one day speaks to the experience and planning of the NAWS team.
Overall, did Northern AZ Wind & Sun meet your expectations?
They far exceeded our expectations and they will yours too! The wide selections of product offerings combined with their expertise will allow them to create a custom set up for you that will meet all your needs!
Our Take
Megan and Garrett reached out to us to create a no limits sustainable solution for their travel trailer of which they live in full time. As Escapees, it's necessary to boondock at least half the year and conditions might not always be favorable. Thus, this project required creativity and unprecedented concepts to operate anything and everything in the rig. The results were stellar. With over 2100W of solar on the roof and 7.6KWH of battery storage there really is very little that can't be done. To make the system efficient and cost-effective we engineered it around a 24V lithium battery bank. The AC power system uses a Victron Energy MultiPlus 3000 Watt 24 Volt Inverter / Charger. The 12V system is powered off a 70A DC-DC converter. There are two Simpliphi PHI-3.8-24-60 3.8kWh 24 Volt Lithium Batteries integrated onto a Victron Lynx Power In with full Victron Battery Monitoring. There are two arrays in the system, one of three modules in series and one of four in series into two Victron Charge Controllers. The modules are mounted using a rail type system with about a 3° tilt to shed rain and to reduce soiling. The system is fully monitored using the Victron Energy Color Control GX. Nothing but good feedback from the client at this point; the system easily operates the electric fireplace in the morning and the air conditioner in the evening plus much much more.
The installation was done by Mobile Solar Electric LLC, a partner company of Northern Arizona Wind & Sun.
Solar Power System Components
Below is a list of components that were used in this system.
REC TwinPeak2 Mono Series 310 Watt Monocrystalline Solar Panel (X7)
Simpliphi PHI-3.8-48-60 3.8kWh 48 Volt Lithium Ferro Phosphate Battery (X2)
Victron Energy MultiPlus 3000 Watt 12 Volt Inverter & 120 Amp Battery Charger
Victron Energy SmartSolar MPPT 250/60-Tr Solar Charge Controller
Victron Energy SmartSolar MPPT 150/35 Solar Charge Controller
Victron Energy Color Control GX Panels
Victron Energy BMV-712 Smart Battery Monitor with Bluetooth
Related Product Categories
Solar Price Breakdown
System Cost: $8,285
Federal Tax Incentive: Qualifies for $2,485 U.S. Federal Tax Credit (if installed before 2019)