David, a business owner in the masonry industry likes to take a break from the daily grind. Getting out on the open road and piloting his RV is the best kind of therapy for the California resident. Traveling the USA in an RV is the best way to the see the country, especially if it's energy independent.
Earlier this Spring, David reached out to Northern Arizona Wind & Sun to design and build a complete solar system package for this RV. It was important to be able to boondock or "dry camp" which means not having access to campground grid power and water, but still have the resources via solar to power their electrical needs. Like other RV clients we've helped in the past their main goal was to get away from the noisy campgrounds and surround themselves with solitude and a great view.
The first thing we did was calculate the power David intended on using. In order to figure this out, we had to know what David wanted to power in this RV. Each person's needs vary, but usually there are similarities. Some of the most common are TVs, water pumps, hair dryers, laptops, lighting and small electrical devices like phones or tablets. Once those loads are known, we use our solar calculator to input the specific load and how often we expect that load to draw power. This calculation gives us a solid benchmark of what the power consumption needs will be and how large or small the system should be designed.
Our team designed a system that consisted of (3) REC Solar REC370AA Alpha Series 370-Watt Solar Panels, Victron Energy MultiPlus 3000-Watt 12 Volt Inverter, Victron Energy SmartSolar MPPT 250/85-Tr Solar Charge Controller, Victron Energy Color Control Monitor and (4) Battle Born BB10012 Lithium Batteries.
The 3 REC solar panels combined output is around 1100 watts into a 400ah lithium battery bank! The system outperformed David's expectations and now allows him to boondock during his travels. Solar power once again delivers an RVer a sense of liberation and freedom to go anywhere, anytime.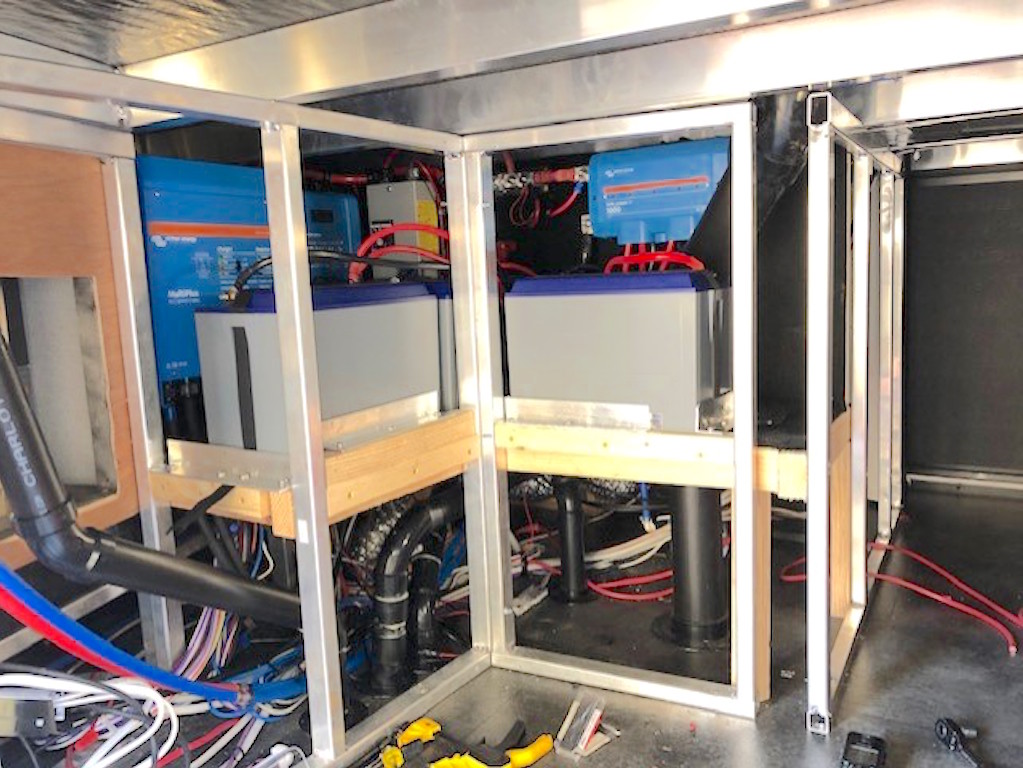 RV storage compartment filled with Victron Components and Batteries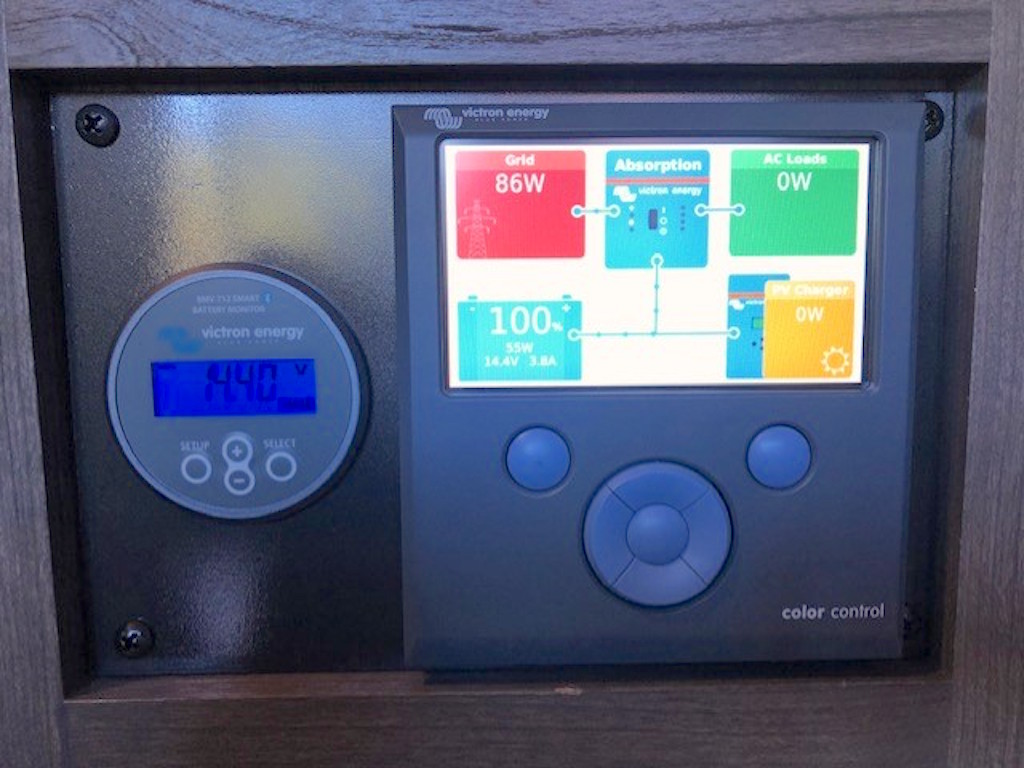 Victron Color Control to monitior input and output
Customer Feedback
It's always great to hear directly from the customer about their experience with our company. Feedback is highly valued, which allows us to deliver an even better product to the next customer.
How was the response time when you submitted an inquiry for a consultation?
It was very fast! The team did a great job with design and build package for my solar power system.
Were our prices competitive compared to other competitors?
The pricing was good!
Do you think the free consultation provided value to you?
Yes, 100%
How are our customized solar systems more beneficial than out of the box solutions?
It fit my needs and outperformed my expectations.
How would you rate the solar system installation process?
Not too hard to do - it was fun! Planning on having NAWS install the next project.
Overall, did Northern AZ Wind & Sun meet your expectations?
Yes, from the first call to the last, all were super helpful!
Solar Power System Components
Below is a list of components that were used in this system.
Related Product Categories