Arizona is home to many attractive off-grid properties that are located in remote areas of the state. Some of the most beautiful places in Arizona are those properties that do not have access to grid power and are located down several miles of dirt roads. There has been an increased demand for these types of properties recently to get away from highly populated areas for various reasons. Solar power has enabled people to venture out of their comfort zones to be self-reliant and purchase a property that they've always wanted but still have the luxuries of electricity without compromise.
This week's customer story features an Arizonan who lives the off-grid life. Gino is native of central Arizona and has lived there for 41 years. While living there, he's worked as a general contractor and builder for 23 years. Thirteen years ago Gino purchased a property with a cabin and water well, which can be a rare commodity in Arizona. While the well served his needs, he always wanted a better producing well on the property. Gino achieved his goal of getting another well drilled that surpassed his expectations, but he didn't have a way to get the water out of the ground. At his location, grid power was not an option. A solar powered solution was the best option for pumping water from the well but he wasn't sure where to start with the project.
Gino contacted James at Northern Arizona Wind & Sun and he was able to design a solar direct pumping system that was customized for his application. Solar direct systems are different than a traditional solar power system. Solar direct means the system does not require an inverter or batteries to provide power to the load (in this case the load would be the water pump). The power is supplied directly to the water pump as long as the solar panels are receiving sunlight and if the manual switch is turned on. The design included (4) 325-watt REC Solar N-PEAK panels and a Grundfos SQFlex Submersible Solar Pump. The solar panels are mounted on pole mounts to form Gino's solar array. It is wired to the pump located 260 ft below the ground. Anytime the sun is shining, the pump can be turned on to output approximately 12 gallons per minute providing water for household use, two tanks on his property and a couple of farm hydrants.
Gino admitted he didn't know much about solar power, but as mentioned earlier he's well versed in building which gave him the experience needed to build the solar array mounting system. The well driller gave him a hand setting the pump and wiring everything together. The rest is history!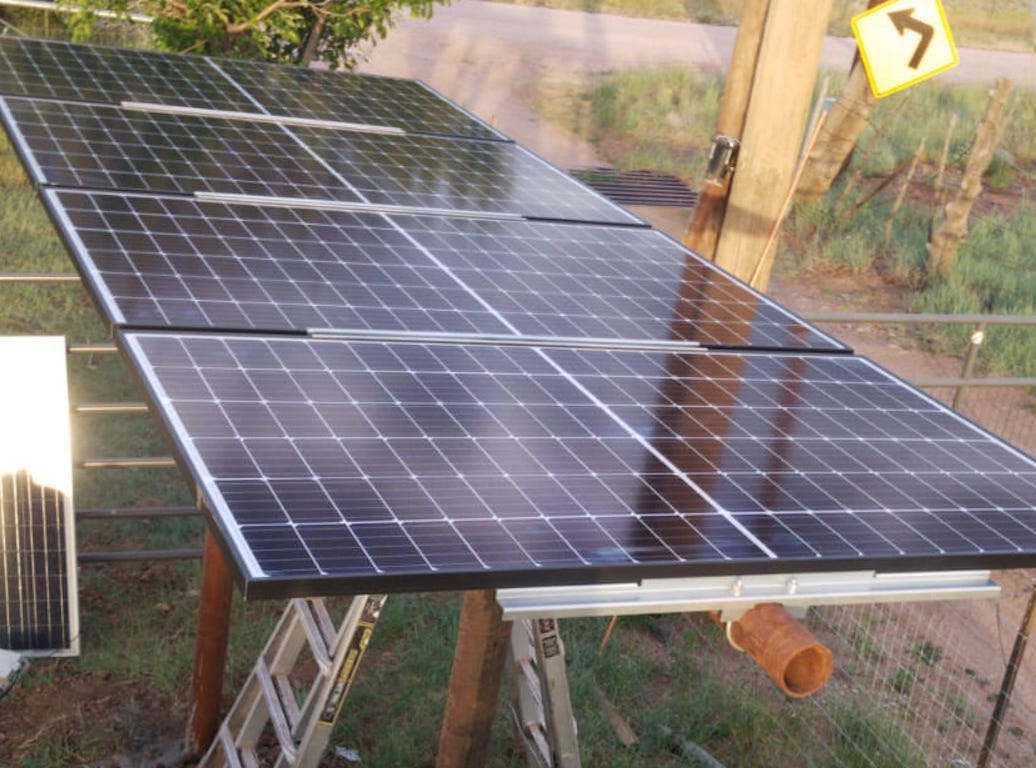 The solar array consists of 4 325-watt solar panels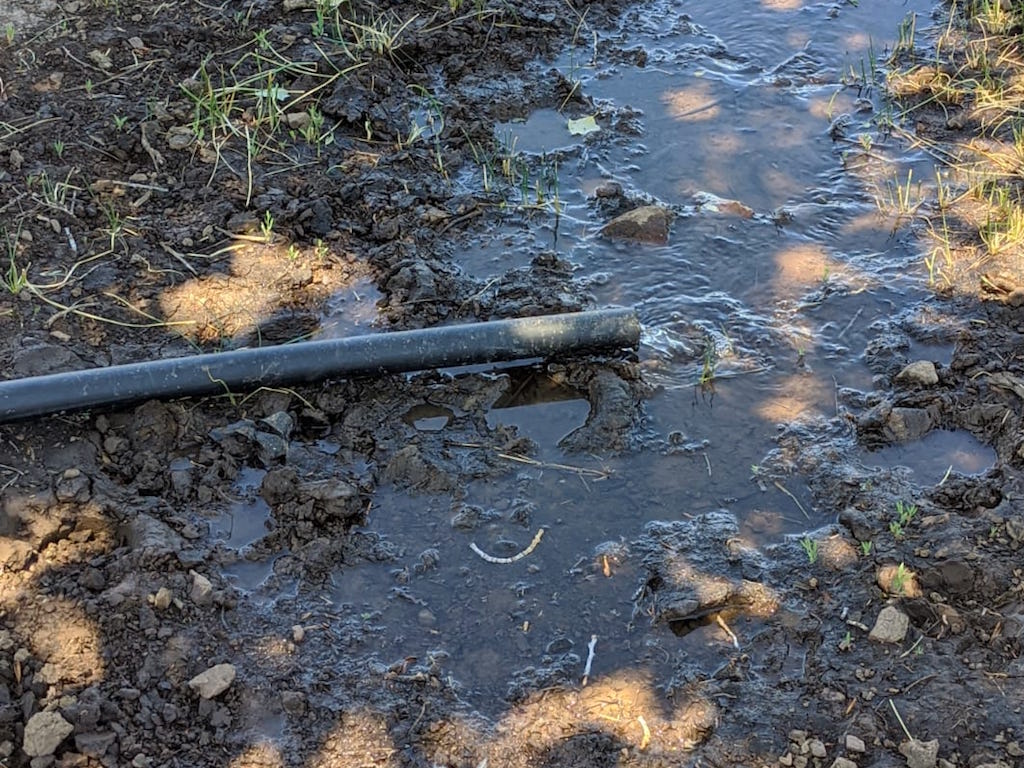 Gino pumps water to feed two tanks on his property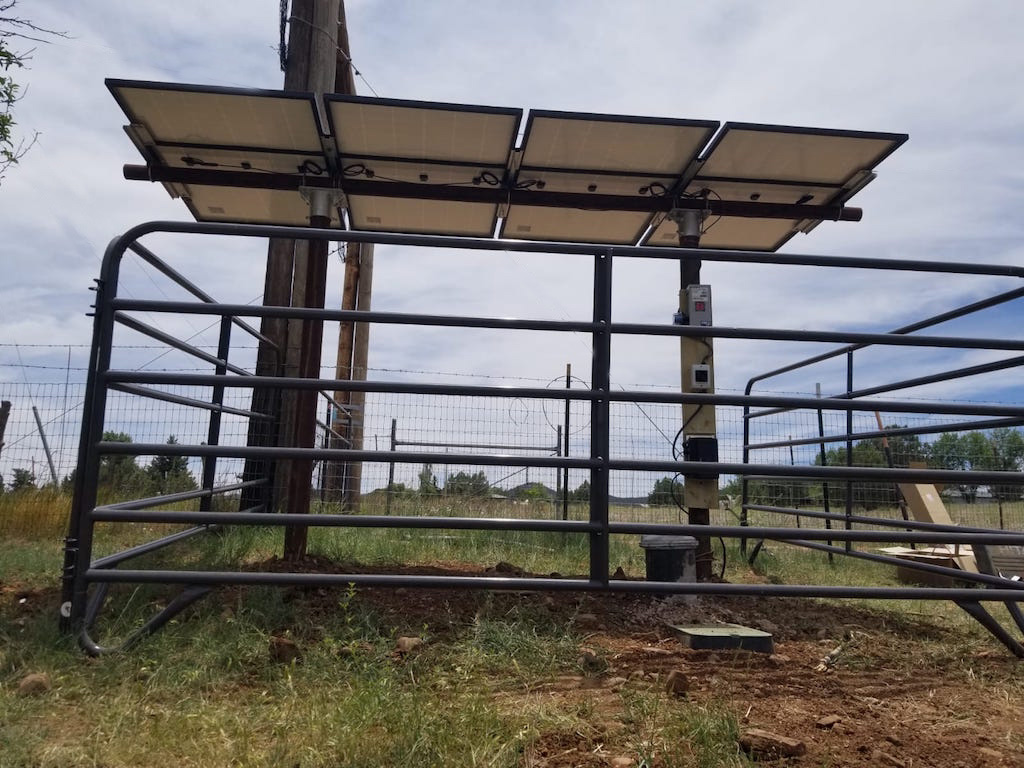 The solar array is mounted on pole mounts
Customer Feedback
It's always great to hear directly from the customer about their experience with our company. Feedback is highly valued, which allows us to deliver an even better product to the next customer.
How was the response time when you submitted an inquiry for a consultation?
It was fast! James was hard at work helping me with a design and helping me with the best way to put my system together.
Were our prices competitive compared to other competitors?
Yes! I feel like I got more pump and more panels for about the same money as a competitor had priced for me.
Do you think the free consultation provided value to you?
Absolutely!
How are our customized solar systems more beneficial than out of the box solutions?
It was built for ME, for my needs and expectations.
How would you rate the solar system installation process?
It was pretty easy. I'm no electrician but we made water come out of the ground on the first try... James made it as easy as possible!
Overall, did Northern AZ Wind & Sun meet your expectations?
Yes, in every way.
Our Take
Gino needed a water pumping system for his off-grid property and needed to store water on-site. He previously used a generator but wanted a solar direct solution for a more passive energy source. We designed the system for him to do solar direct water pumping. That means the solar panels are feeding power to the pump directly – no batteries! His goal was 12 gallons per minute from a pump depth of 260 ft, which was obtained. Calculations tell us that his system could pump 3000 – 4500 gallons per day if needed. Gino was a pleasure to work with and we're proud to have helped him with the design of his solar direct pumping system.
Solar Power System Components
Below is a list of components that were used in this system.
Related Product Categories