Our latest customer story shifts to Colorado. Tom, who spent 4 years in the US Air Force and worked in the airline industry for 32 years, moved to Colorado in 2005 along with his wife to build their own log home. Since Tom was the owner and builder, he was able to do their own electrical and plumbing with the intent of integrating geothermal heating/cooling and solar power. This wasn't Tom's first rodeo when it comes to electrical and solar power.
Over 50 years ago, when Tom was in college, he designed a 2-story octagon house that rotated 360 degrees a day. The structure had solar cells to power a hydrogen generator that produced hydrogen gas which ran an internal combustion engine used to the house, heat water and produce electricity. Given his experience in working on projects linked to geothermal and solar power for many years and knowing the cost associated with solar power, the realization was that the price of solar power finally came down far enough to make it affordable.
Tom's biggest obstacle for acquiring solar power for their log home in the past, was the expense. After having several solar contractors produce estimates on a 16kW system over the years, no one was able to give them a realistic cost, so their project kept getting delayed. Being that solar power is now more affordable coupled with the knowledge Tom acquired over time helped reduce their costs dramatically. He was also able to do the work himself which gave them the opportunity to get their project underway.
Tom researched Northern Arizona Wind & Sun for a while and decided to contact them for an estimate on a 16kW system for their home. The system would be grid-tied to start with the ability to go off-grid later. Jason, a solar sales engineer at Northern Arizona Wind & Sun, suggested Tom go with a new product called OutBack Skybox. The system does not require batteries to be grid-tied but would allow him to have a battery backup feature in his system in the future if he desires. Being expense was the biggest factor in moving forward with solar, OutBack Skybox allowed Tom to eliminate the need to purchase batteries which accounts for a large percentage of the expense in owning a solar power system.
The solution worked perfect which allowed Tom and his wife to have a system that can be adapted for off-grid use in the future when they invest in a battery bank, while still utilizing the sun to reduce their grid energy consumption.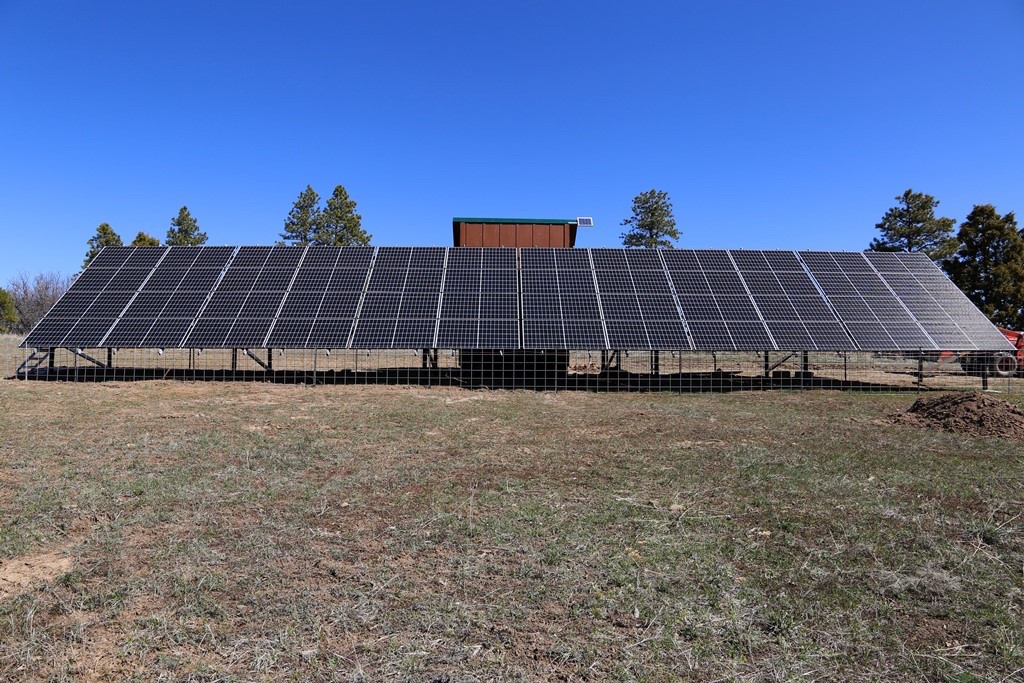 REC Solar 320 Watt N-Peak Monocrystalline Solar Panel Array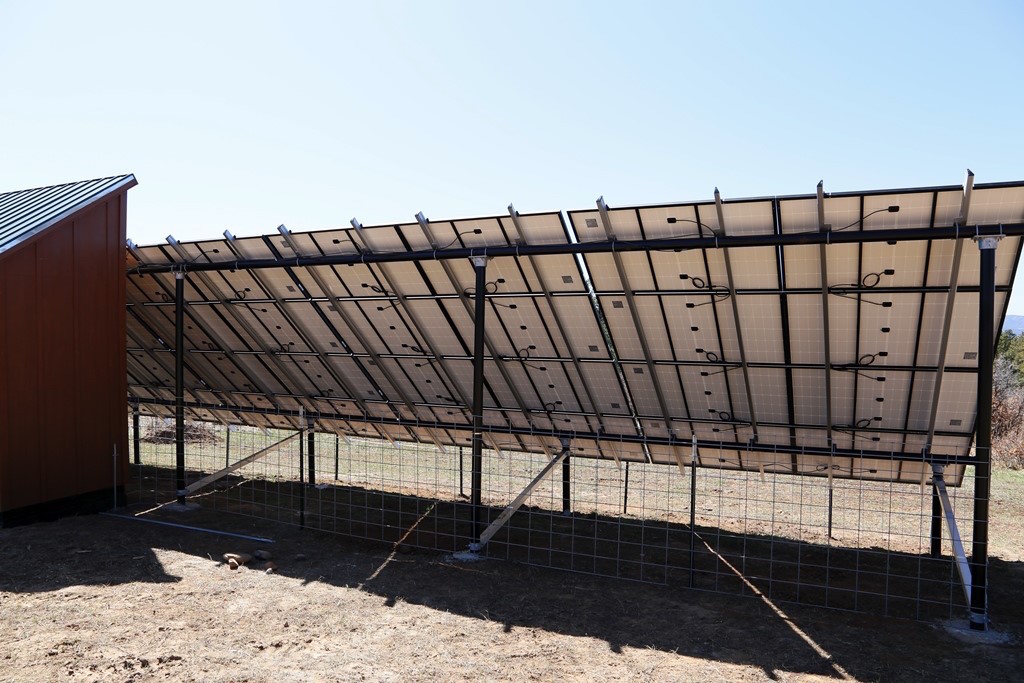 Another look at the array setup from behind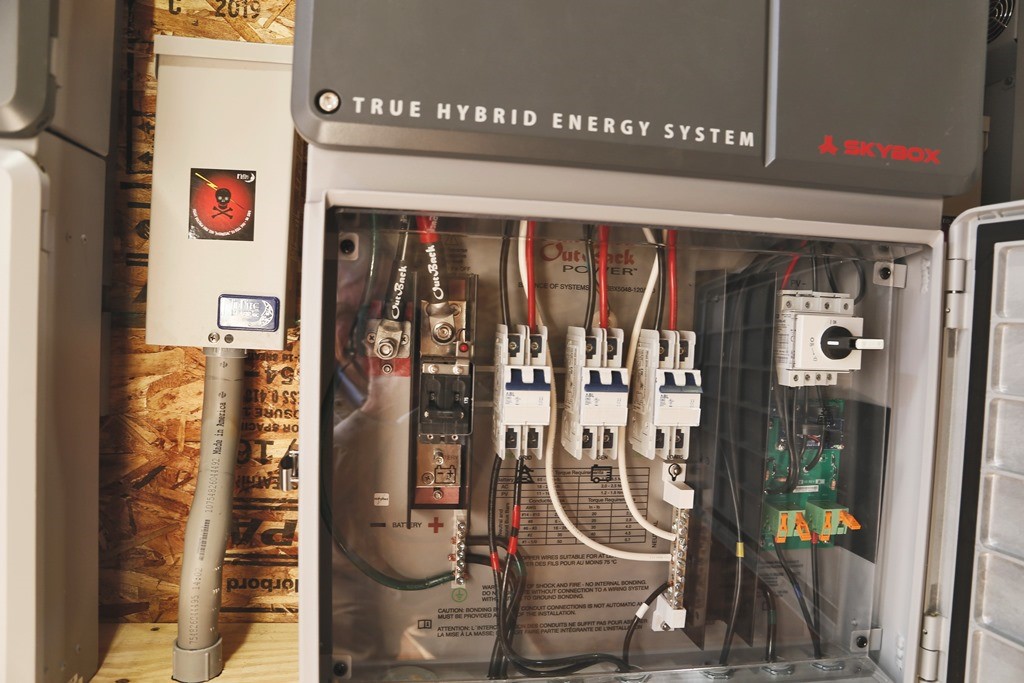 OutBack Skybox
Customer Feedback
It's always great to hear directly from the customer about their experience with our company. Feedback is highly valued, which allows us to deliver an even better product to the next customer.
How was the response time when you submitted an inquiry for a consultation?
Once I contacted Jason, we set up an appointment for the next week when we could drive to Flagstaff. Jason provided us with the information we were looking for, and he was able to give us an estimate for solar system by the time we arrived back home.
Were our prices competitive compared to other competitors?
The reason I contacted Northern Arizona Wind & Sun was that their prices were one of the lowest and closest to us, which allow us to pick up our product from Flagstaff.
Do you think the free consultation provided value to you?
Absolutely! I have stayed in touch with Jason throughout our transaction with many questions he has given me many answers.
How are our customized solar systems more beneficial than out of the box solutions?
Out the box solutions did not give me the information that I was looking for.
How would you rate the solar system installation process?
Installation was very easy as the documentation provided all the details I needed to complete the project.
Overall, did Northern AZ Wind & Sun meet your expectations?
Most definitely.
Our Take
Tom first came to us looking for a system he could grid-tie and eventually build a battery bank to support the home without the grid. The OutBack Skybox is the solution we came to after exploring all the other options. The Skybox is a 5kW Hybrid Inverter Charger, it gives him the ability to set up his system as a grid-tied system and add batteries as he can. Tom went with 3 Skyboxes; he can expand the system up to six 5kW skyboxes if he needs to.
When Tom decides to add Batteries to this system, he can use a 48V configuration of almost any battery chemistry he wants. If he plans on taking the system off grid and having the battery bank support the loads, then he might choose a Lithium bank with a high cycle life and deep discharge. If he just wants to set up a back-up battery bank for times when the grid is not available, then he might go with an AGM or Flooded lead acid battery bank that will act as a standby system, only to be discharged when needed.
For people in Tom's situation, who have the grid but want to be self-sufficient and manage their own renewable energy system, the skybox offers a new solution for a system that can expand as the customer's energy needs do.
Solar Power System Components
Below is a list of components that were used in this system.
Related Product Categories