Mike and his wife are in their late 20s and have lived in Flagstaff for nearly 10 years. Flagstaff is the largest northern-most city in Arizona. It's not the typical Arizona landscape you immediately envision. Full of ponderosas and aspen trees, Flagstaff is an outdoor haven for adventure seekers or those trying to get away from the rat race. It's a short drive up from the Phoenix metro area and is popular weekend destination for those that are weary of the summer heat.
The couple wanted to build their own home for several years. Due to cost, time and resources they opted for a tiny home build. Tiny homes are usually under 160 square feet. Normally they are 8' x 20' so they can be built and hauled on a trailer. Some opt to put their homes on a foundation, but many prefer to keep them on a trailer so they can remain mobile, much like a travel trailer.
Mike's situation was much different. It wasn't just a tiny home on a trailer, it already had wheels! Yep, the couple decided to convert an old school bus into their very own home. These are called "skoolies", which are a growing trend among digital nomads. They converted the school bus into a livable space with all the amenities you would normally see in an RV travel trailer. Much like RVs, their skooly needed a source of power if they want to enjoy boondocking or staying out of campgrounds. They needed to plug into a conventional 110v power system, so they could power their daily conveniences.
Solar power was the obvious option for powering their rig. After doing some research, they quickly realized they needed help. With so many options, products and configurations they sought out help from Northern Arizona Wind & Sun for designing their system that would be tailored to fit their specific needs. Mike explained to Logan (one of our engineers) what they needed to power inside their skooly. It was important to know how long they needed to run certain loads so Logan could size the system appropriately. Once that information was narrowed down, it was off to the races!
Logan outfitted their renovated school bus with a Xantrex Freedom 2000 Inverter Charger to invert the power from (2) Centennial Sealed AGM Batteries to 110 volts. Feeding the battery bank was a 325-watt solar panel connected to a MidNite Solar 30 Amp MPPT Charge Controller. This combination gave the couple everything they needed for a solid power source that allowed them to travel anywhere they wanted.
Scroll down for a linked list of components used in this solar build.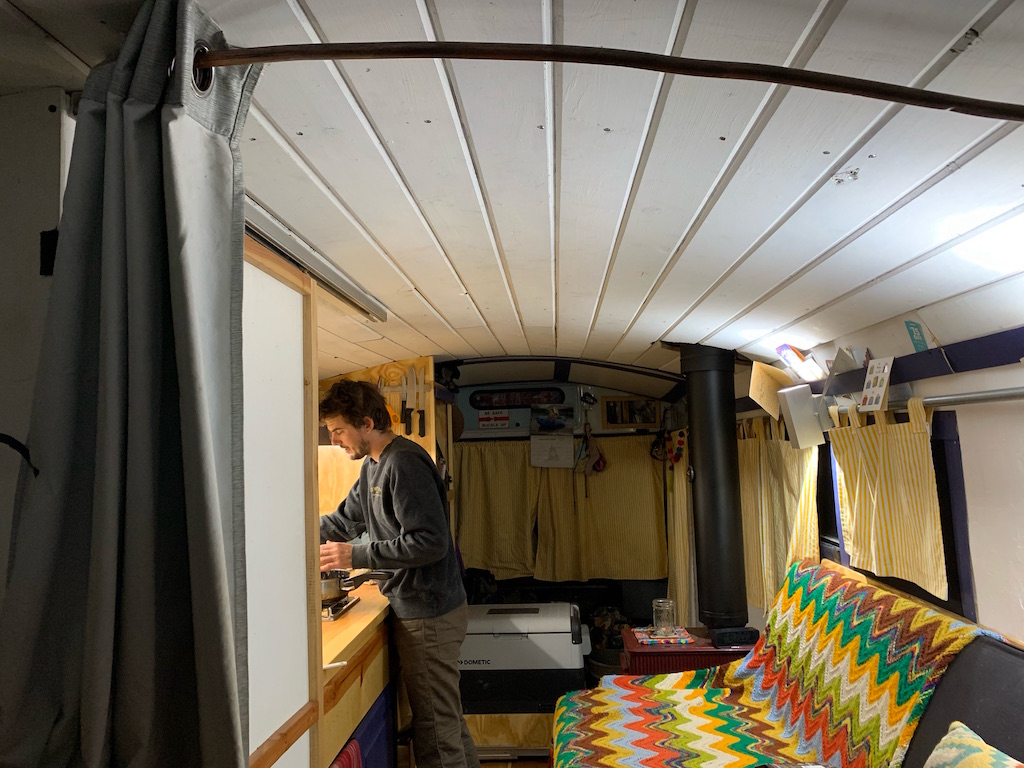 Inside of Mike's renovated skooly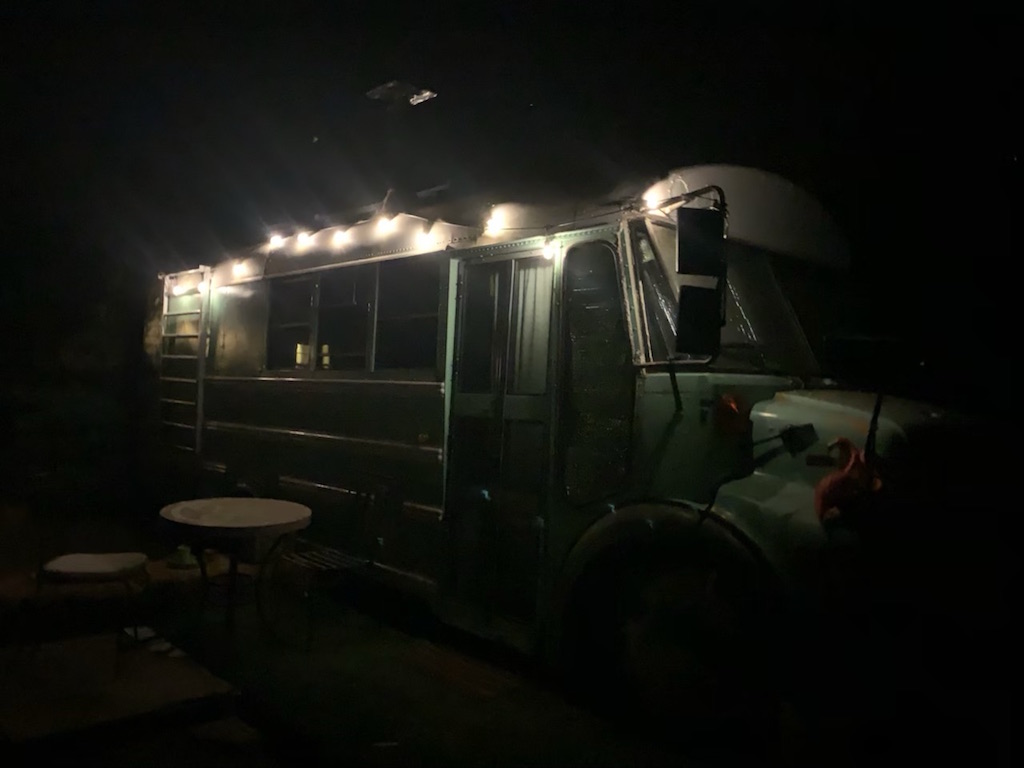 Solar power lighting the exterior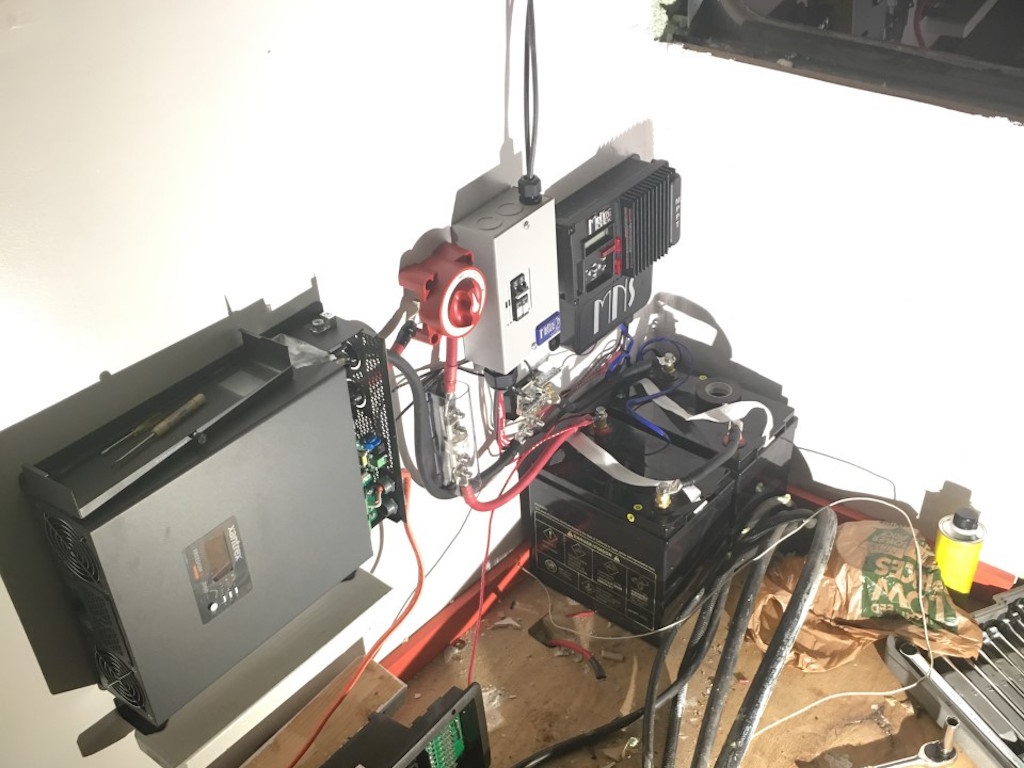 Components and electric getting roughed in during renovation
Customer Feedback
It's always great to hear directly from the customer about their experience with our company. Feedback is highly valued, which allows us to deliver an even better product to the next customer.
How was the response time when you submitted an inquiry for a consultation?
Faster than I thought possible.
Were our prices competitive compared to other competitors?
To be honest I can't say if the prices were competitive or not. After my first time talking with Logan, I knew that I was going to be working with NAWS for all our solar needs because his knowledge and wiliness to help was 1000% worth it whether the prices were competitive or not (which I bet they are).
How are our customized solar systems more beneficial than out of the box solutions?
I just don't see how an out of the box solution could come anywhere near the quality of our setup. Everyone who I know who has a sprinter made into a camper or another tiny home sees our solar and electric setup and their jaws drop. They compare it to their setups bought off Amazon and it wins by a mile every time. It looks amazing and the system is setup so that it's fully dummy proof. We told Logan we didn't have a lot of experience with this stuff, so he helped us program in safeguards and auto shut offs to ensure that our batteries aren't harmed from over usage, all the wiring is sized correctly for the wattage and everything is fused for safety. This to me is really the biggest reason our system is better than most, the safety. Working with someone like Logan who has a background in electrical engineering we were able to steer clear of many safety issues I see in other solar setups.
How would you rate the solar system installation process?
It was extremely hard but as always Logan was there to answer questions and make it happen!
Overall, did Northern AZ Wind & Sun meet your expectations?
NAWS didn't just meet our expectations it blew them away.
Solar Power System Components
Below is a list of components that were purchased for this system.
Related Product Categories