Our solar project this week features customer David G. of Northern Arizona. David and his family purchased property in the high desert of Northern Arizona to be closer to extended family. Their intention wasn't necessarily to go off-grid with their power needs, however, the location where they purchased their property dictated solar to be their only power option. That's when David researched solar power and ultimately contacted our team at Northern Arizona Wind & Sun.
David's 20-year background in the US Navy gave him plenty of experience working on various aircraft as a structural mechanic. Working on landing gear, hydraulic systems and structures of the aircraft were day-to-day tasks for David. Electrical knowledge wasn't something he obtained from his service in the Navy, so learning how solar electric is designed and used was a huge obstacle for him. Taking some classes at his local community college helped bolster his confidence in dealing with residential wiring, alternative energy, and photovoltaic systems, which also helped him prepare for his off-grid solar system project.
After a lot of research, David reached out to our Sales & Design Team at Northern Arizona Wind & Sun to help him get an idea of what type of solar power system he needed for their everyday use. Our team helped him understand the DC solar power to AC power needs along with helping him work through the math and nomenclature that comes along with designing a solar system. After taking some time to understand David's needs, our team directed him to the Outback Radian Series FPR-8048A to be the centerpiece of the solar system. Using this system alleviated David's worry about maintaining or installing a complex solar system. Connecting the PV (photovoltaic) array and the batteries and wiring everything up to an AC panel for your 120/240 connections simplified the overall scope of the project more than David originally thought.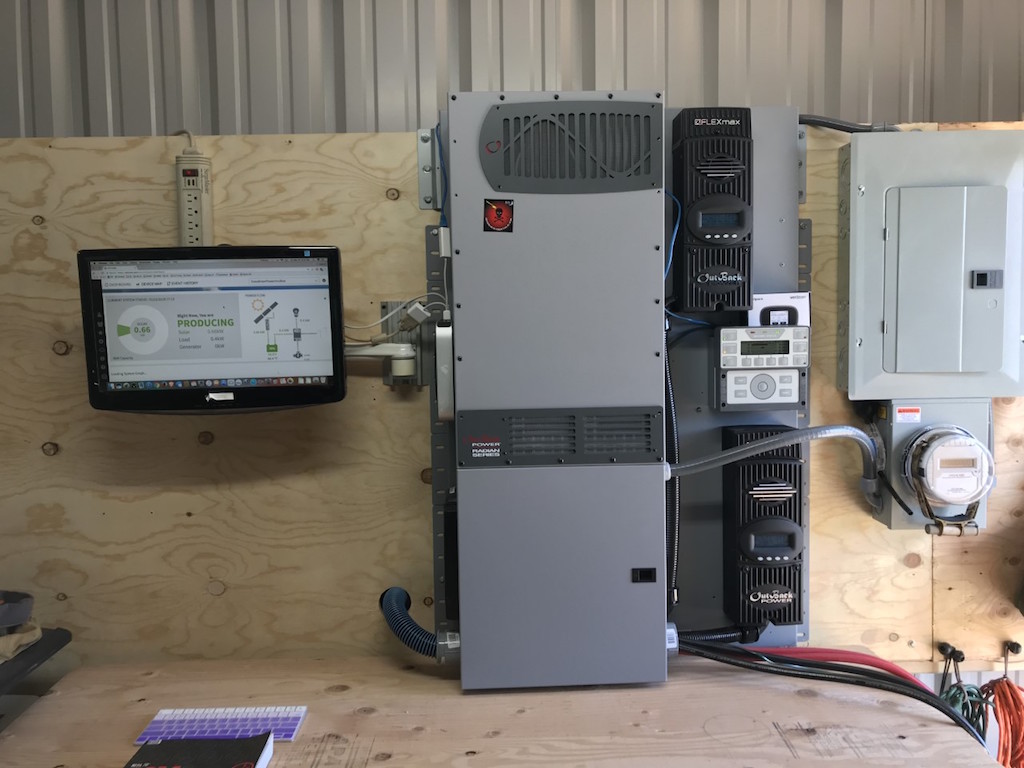 Outback FLEXpower FPR-8048A-01 Inverter - 8,000 Watts 48 Volts for Grid-Tie and Off-Grid Systems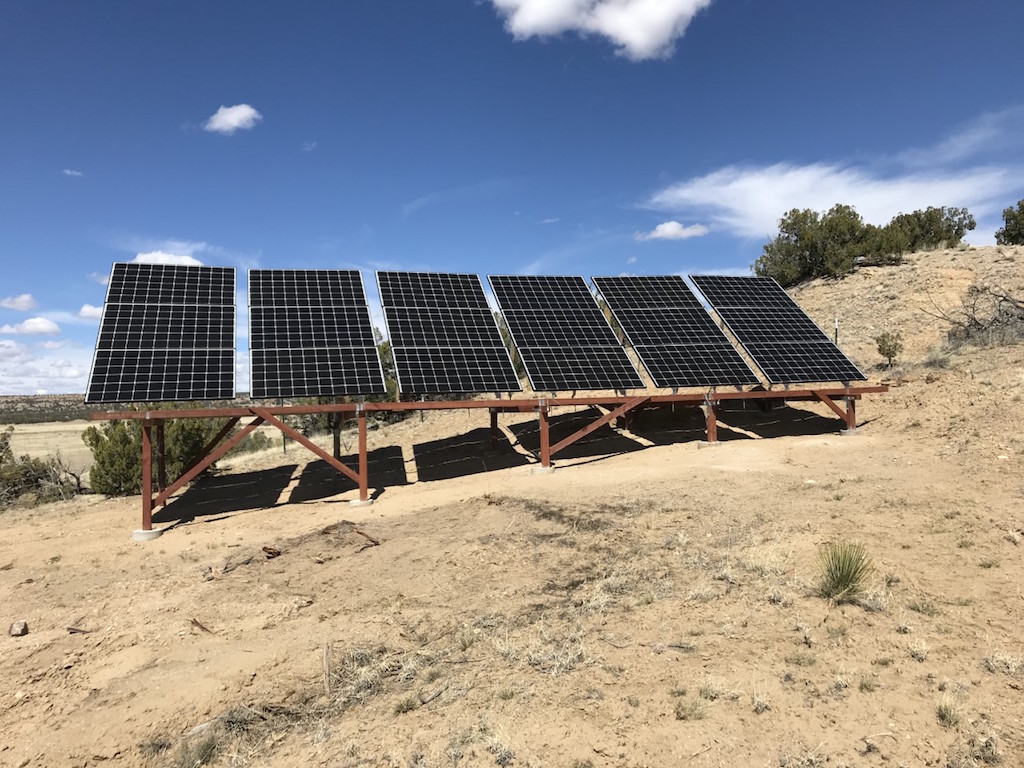 (18) Canadian Solar CS6K-305MS Monocrystalline 305 Watt Solar Panels
Customer Feedback
It's always great to hear directly from the customer about their experience with our company. Feedback is highly valued, which allows us to deliver an even better product to the next customer.
How was the response time when you submitted an inquiry for a consultation?
Excellent. Jason started working with me at the beginning of October 2017. On every occasion of an email or phone call right through to the time I purchased my system in October 2018, he was always available in a timely manner. Sometimes it seemed like I might have been the only customer, it was that good.
Were our prices competitive compared to other competitors?
NAWS (Northern Arizona Wind & Sun) prices weren't just competitive, they easily beat every other quote I received from dealers and I am sure they beat the quotes from installers who were all hesitant to give me a complete price breakdown.
Do you think the free consultation provided value to you?
I made various other inquiries to other dealers and installers. None of them came close to being able to converse with me and cut through my lack of knowledge to get me talking apples to apples the way Jason was able to. I believe this was the greatest point in my choice to purchase from NAWS. Even if the pricing had been lower elsewhere, the communication and knowledge gained during the year of designing and planning my system was well worth the money spent and time invested.
How are our customized solar power systems more beneficial than out of the box solutions?
In my case, a customized system required more input and design from NAWS which gave me the opportunity to learn about solar and have a better understanding of the components of a system, their abilities, constraints and which ones would meet my needs. I tend to think that kit solutions require you to scale your needs to fit the constraints of the kit, whereas a custom system lets you scale the system to meet your needs.
How would you rate the solar system installation process?
The installation process was not as complicated as I expected it would be. After over a year of planning and reading the documentation on my system components, finally getting the hardware in my hands, and being able to visualize from that point made it super easy.
Overall, did Northern AZ Wind & Sun meet your expectations?
Without a doubt, yes! After the price of the system, racking, backup generator, PV array base, miscellaneous tools, and electrical installation hardware, I have a significant amount of funds in this system. I feel it is one of the best purchases I have ever made. Between the communication during design and work up, the ease of installation and the post-install support I could not ask for more.
Our Take
I first spoke with David about a year before he purchased his system. He purchased property in St Johns, AZ and was planning on building a house. He needed a system that he could expand as he needed more power, this led us to the Prewired Outback Radian 8kW inverter charger. The system is set up currently with eighteen 305W 60 cell panels, this can be expanded to a max of Thirty 60 cell panels of a similar power output.
David expressed his interest in learning all he could about the system, this led to many calls over the following year and him attending some courses on Photovoltaics and DC power. Every time I spoke with him, he had learned more, therefore, he had more questions. By the time David was ready to purchase the system, he had a good idea of what he was getting into.
He installed his system himself using the manuals provided by Outback and a simple wiring diagram that I created. Once the system was up and running, he connected the system to the internet to monitor and make changes on Outback's Free Monitoring software, Optics RE. Once that was done, he sent me an invite and I am now able to see what is happening with his system at any time. This is a game-changer for my job, he can send me an email or call on the phone and we can both see exactly what is happening with this system. I also use his system as an example to show other customers the ease of use and additional support this provides.
If David comes to the point when he wants to add more panels to the system, he can easily do that by adding panels in multiples of 3 and swapping out the combiner box for a larger one. When that time comes, I will be happy to get him the equipment he needs.
Solar Power System Components
Below is a list of components that were used in this system.
Related Product Categories
Solar Price Breakdown
System Cost: $19,671 (not installed)
Yearly System Output: 10,000 kWh per year
Federal Tax Incentive: Qualifies for $5,901 U.S. Federal Tax Credit (if installed before 2019)