This week's article features Ed, a full-time RV'er. Ed is a retired commercial industrial HVAC service technician that worked in Denver providing service to everything related to heating and cooling. After leaving the workforce, Ed started living in his RV full-time in June 2017. He sold his 29' travel trailer and purchased a brand new 39' fifth wheel as his home in January 2018.
Solar electric power was something Ed always wanted to install after attending an Escapees event in Arizona and seeing the freedom that solar can add to the boondocking experience. For Ed, it was more of a want than a need in order to extend his off-grid capability.
One challenge was deciding on how much solar power Ed needed for his RV setup. Trying to figure out the loads and the equipment needed was a learning curve, like most customers new to solar power. Referencing YouTube and the Internet helped Ed gain a better understanding of DC power and what components were needed for his RV off-grid power system.
After doing extensive research, Ed decided on the Victron product line and REC TwinPeak Solar Panels for the roof. While there were numerous choices in equipment, he decided that it made the most sense to stick with one brand that has a worldwide presence in the solar and wind energy market along with a solid reputation for excellence.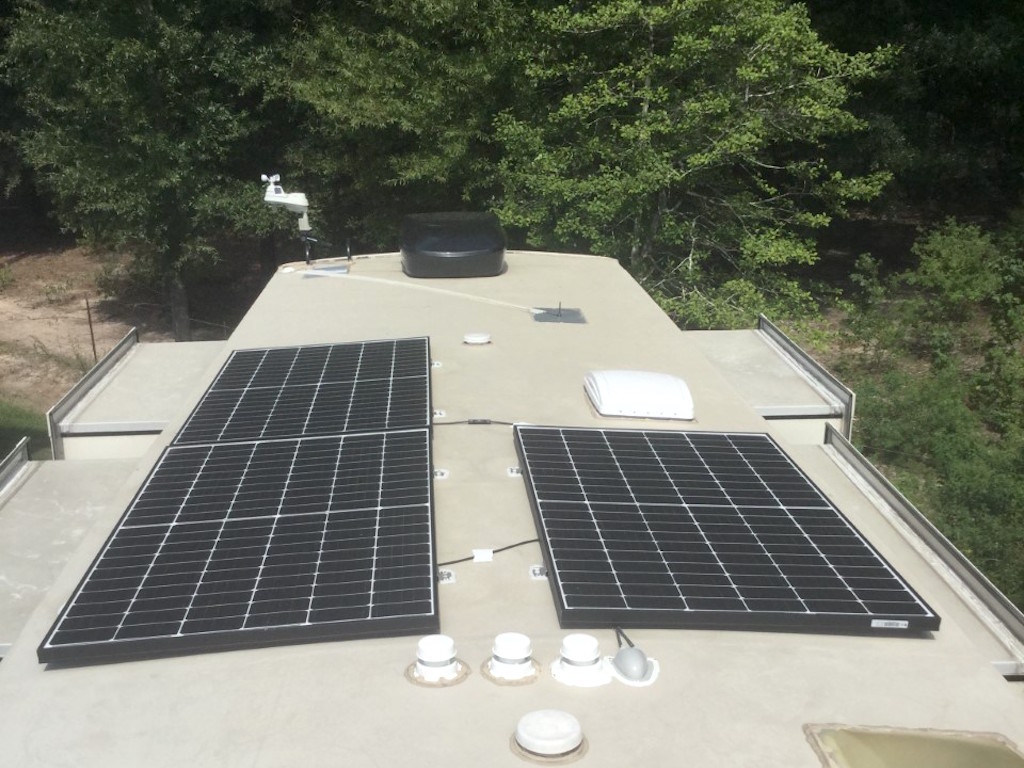 REC TwinPeak2 Mono Series 310 Watt Monocrystalline Solar Panel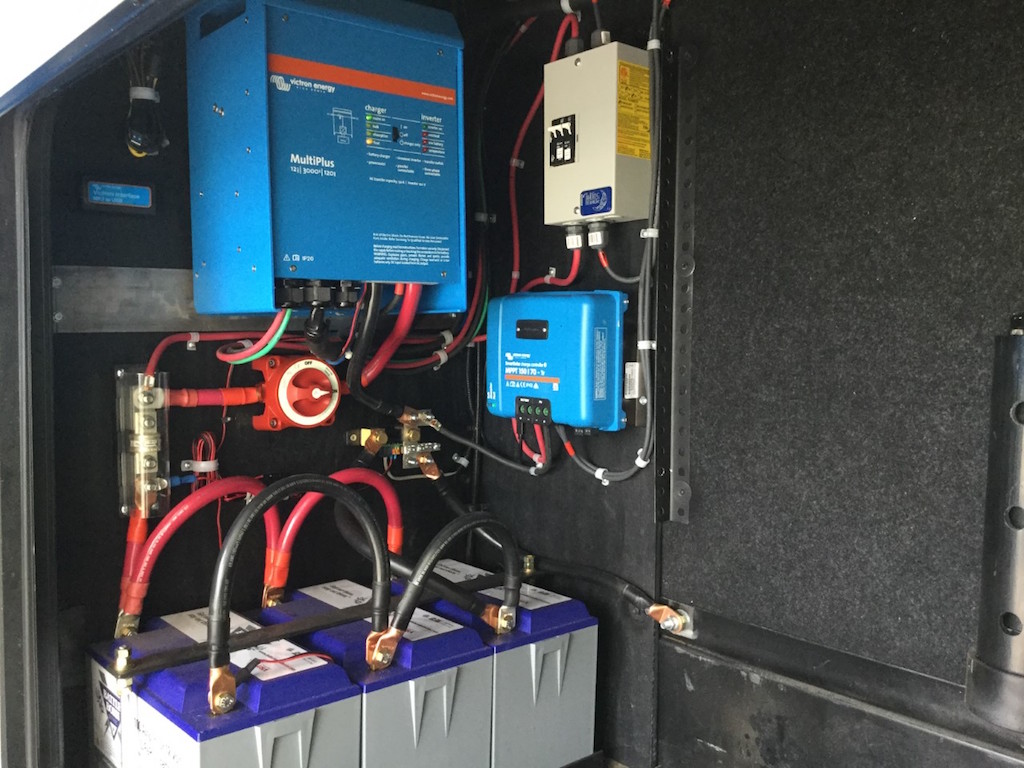 Victron MultiPlus Inverter & Charger & Victron SmartSolar MPPT 150/70-Tr Solar Charge Controller
Customer Feedback
It's always great to hear directly from the customer about their experience with our company. Feedback is highly valued, which allows us to deliver an even better product to the next customer.
How was the response time when you submitted an inquiry for a consultation?
I made a phone call to inquire about price and availability of the equipment that I had decided would meet our needs. I had a lot of questions about all the components required to make a complete system. Doug took the time late in the day to go over everything I would need to complete the installation. He provided a material list and a basic schematic to work with. He also helped me with the solar panel choice that would work well with the system demand.
Were our prices competitive compared to other competitors?
I believe that the prices for everything were very competitive. The convenience of a one-stop process saved me a lot of brain damage trying to locate local sources to get all the components needed to make a functional system. Sometimes the added value of people that know their business will more than offset a slight difference in price.
Do you think the free consultation provided value to you?
I spent a significant amount of time trying to figure everything out, unaware that expert help was available. If I were to do it all again, I would give them a phone call first. I'm sure I would have saved a lot of time and frustration in the design of a system without the fear of making an error of too little or too much for our needs. I'm sure there are numerous solar companies out there that are fine, but I feel lucky that I found these folks.
How are our customized solar systems more beneficial than out of the box solutions?
I considered some package systems, but they only had the basic components in them. Do it yourself folks don't always know all the things required to make a complete installation. Wire sizes, fuses, switches, breakers, and enclosures can be hard to figure out on your own. When my components arrived in Colorado, in just a short amount of time, I had 99% of what I needed. I purchased a cable cutter and a crimper along with some 4/0 connectors to make the necessary connections. The wire provided in the purchase was perfect to complete all the required connections. The only oversight was a Victron cable for the smart solar charger which was sent out via express mail. When the system was ready to go, I called for some help to program the inverter charger and set the proper parameters for the solar charger. This required a laptop that I borrowed from my son. The interface was part of the materials. Customer support walked me through all the necessary changes in settings required for lithium batteries. All in all, my solar install was a reasonable challenge to complete. If do it yourself isn't for you, they can do it for you.
How would you rate the solar system installation process?
Having a background in HVAC service, helped with all the physical installation process. Component layout and wiring were relatively easy to do. The customer support was excellent.
Overall, did Northern AZ Wind & Sun meet your expectations?
I felt very lucky to find NAWS. I would recommend them to a friend.
Our Take
Ed was an informed customer when he approached us for his RV solar system. He did preliminary research and was familiar with the products on our website. Over the course of about 2 weeks or so Ed and I refined the design of his system by phone and email. He called once or twice for clarification on some installation details over the next couple of weeks. I was pleased to see his clean installation in an email once he had gotten all the system put together – Kudos Ed!
Solar Power System Components
Below is a list of components that were used in this system.
Related Product Categories
Solar Price Breakdown
System Cost: $4,300
Federal Tax Incentive: Qualifies for $1,290 U.S. Federal Tax Credit (if installed before 2019)