Our solar project this week features customer Jason E., a full-time RVer. Jason is a father and husband in a nomadic family of five that travels in their fifth wheel RV full time. His family has been living the nomadic lifestyle for 5+ years but most recently is in the process of putting down some roots, though they maintain traveling is still in their future.
Being able to bring along power is a necessity for Jason and his family especially when boondocking in nature away from power hookups. Their RV is equipped with three air conditioners, a large fridge, a few TVs and the three children have a gaggle of electronics which calls for a decent power supply. Jason keeps the bills paid by working remotely. Being on call, he always needs access to a computer and an Internet connection.
A Solar electric system was the obvious choice for carrying their power with them. This was Jason's second lithium solar RV project so he was familiar with the technology. Finding adequate space for the components was a challenge since the build was large enough to energize two 50 amp circuits that powered 2 of 3 air conditioners simultaneously. In addition, the solar power system needed to power lower draw devices such as TVs, computers, game consoles, and a microwave.
After consulting with our team, Jason decided on Victron components married with BattleBorn lithium iron phosphate batteries. Stacked Victron MultiPlus 3000 inverters sync up to ensure split phase power delivery to the breaker box, which is easily configured. The Venus device allows Jason to monitor the system status remote and push new inverter configurations to the system.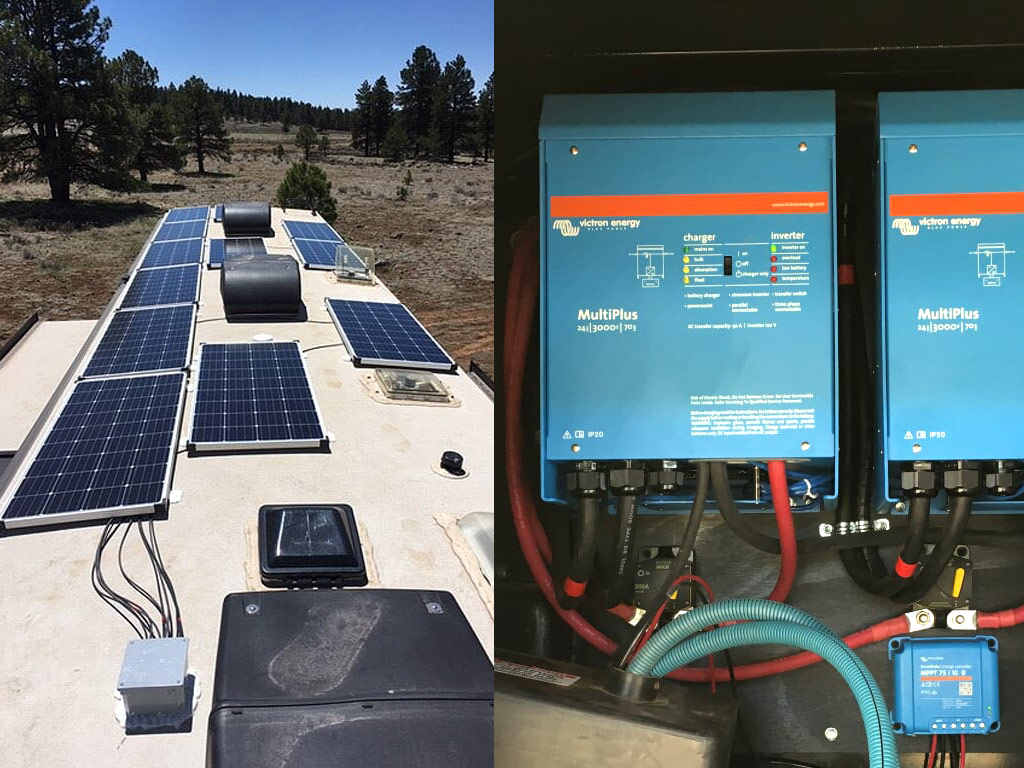 Solarland SLP160S-12 Monocrystalline 160 Watt Panels and Battle Born BB5024 Lithium Ion LiFePO4 Batteries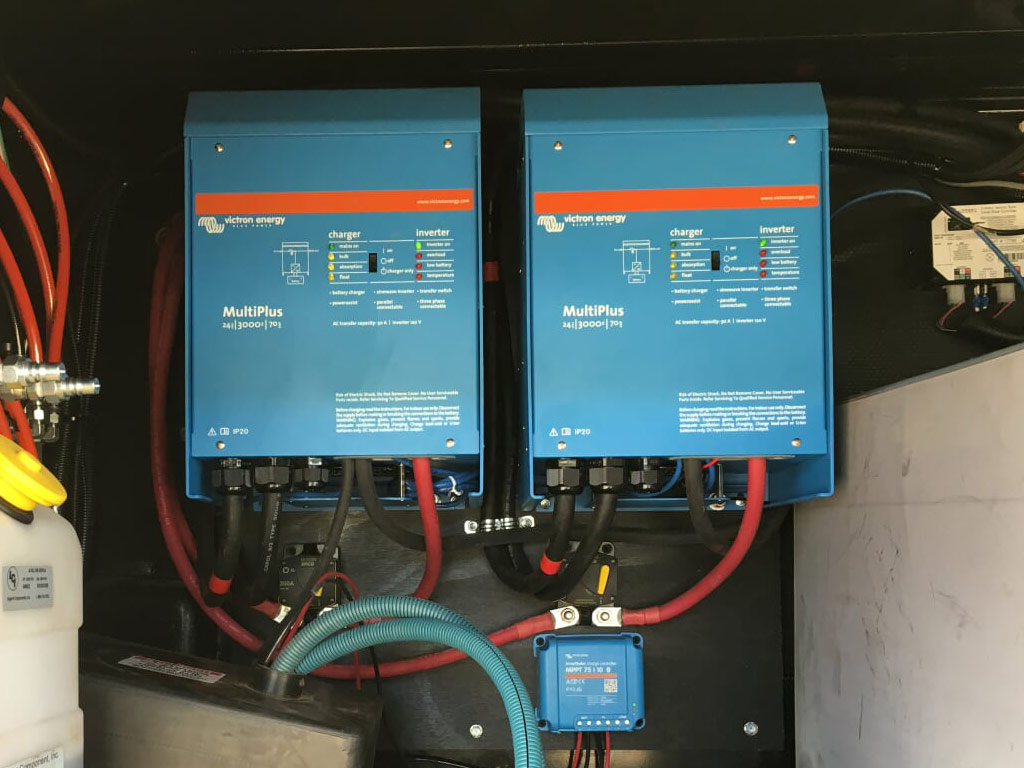 Victron Energy MultiPlus 3000 Watt 24 Volt Inverter & 70 Amp Battery Charger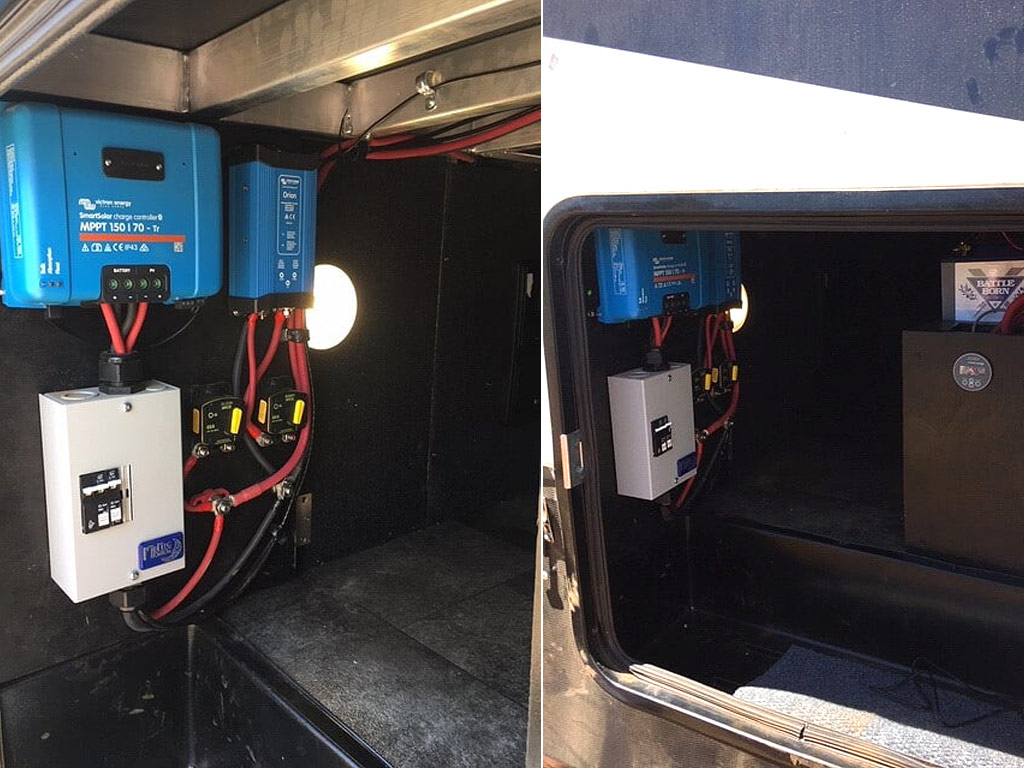 Victron Energy SmartSolar MPPT 150/70-Tr Solar Charge Controller
Customer Feedback
It's always great to hear directly from the customer about their experience with our company. Feedback is highly valued, which allows us to deliver an even better product to the next customer.
How was the response time when you submitted an inquiry for a consultation?
Logan and James were both very responsive.
Were our prices competitive compared to other competitors?
Yep!
Do you think the free consultation provided value to you?
Yes.
How are our customized solar systems more beneficial than out of the box solutions?
The options are limitless so you can build exactly what you want.
How would you rate the solar electric system installation process?
Excellent.
Overall, did Northern AZ Wind & Sun meet your expectations?
Absolutely!
Our Take
Jason came to us looking for a solar power solution for their family's 5th wheel, in which they are living full time. He had a previous solar charging system with lithium batteries on a different rig, so he was already familiar with the technology and configuration. This system was going to be a big upgrade from his first one. He did a lot of preliminary research and had a solid idea as to what kind of equipment he wanted. Due to the dimensions/layout of the roof, we used 160W solar panels instead of our standard 60 cell size panels. With a total of 12 panels, we were able to fit almost 2kW of solar power on his roof!
Jason also wanted two stacked inverters to allow him to power all the loads in the RV on both sides of his 50A panel without using a generator or having to plug into shore power. For this reason, and with the amount of PV power on the roof, we configured the system with a 24V battery bank. This made the installation much cleaner and more efficient overall than a 12V configuration. A combination of Victron equipment and Battle Born batteries was the best option for him.
I assisted with the system installation through Mobile Solar Electric. Jason was a huge help to me up on the roof with mounting and wiring the solar panels. His family was eager to assist as well, so everyone was able to participate in some way during the installation. He was a great customer to work with and very satisfied with how this system turned out!
Solar Power System Components
Below is a list of components that were used in this system.
Victron Energy SmartSolar MPPT 150/70-Tr Solar Charge Controller X1
Victron Energy Venux GX Communication-Centre X1
Victron Energy BMV-712 Smart Battery Monitor X1
Victron Energy Orion 24/12-70A DC-DC Converter X1
Related Product Categories
Solar Price Breakdown
System Cost: $21,000
Federal Tax Incentive: Qualifies for $6,300 U.S. Federal Tax Credit (30% tax credit taken in 2019)