We are featuring a very cool project this week. Joachim is a full-time RV'er that owns his own mobile recording studio. He bought an RV for his studio, which needed a reliable power source. Once again, solar electric power was the obvious choice for anything mobile. In February, Joachim bought a 36' long 2009 Fleetwood Terra with around 30k miles. The goal was to harness enough power through a solar power system mounted on the roof to power computers, a synthesizer, monitors, a mixer, and an amplifier. Before buying the gear, he calculated the amount of power that would be required by his solar system. He found that powering his AC was going to account for much of his power usage, which was around 800-1000 watts on the maximum output setting.
The biggest challenge for Joachim was making sure his RV could be equipped with air conditioning. Given the amount of heat that music equipment outputs as well as being in areas of intense sunshine, the RV had the potential of getting extremely hot. With 4-5 musicians inside the RV in the middle of the desert, he had to make sure the solar system could provide enough power to get the job done not only for the AC requirement but also the music equipment. Being able to play music at a higher volume outside the RV also needed to be accommodated.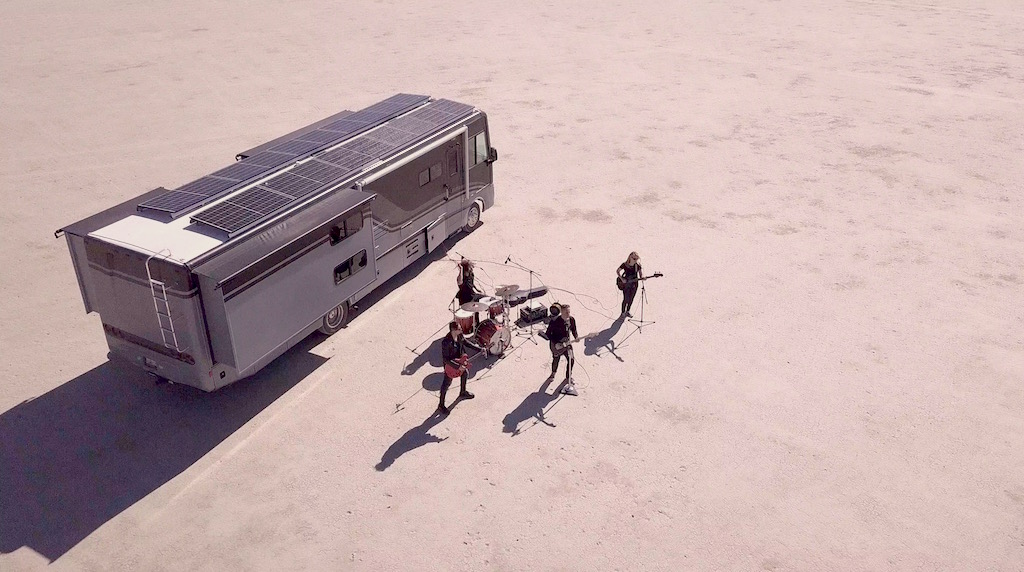 Making music in the desert, solar power style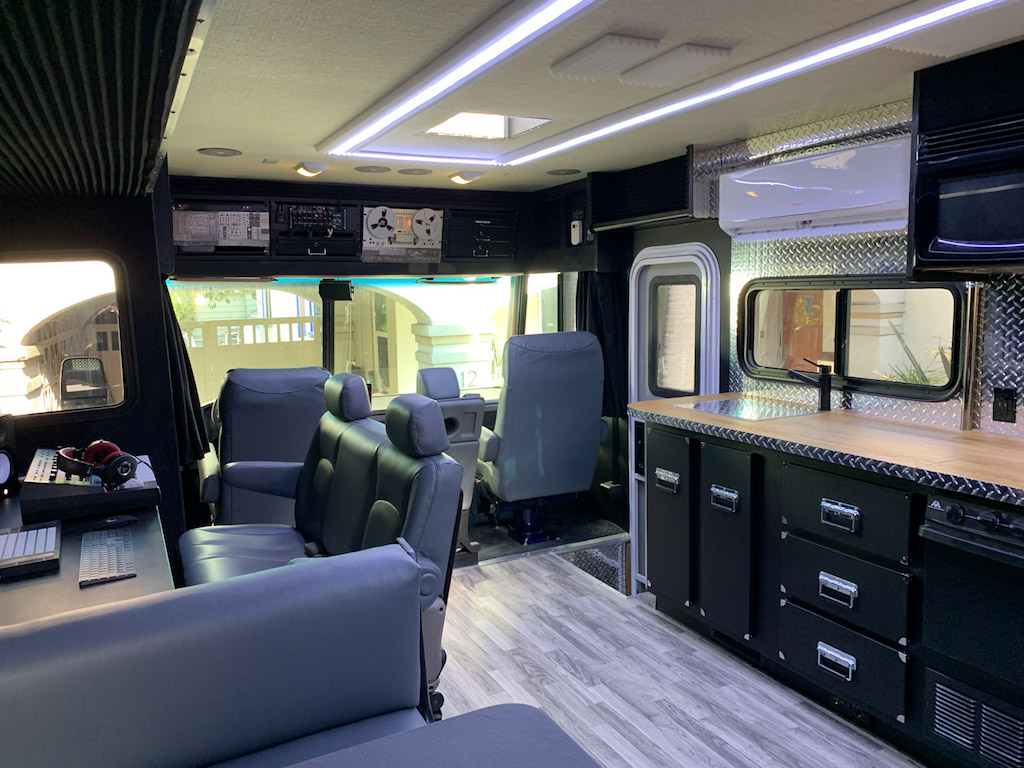 Inside the mobile recording studio
The next step for Joachim was reaching out to our team for a consultation on what it would take to get his RV outfitted with a customized solar power system. James helped him make decisions on the solar system components he needed in order to power everything in his mobile recording studio, including the AC. First, he suggested the RV rooftop to be lined with 10 REC N-Peak Series 320 Watt Monocrystalline Solar Panels to achieve maximum exposure to the sun. James also recommended using two 24/3000/70 MultiPlus Inverters along with 14 Battle Born Lithium Ion Batteries which would ensure enough stored capacity to power his studio as well as the AC.
After agreeing on the solar system components needed, Joachim moved his RV to Northern Arizona allowing the team to complete the installation and turn the RV into a full-blown recording studio.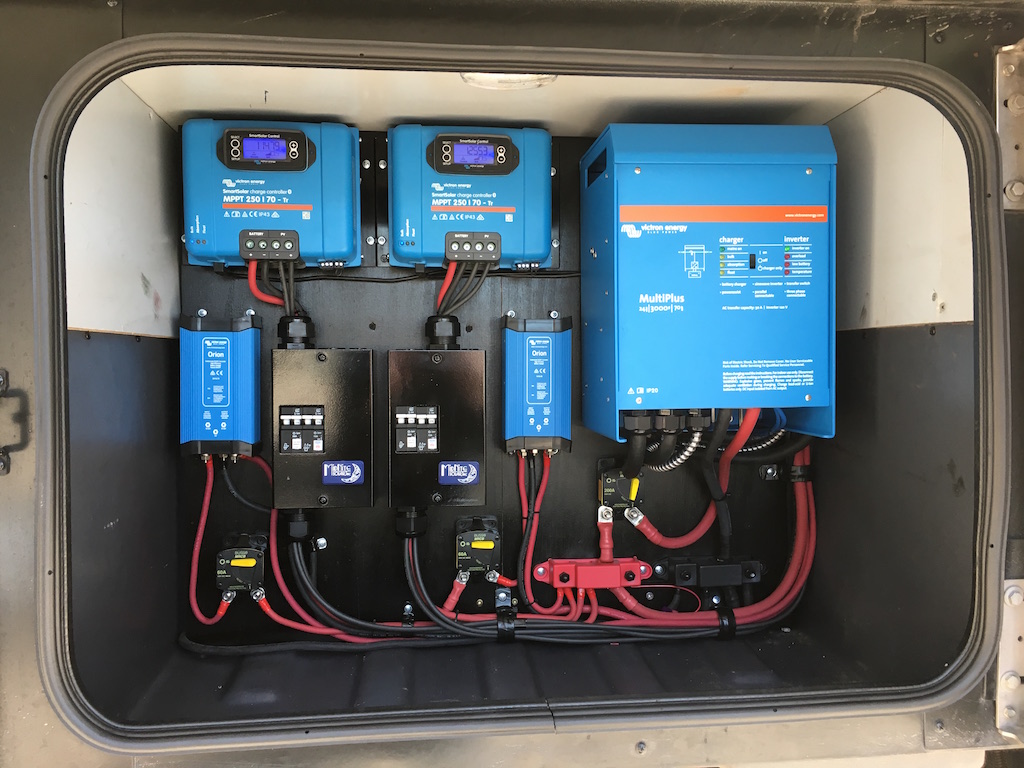 MPPT SmartSolar 250/70-Tr (2) & 24/3000/70 MultiPlus Inverter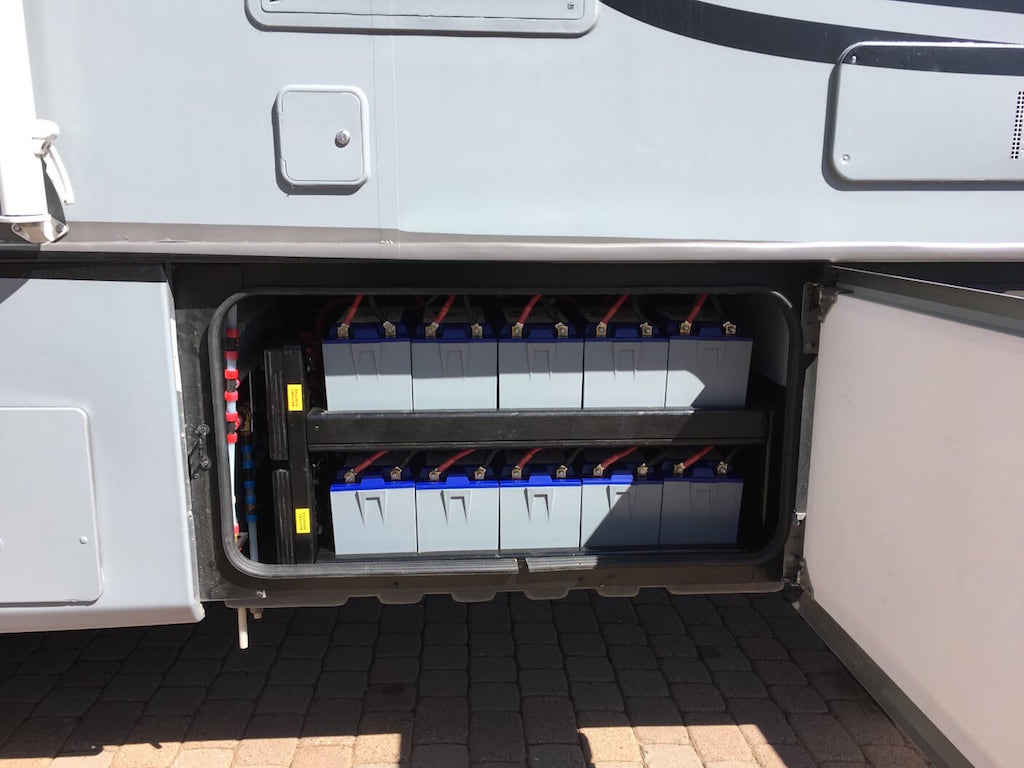 Battle Born BB5024 Lithium Ion LiFePO4 Batteries (14)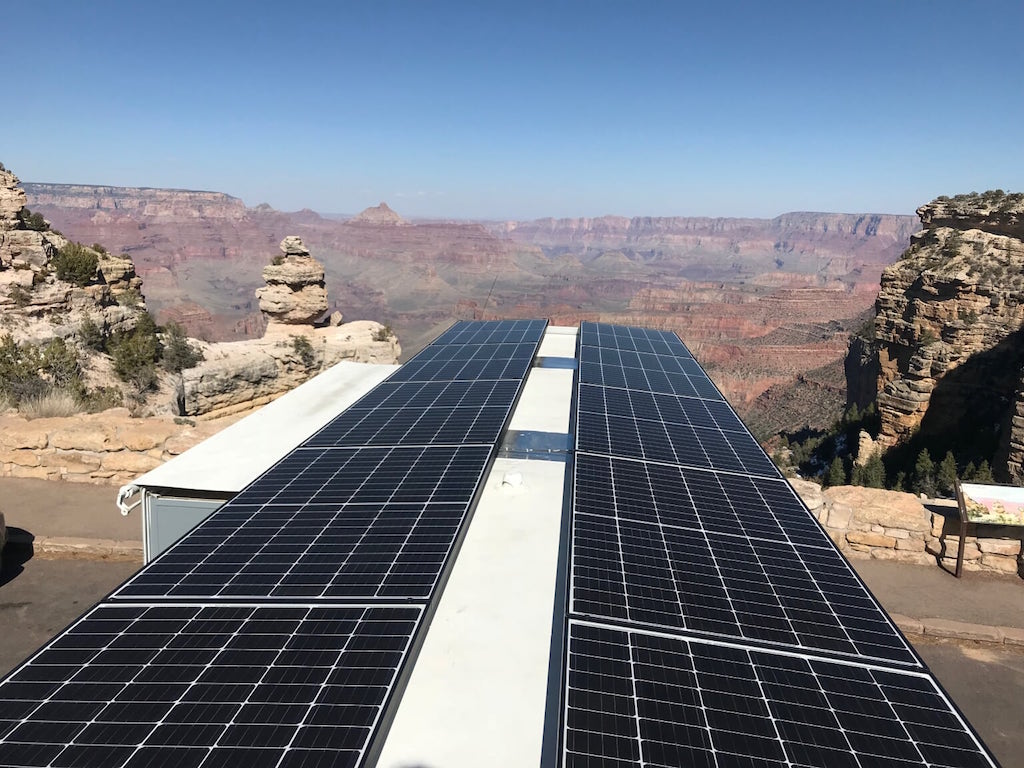 REC N-Peak Series 320 Watt Monocrystalline Solar Panels (10) overlooking the Grand Canyon
Customer Feedback
It's always great to hear directly from the customer about their experience with our company. Feedback is highly valued, which allows us to deliver an even better product to the next customer.
How was the response time when you submitted an inquiry for a consultation?
Pretty fast. I first submitted through the website and James contacted me very quickly.
Were our prices competitive compared to other competitors?
I believe the prices were good. Buying everything through your company allowed me to have the help of James which understood the entire system from start to finish, which was important to me.
Do you think the free consultation provided value to you?
Yes, for sure.
How are our customized solar systems more beneficial than out of the box solutions?
You can't compare them. My customized system was perfect for me because it was tailored to my needs. I had size and weight requirements that made a customized system much more advantageous for me.
How would you rate the solar system installation process?
10 out of 10.
Overall, did Northern AZ Wind & Sun meet your expectations?
Yes, 100%.
Our Take
Joachim reached out to us regarding a unique and interesting concept, remodeling a Class A Motor Home into a Solar Powered Mobile Recording Studio. It's not very often a project like this comes about. We started by planning the concept, how much power was required, storage capacity and how to practically manage all the current and equipment. The great part about this project was the Joachim wasn't afraid to go big. He stripped the roof of all unnecessary equipment (including the dreadful RV AC Units) to make room for a massive 3200W Solar Array. That should be enough solar power, we figured. Then we had to figure out how to power the two 12,000BTU mini-split AC units, plus everything else. We ended up configuring a dual-stack (in parallel) Victron Multi-Plus Inverter System capable of delivering 4800W continuous. With this much power it wasn't practical to stick with a 12V system, so going 24V was pretty much the only option. The system is configured to deliver up to 70A to the coach 12V dc system and can also charge with up to 600W from the alternator. To store enough energy to keep the system sustainable we configured a 16.8KWH battery bank.
To this day the system continues to prove itself. We most recently documented creating 29kWh from the solar array with a total consumption of 31kWh from the system. There's more to come from this project… I think a larger array is in the works.
Solar Power System Components
Below is a list of components that were used in this system.
REC N-Peak Series 320 Watt Monocrystalline Solar Panel X10
Battle Born BB5024 Lithium Ion LiFePO4 Battery 24V 50Ah X14
24/3000/70 MultiPlus Inverters X2
MPPT SmartSolar 250/70-Tr X2
SmartSolar Display X2
Color Control GX
VE.Bus Smart Dongle
BMV-712
Orion 24/12-70A DC-DC
Orion 12/24-20A DC-DC
Solar Price Breakdown
System Cost: $23,214 (not installed)
Federal Tax Incentive: Qualifies for $6,964 U.S. Federal Tax Credit (if installed before 2019)