Our solar power project of the week features Les – a fulltime RVer. Les worked in the Commercial Glass and Glazing industry as a Senior Project Manager specializing in custom curtain walls for skyscrapers in New York City, Philadelphia and Washington D.C. Since retiring from the glass industry, Les and his wife Sue have been on the road fulltime in their RV. They enjoy off-grid living and boondocking which requires an independent power source.
Not being an electrician by trade, Les still had enough experience to design and install two other solar power systems in other RVs using components from Northern Arizona Wind & Sun in 2005. Their previous solar power systems consisted of lead-acid batteries which limited their ability to draw larger energy loads on a consistent basis. Using their air conditioner and other large appliances regularly were out of the question with battery limitations.
Like many RVers Les and Sue prefer to live outside traditional RV parks and spend their time in public lands. In order to continue living in boondocking mode, they would need a system that would allow them to use all their appliances and aspects of the RV without worrying about larger energy load draw on the batteries.
Les turned to Northern Arizona Wind & Sun for some advice for his solar power system. Having the ability to run the AC, residential refrigerator, convection microwave, television, air fryer, and other miscellaneous gadgets was imperative. James at Northern Arizona Wind & Sun confirmed that it was indeed possible to meet their needs using off-grid solar power without the assistance of a gas generator.
The crucial part of the design was indeed the battery choice that could withstand signification energy draws. A Lithium-based battery bank was the obvious choice for Les after witnessing the limitations of a lead-acid battery bank in his previous systems. There are several choices for Lithium batteries in the market. After consulting with James, Les decided to go with Simpliphi PHI-3.8-24-60 3.8kWh 24 Volt Lithium Ferro Phosphate Batteries. SimpliPhi gave him the biggest bang for the investment. SimpliPhi Batteries come with a built-in battery management system (BMS) along with a built-in 80 amp DC breaker on/off switch. Another huge bonus is the 10-year warranty SimpliPhi provides on its products. They are also made in the USA!
After making some decisions on other components for the solar power system with James, Les was ready to install his system. It took approximately 17 days to layout, build and install all the components. Les and Sue were completely off-grid in a matter of days. They were able to use all the appliances as they had hoped completely off-grid and without supplement power from a gas generator.

Les' RV decked out with the solar array on the roof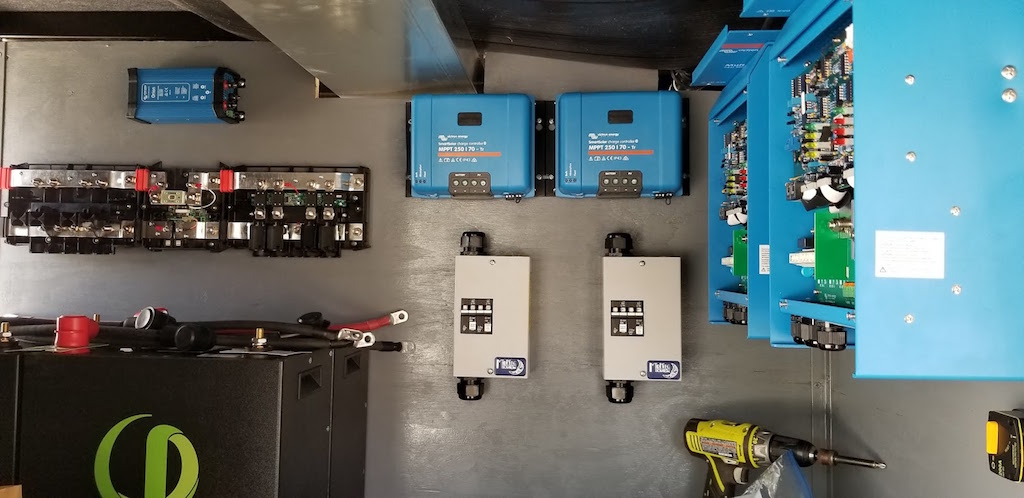 Victron Energy Inverter, Charge Controller and Simpliphi Batteries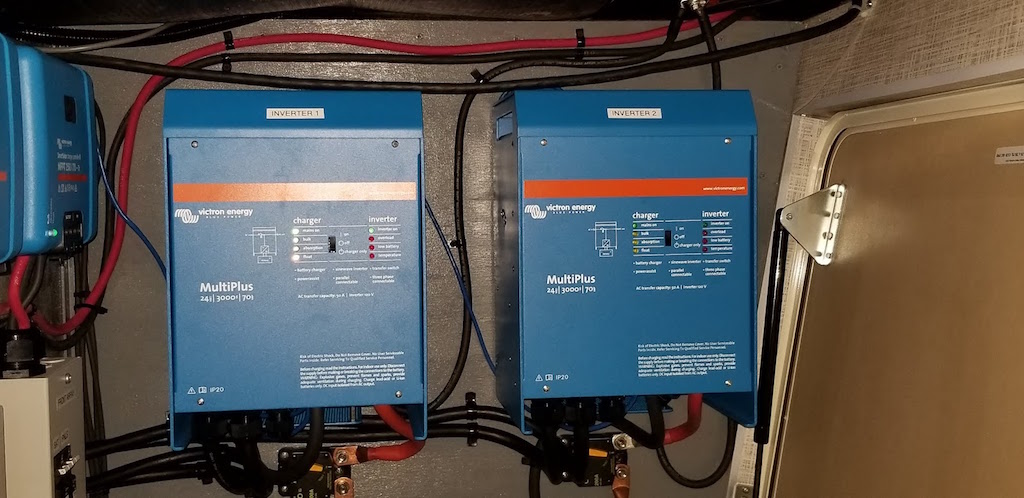 Victron Energy MultiPlus Inverters in Parallel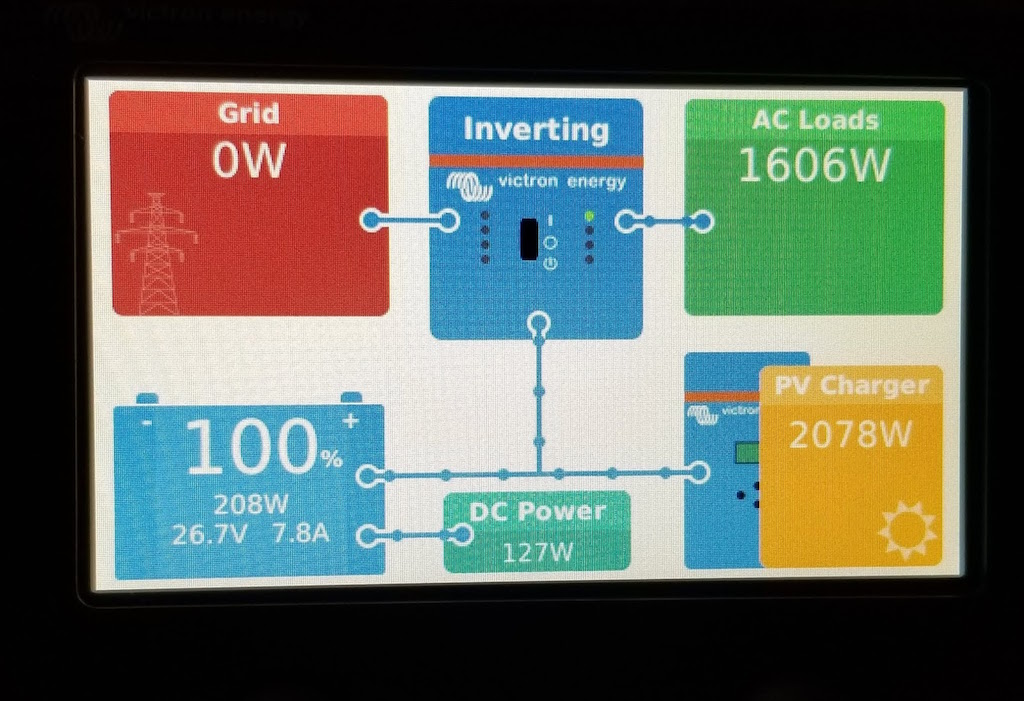 Victron Energy Color Control GX Panel
Customer Feedback
It's always great to hear directly from the customer about their experience with our company. Feedback is highly valued, which allows us to deliver an even better product to the next customer.
How was the response time when you submitted an inquiry for a consultation?
Excellent. James immediately contacted me to discuss the project and was extremely patient with the back and forth between designs and questions.
Were our prices competitive compared to other competitors?
Absolutely. In fact, I found that NAWS as a whole, offered better pricing than if I bought individual components and materials from various multiple sources.
Do you think the free consultation provided value to you?
It was invaluable and a major reason why I used NAWS for all three of my solar installations. If more companies took the approach NAWS does with regards to this service, they would have a better business model and would have more return customers.
How are our customized solar systems more beneficial than out of the box solutions?
A customized system allows for the flexibility to meet a customer's needs. Out-of-the-box solutions are a good start for those less knowledgeable with solar or may have limited needs/budgets.
How would you rate the solar system installation process?
Although NAWS did not install our system (it was a DIY project), the way that James outlined the entire system from the wiring diagram to being available for my SOS calls greatly enhanced the process.
Overall, did Northern AZ Wind & Sun meet your expectations?
Although previous experience with NAWS was very good, this project far and above exceeded my expectations.
Our Take
Les was a great client to work with, he conveyed his expectations immediately and trusted in our recommendations. We went through many iterations of the configuration over several months of planning. Ultimately, we went with a Victron Power Plant and Simpliphi Storage System, the result of which revolutionized what is commonly practiced in the RV industry. It has full time 24/7 remote monitoring, allowing for system-wide tracking of production, consumption, temperature, etc. This system is capable of producing and storing upwards of 15kWh/day. The freedom that this much energy provides is unfathomable for a lot of full-time RVers. Les is a perfect example of what a little creativity can achieve when doing an RV system.
Solar Power System Components
Below is a list of components that were used in this system.
Related Product Categories
Solar Price Breakdown
System Cost: $17,995
Federal Tax Incentive: Qualifies for $5,398 U.S. Federal Tax Credit (if installed before 2019)