We have a variety of people that reach out to us needing a solar power system. Their applications may vary drastically, but the common denominator of needing an independent power source remains the constant when it comes to deciding on solar power. This week's customer story is no different, but the motivating reason for needing to be off-grid is much different.
David is a retired executive living in Lubbers Quarters in Abaco, Bahamas. On September 1st, 2019 his house sustained a direct hit by Hurricane Dorian. The Bahamas are a regular path for Atlantic Hurricanes during the fall. Dorian, one of the most powerful hurricanes on record, punched the islands with 185mph sustained winds with gusts over 200mph. Luckily, David's house survived the storm but the electrical infrastructure on the main island that feeds Lubbers Quarters was destroyed leaving the entire island and his family without power.
After assessing the damage and trying to come up with a game plan, David decided it was time to get their home off-grid with solar to power essential items while the grid infrastructure was being repaired. A few requirements included that the system needed to interface with grid power once it was restored and the panels needed to be ground mounted in front of the house facing south. Logistical support on the island is minimal so the solar system needed to be self-contained, all-inclusive and straightforward to install.
David reached out to James at Northern Arizona Wind & Sun for advice on his off-grid system. After listening to David's needs, James recommended going with an OutBack Radian 8048A pre-wired unit that consists of an inverter and charge controller with system monitoring. Purchasing a pre-wired unit reduces the amount of work David would need to do onsite and allows him to get his system up and running much faster. The solar system also called for (18) REC N-Peak 320-watt solar panels to collect as much power from the sun as possible and store it in (4) SimpliPhi Lithium Batteries.
David did the install himself, which he felt went relatively well given his background in electrical engineering. The OutBack Radian was installed next to a manual generator switch which allows easy hook-up to the service panel. The solar panels were setup in 3, 6 panel arrays each on a 5' schedule 40 pipe. After installation and setup was complete, the system handled the basic power needs of David's house perfectly and the batteries charged quickly with around ~4 hours during daylight.
After one year has passed, Lubbers Quarters is still without grid power with no timeline for restoration in sight. David is relieved that he has a solar system to provide his family and home with the power it needs to live day to day life normally.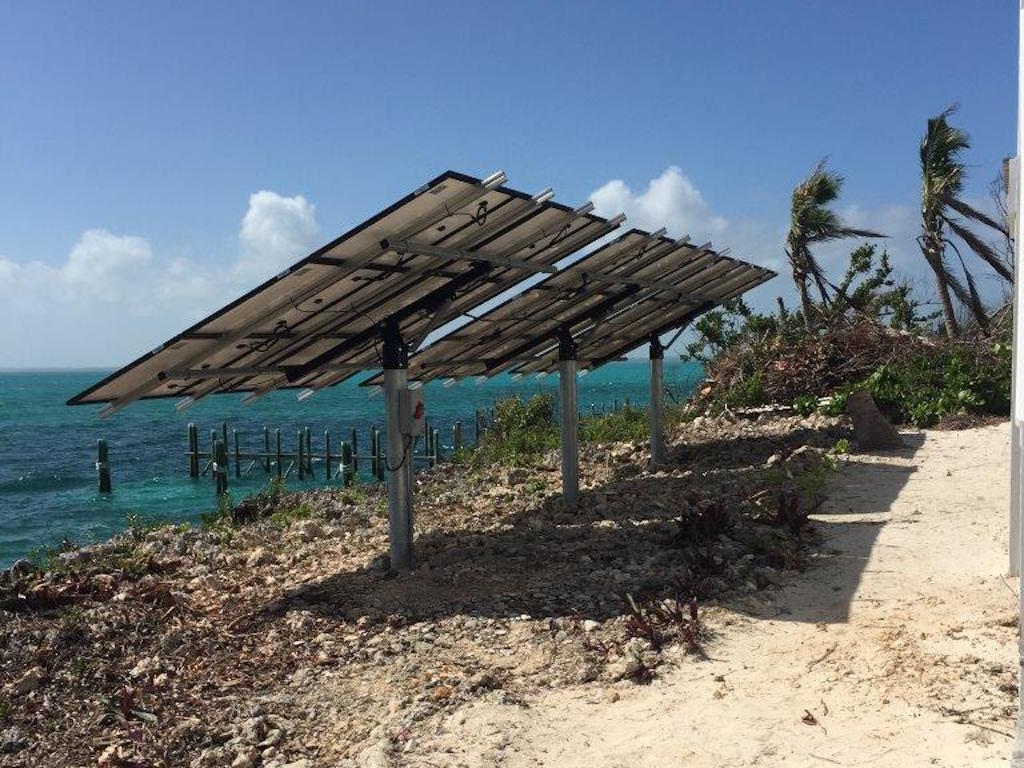 REC N-Peak Panels overlooking the water
Power panel with mounted OutBack Radian with SimpliPhi Lithium Batteries below
Customer Feedback
It's always great to hear directly from the customer about their experience with our company. Feedback is highly valued, which allows us to deliver an even better product to the next customer.
How was the response time when you submitted an inquiry for a consultation?
James worked with us in great detail since it was imperative to make sure that everything needed for system install was included or purchased in the states. Most retail stores were destroyed on the islands so finding even the simplest of items was unlikely. We had one broken solar panel upon arrival and James helped us get a replacement delivered prior to us leaving the island. James was very responsive.
Were our prices competitive compared to other competitors?
Prices were very competitive, and James worked to get the best prices for anyone on the island that was interested in purchasing solar.
Do you think the free consultation provided value to you?
Yes, it was imperative for us to get the best solution for our application.
How are our customized solar systems more beneficial than out of the box solutions?
The system configured for our application was the best approach for us.
How would you rate the solar system installation process?
I would rate the install process as an 8 out of 10. I have not installed a system before and there were a few areas that are not perfectly documented (such as internet connectivity). James helped us work through most of the issues over the phone. I think the newer version of the Radian (pre-configured) will help with installation as it would be difficult for someone without much electrical experience to install the version we bought.
Overall, did Northern AZ Wind & Sun meet your expectations?
Yes!
Solar Power System Components
Below is a list of components that were used in this system.
Related Product Categories