Steven, a full-time RVer has lived on the road for 3 years now. He works as an IT consultant and has enjoyed the opportunity to work while he travels if there's an internet connection. This trend has increased in popularity over the past few years due to the ability to work remotely. It's as simple has having a combination of LTE and campground Wi-Fi.
Previously, Steven lived in an Airstream with 550w of solar power with a 440ah AGM battery bank. Recently he sold that rig and upgraded to a Montana Fifth Wheel where the solar setup changed. The Montana has a residential refrigerator and Steven needed to be able to run his fridge while traveling down the road. It takes about 10-14ah and his truck only charges at 4-5 amps. He also wanted to make sure his batteries are 100% full for the slides and leveling system at the end of the day. There are some other reasons for going full-blown solar.
Campground power failures do happen at times. Power systems at campgrounds are really taxed during the heat of the day in the summer months and sometimes blow main breakers with all the ACs running simultaneously. Solar power would allow Steven to keep his inverter on to power his fridge if the power goes out while he is gone during the day.
Being able to boondock was also a big reason to have a reliable solar system. Boondocking is the ability to park your camper or RV anywhere without a grid power or water hookup. Steven wanted the ability to be off-grid for a few days at the time without using a noisy gas generator. With the Montana Fifth Wheel, there's enough water capacity to allow him a solid 5-7 days of boondocking easily and his hopes were to get his solar power system to perform solidly for the same duration of time.
Steven contacted Adam at Northern Arizona Wind & Sun about upgrading his solar system. With the huge roof on the Montana, they determined that three 320w solar panels would be a perfect fit and would connect easily to the MC4 ports that already exist on the roof. The panels were determined to supply enough power to Steven's existing lead-acid battery bank for running his fridge, furnace and computer for his remote workdays. The Victron Battery Monitor was able to determine the load draws to help them size up the appropriate number of panels needed.
The solar system upgrades comprised of (3) REC Solar Panels, a Victron Battery Monitor and a Victron Smart Solar 150/85 Ve Can Charge Controller. These upgrades were enough to give Steven all the power he needed to keep his batteries topped off with room to spare on the roof if he decides to add more panels. In the coming months, Steven plans to upgrade to 400-800ah of lithium batteries and (2) Victron 3000w inverters which would cover each 50amp leg on his 50amp RV.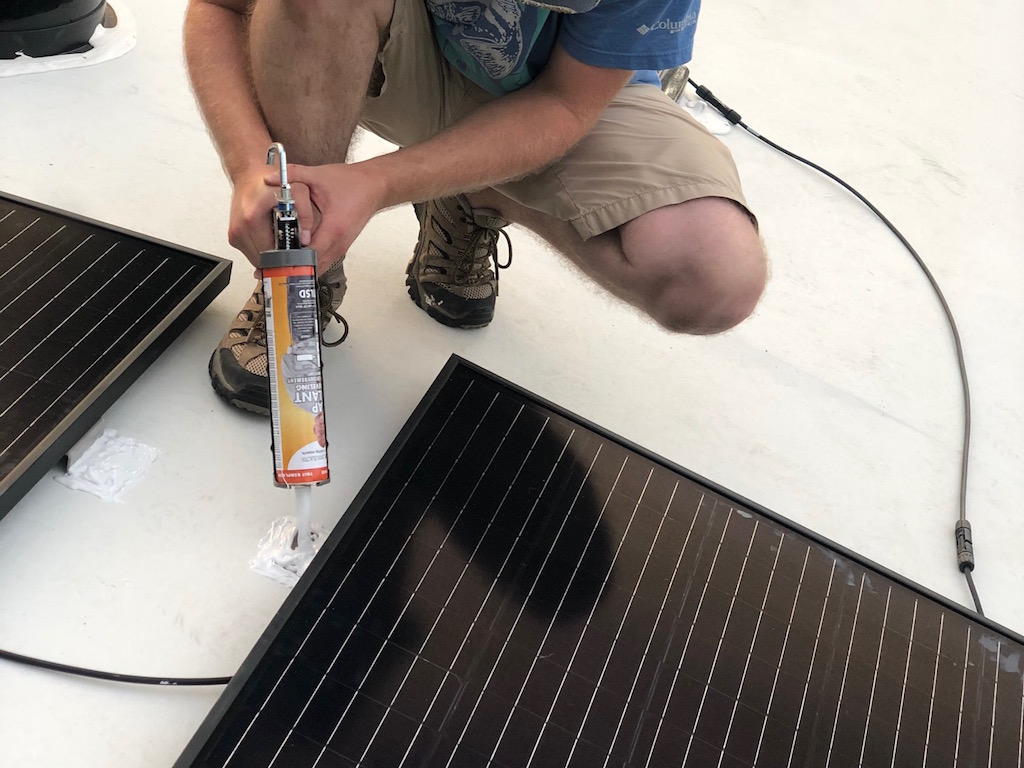 Installing the REC 320W Solar Panels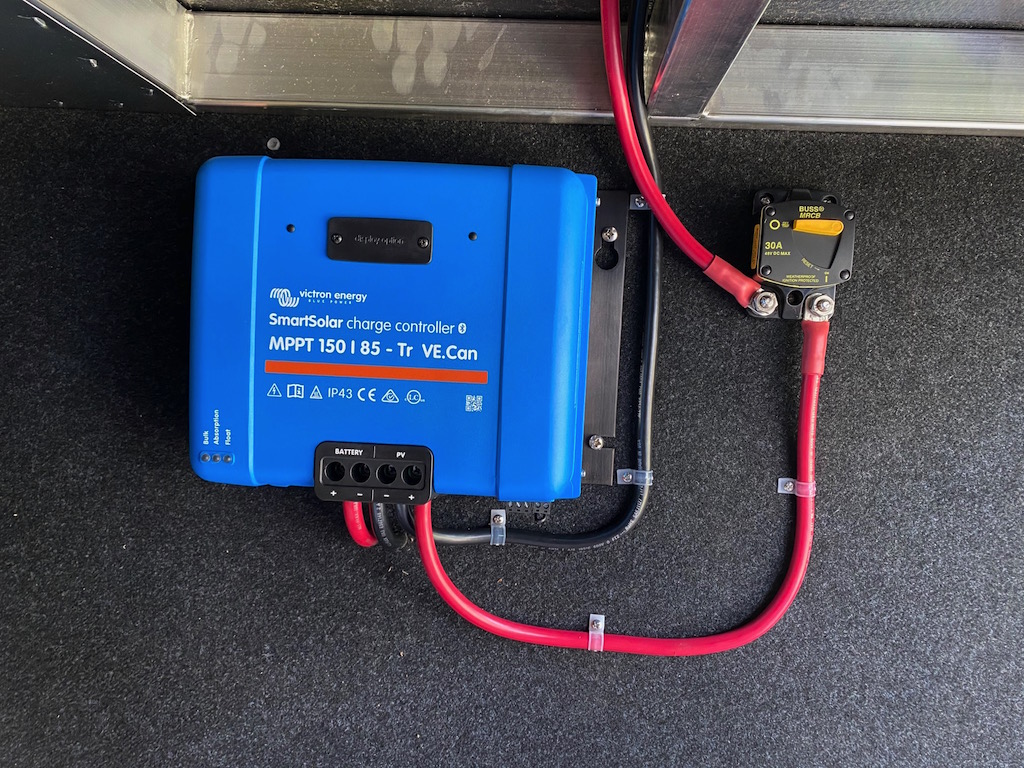 Victron Charge Controller installed in a storage compartment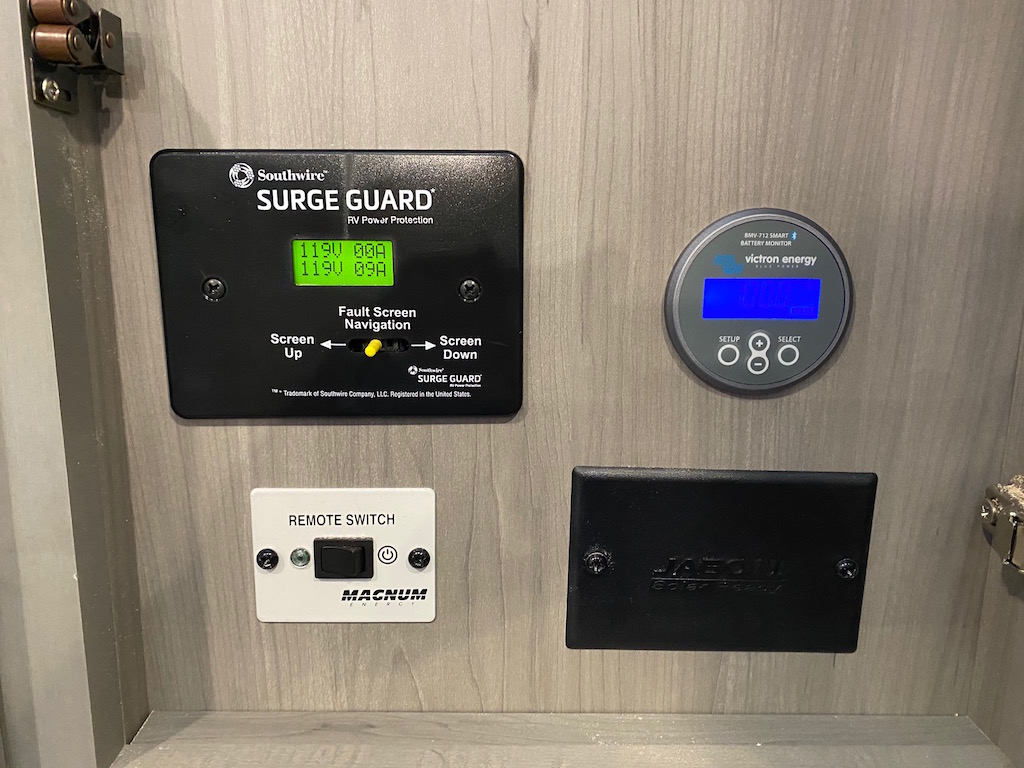 Victron Battery Monitor installed inside the Fifth Wheel
Customer Feedback
It's always great to hear directly from the customer about their experience with our company. Feedback is highly valued, which allows us to deliver an even better product to the next customer.
How was the response time when you submitted an inquiry for a consultation?
I called in just to ask about shipping rates and after talking to Adam I ended up buying not just the panels but all the wiring, breakers, and charge controllers. After talking to Adam, I am a committed NAWS customer! Adam eliminated my fear of going series with my new panels. I am from the old school of through where parallel is always better because each panel is independent. Coming from a 550w parallel system to a 960w series system I am extremely happy!
Were our prices competitive compared to other competitors?
Very! I was very pleased with your prices in fact prices of the panels were so good I was able to add that third panel and upgrade the charge controller for the same price as a 640w system of a competitor.
Do you think the free consultation provided value to you?
Definitely! I was pleasantly surprised by the knowledge Adam provided me even with my 3 years of building and using my first system.
How are our customized solar systems more beneficial than out of the box solutions?
It's important to find the right size panels you need for your application. Wire routing from the roof can be tricky and may require custom measures. Installing in RVs come with their own challenges so it's nice to be able to cherry pick each perfect component for my system.
How would you rate the solar system installation process?
Mine was DIY and was great! I am very thankful to have a strong friend help me get those large panels on the roof of my 5th wheel!
Overall, did Northern AZ Wind & Sun meet your expectations?
Very much so! I couldn't be happier! I will be buying an additional array for the front side of my rig to power my AC in the future and will be calling NAWS!
Solar Power System Components
Below is a list of components that were used in this system.
Related Product Categories