This week's customer story features Lyndon from Northern Saskatchewan, Canada. Northern Saskatchewan is a sparsely populated area covering the northern half of the Canadian province of Saskatchewan. It is mostly covered in lakes and boreal forest and is home to world class fishing and hunting. Lyndon's family has owned a hunting and fishing lodge there since 1996.
Due to being in a remote part of Canada, Lyndon didn't have access to grid power. Their lifestyle has been completely off-grid since constructing the cabin nearly 24 years ago. At first, a gas generator was the only means of having electricity until adding a few solar panels and some batteries over the years. The solar power system consisted of a lead acid battery bank that was connected to a 24-volt system. Recently, his lead acid battery bank started to decline. Lyndon decided it was time to change them out since he was needing to run their generator 8-10 hours per day to keep up with the loads required at the cabin.
Lyndon hoped that when it was time to change out batteries that he could look at the lithium battery option because of the substantial advantages over lead acid batteries. With lithium on his mind, he started his research and made many contacts over the course of time until he came across Northern Arizona Wind & Sun. His impression of our staff is that we were never trying to sell him on something he didn't need. He was impressed by our staff's knowledge and expertise of solar power, so he decided to have us design a new system for the cabin.
Our team recommended Lyndon go with a 48-volt OutBack Radian FPR System which was sized according to the load demand at the hunting cabin. We also put together a new solar array which was designed to accompany the existing solar panels Lyndon purchased previously. The big change was adding the amazing 48-volt Discover Energy Lithium Batteries to replace the older lead acid battery bank. We sized the battery bank to custom fit Lyndon's requirements.
After Lyndon installed the new solar components and got the system online, our team was able to help directly monitor the system to make sure everything was setup correctly and running to spec. Lyndon was impressed that our staff can log-in and monitor the system from anywhere to give him the peace of mind that things will continue running smoothly. The changes to his system brought a smile to his face because it cut the gas generator run-time by way more than half. Lyndon mentioned another huge bonus to increasing his solar output and capacity is that his guests can enjoy listening to the loons on the lake, the waves lap against the shore and not a rattling generator running in the background.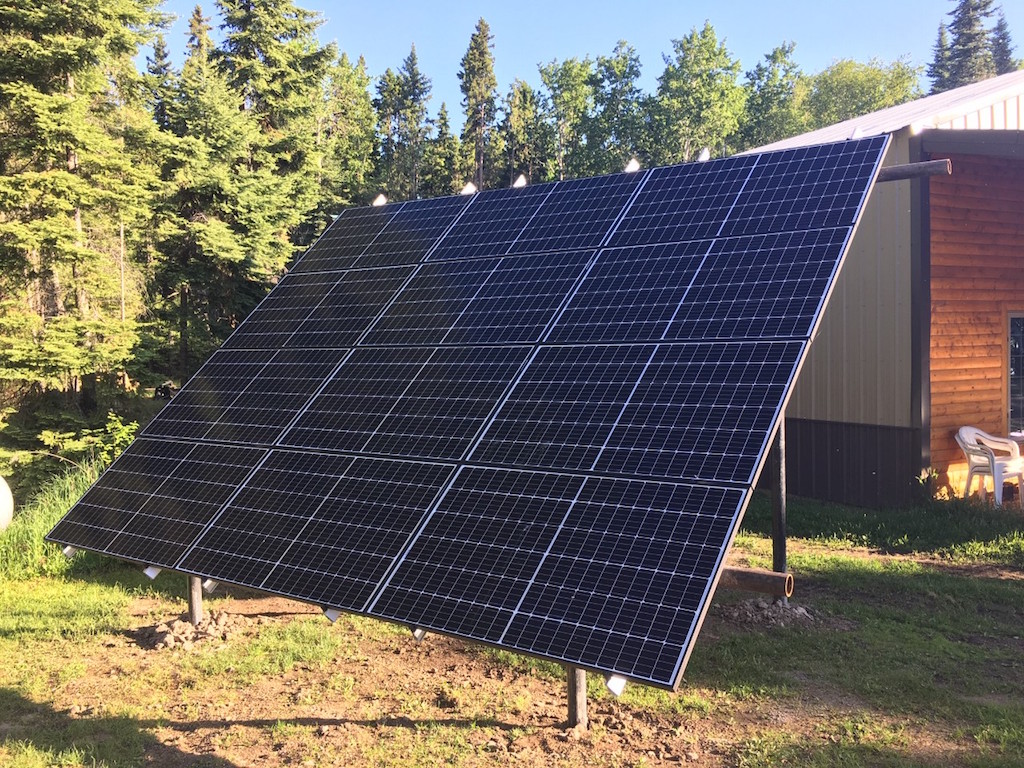 The solar array consists of (12) 325-watt solar panels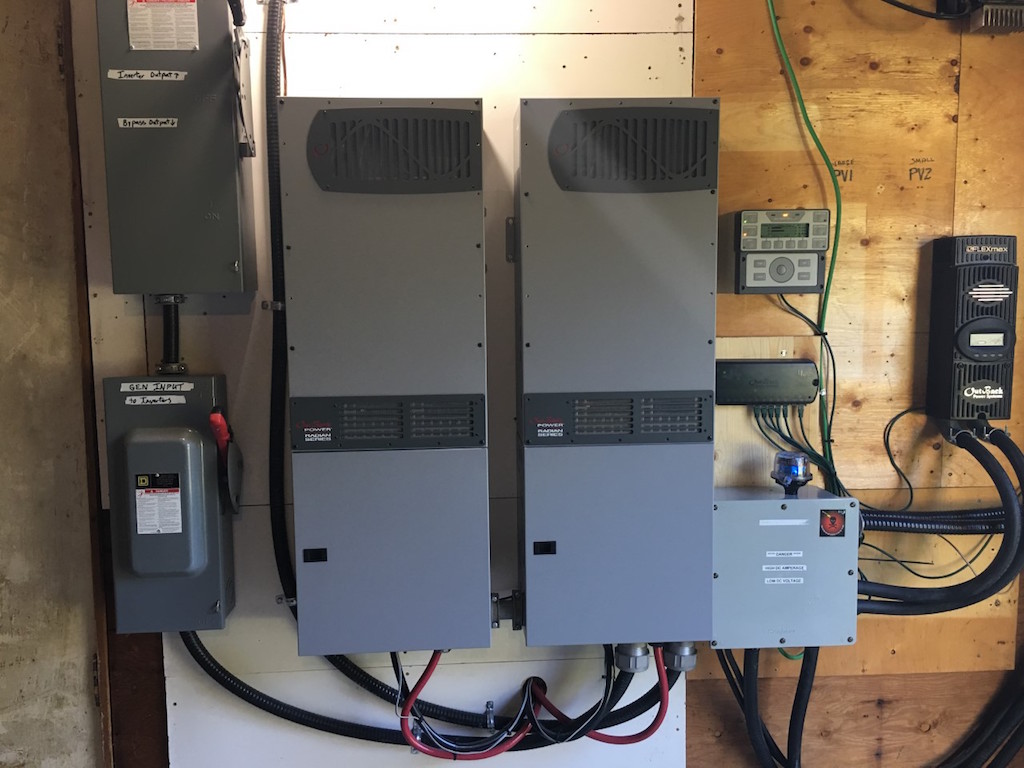 The 2 pre-wired OutBack Radian Units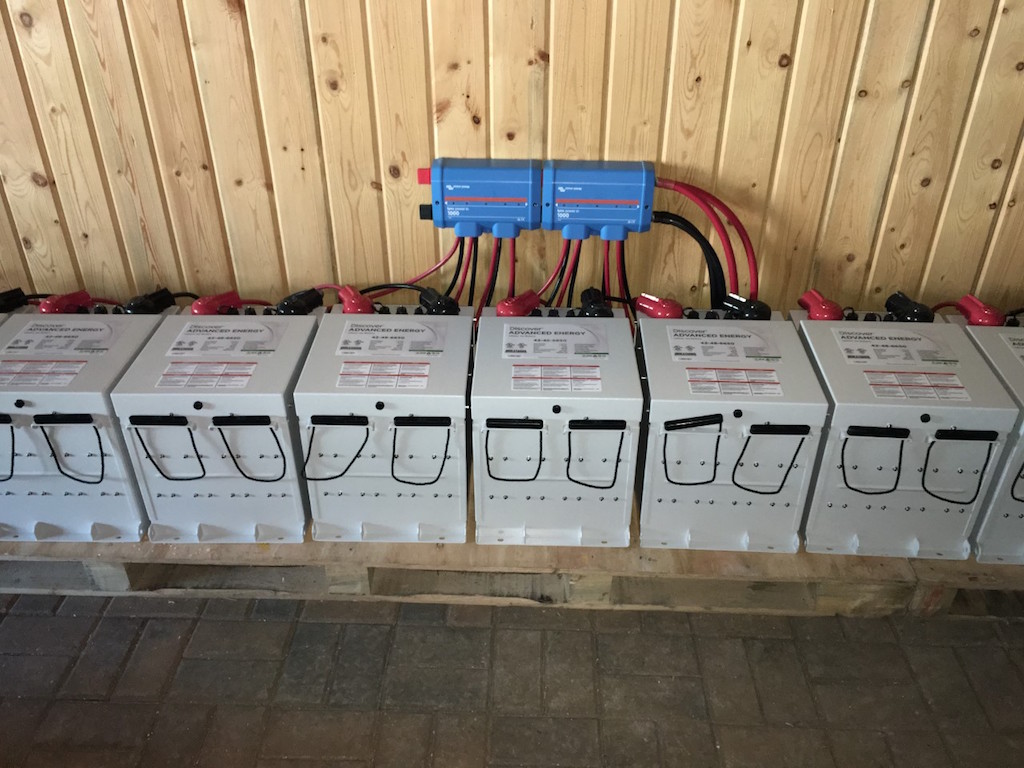 Massive Discover Energy Lithium Battery Bank (8)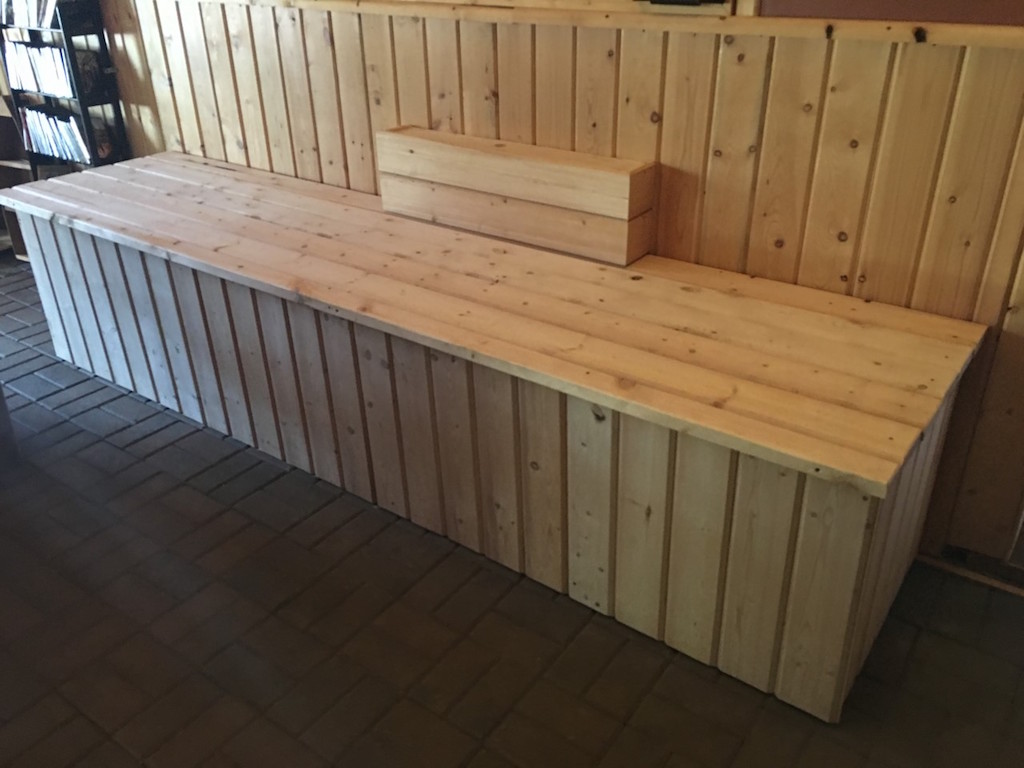 Batteries all tucked away in a storage cabinet
Lyndon's Take
One of the biggest pluses in it all is that we have the support when needed from the folks at Northern Arizona Wind & Sun who have been readily available to help, quick on response and very knowledgeable of the equipment they sold us. If you are looking for a great place to help you design your off-grid power living, I highly recommend them. Thanks James and crew at Northern Arizona Wind & Sun.
Our Take
Lyndon came to us needing a solar upgrade for his cabin so he could be less dependent on his gas generator. We designed a system that consisted of (12) 325-Watt Solar Panels for a total of 3900 watts of output and tied in his existing panels. The system also consisted of (2) OutBack Radian FPR GS8048A units and (8) Discover Energy Lithium Batteries. Lyndon was able to get everything connected and online. We logged in remotely to his system to check performance to ensure everything was running smoothly. The system exceeded his expectations and greatly reduced his reliance on a gas generator. It was a fun project and working with Lyndon was wonderful!
Solar Power System Components
Below is a list of components that were used in this system.
Related Product Categories