After many years of hard work, Tom and Debbie retired on a little farm just north of Paradise, Utah. They maintain their farm, ride four wheelers and do a little hiking every now and then. As with any farm, it's always a work in progress and there's always something to do. On their farm they built a 50' x 50' shelter to hold their tractor, equipment and their 13' FJ Cruiser.
Tom investigated having the power company run grid power out to their shelter. For a variety of reasons, the grid power option was starting to look ridiculously expensive along with the requirement to have the line zoned for the underground feed made it less desirable. Given that, solar power seemed to be the most logical option for getting minimal power to the shelter. Tom already had a net-metered solar system on this barn and knew of a few people with off-grid systems, so the idea of solar power wasn't new to him. However, he had zero experience with off-grid solar and installation.
At first, Tom started checking around with local solar installers, which he quickly discovered had very limited understanding of the systems they were selling. In addition, they were booked far into the future – as far as 2 years in some cases! That spurred him into thinking of doing this himself. Given his history in the US Navy and owning his own business, he had a lot of experience in electrical. He also wired his own barn and rewired much of their house, so he wasn't worried about the electrical aspects of installing off-grid solar. The learning curve was researching the wide array of components available in the solar market and figuring out which options were best suited for his application – as well as installing it.
Tom quickly figured out he needed help designing and installing his off-grid system for the shelter. He reached out to Northern Arizona Wind & Sun and spoke with Logan, one of our solar engineers. After speaking with Logan at length, they were able to decide on the perfect system for his needs. Tom needed to be able to use his power tools, run 5 oversized garage door openers, 1400 watts of LED lighting and an air compressor. Logan suggested going with an OutBack Radian prewired unit that houses the inverter, charge controller and a system display. The system would consist of (18) REC N-PEAK Solar Panels and (3) Discover AES 7.4kWh lithium batteries.
Now, that solar system design may seem like overkill based on Tom's needs, but he asked for more panels knowing that where they live, they'll have lots of winter days with cloud cover. Even on overcast days, the panels can still top off the battery bank. Speaking of batteries, Tom also asked for overage in the battery department mainly to make sure they survive through a few days of lousy weather.
After receiving the equipment Tom started the installation process with a helper. Given his experience with electrical, it was an easy task getting everything hooked up correctly. Since dealing with snow and lots of cloud cover, Tom insists that the system has held up to his expectations and performed flawlessly. Solar power was the path of least resistance compared to dealing with expense of running grid power. Solar power comes to the rescue once again!
OutBack FPR and Discover Batteries enclosed below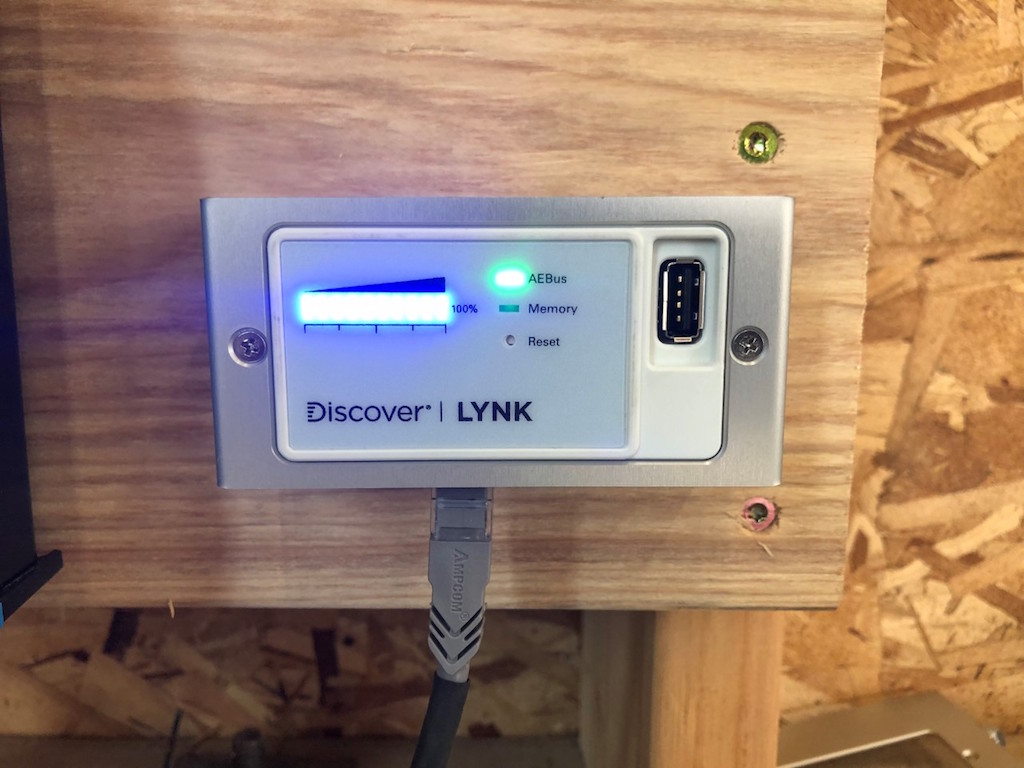 Discover LYNK Communications Bridge
Customer Feedback
It's always great to hear directly from the customer about their experience with our company. Feedback is highly valued, which allows us to deliver an even better product to the next customer.
How was the response time when you submitted an inquiry for a consultation?
It was great. In fact, compared to every other company I contacted, it was magnificent! I knew nothing whatsoever about NAWS before that first contact, and I was very positively impressed with both the speed and the quality of my first (email) conversation with Logan. That played no small part in my selection of NAWS when it was time to plunk down my money.
Were our prices competitive compared to other competitors?
In general, yes. More to the point, when I included the service that came along with the actual goods, the price was very fair. I did check a few items against other suppliers, but in those few cases where your competitors were less expensive, it was by a few percent. They'd have had to be quite a bit cheaper than that for me to have hesitated before choosing NAWS, because of the service I was getting. In other words, that service has real value for me.
Do you think the free consultation provided value to you?
Yes!
How are our customized solar systems more beneficial than out of the box solutions?
That's easy - by letting me do things like "overbuild" the panels and the batteries. That's a high value for me.
How would you rate the solar system installation process?
I will break the answer into two pieces. The physical installation of the panels was, for me, by far the hardest part. I did it by myself, with a local teenager on the ground to hand me parts and tools. I rented a big loader (the kind roofers use to bring their materials up to the roof); without that I don't think I could have done it. Maybe when I was 35 or 40, but not at 68! The rest of it was basically electrical work - something I'm very familiar with, and comfortable doing. The one exception that I can think of was the batteries. As I was installing them, I read the specifications (I could have done that earlier, I just didn't). When doing that, I discovered that the batteries shut down the charging at 0C. They're in an unheated shed in northern Utah, so they'd be getting that cold! To deal with that little challenge, I built a big, insulated box with a thermostatically controlled heater in it. So far that's been working very nicely - drawing down my batteries about 6% on the coldest nights.
Overall, did Northern AZ Wind & Sun meet your expectations?
Absolutely! I've already recommended NAWS to several people because it was such a positive experience for me.
Solar Power System Components
Below is a list of components that were purchased for this system.
Related Product Categories