Nathan has lived in Colorado for 45 years for the simple reason of wanting snow and sun all in one day. Being a photographer, he couldn't have chosen a more beautiful place to live. Choosing a lifestyle that thrived on renewable energy was important to Nathan because of his belief that it is a responsible way to live.
After noticing renewable energy gaining momentum in third world countries as well as more industrialized countries, he jumped at the opportunity when the USA introduced tax incentives for purchasing solar power systems. After 15 years of building his home, he finally had the chance to implement solar power which completed his goal of utilizing active and passive solar.
After doing extensive research based on finances and time, Nathan decided to work with Northern Arizona Wind & Sun for his project. After calculating Nathan's projected energy consumption, it was recommended to go with (27) Canadian Solar CS6K-305MS Monocrystalline 305-Watt Solar Panels. Accompanying the solar panels, we recommended the SMA Sunny Boy 7.7 7680-Watt Transformer less Grid-tie String Inverter to handle his current power needs as well any future expansion in his system.
With instruction from our staff, Nathan connected and installed the solar array as a roof-install. After getting the system up and running, the system performs just as Nathan had hoped. A smart phone app that syncs with the SMA Sunny Boy inverter allows Nathan to view energy input into his system in real-time, when he mentions brings him joy daily knowing he's using renewable energy to the fullest.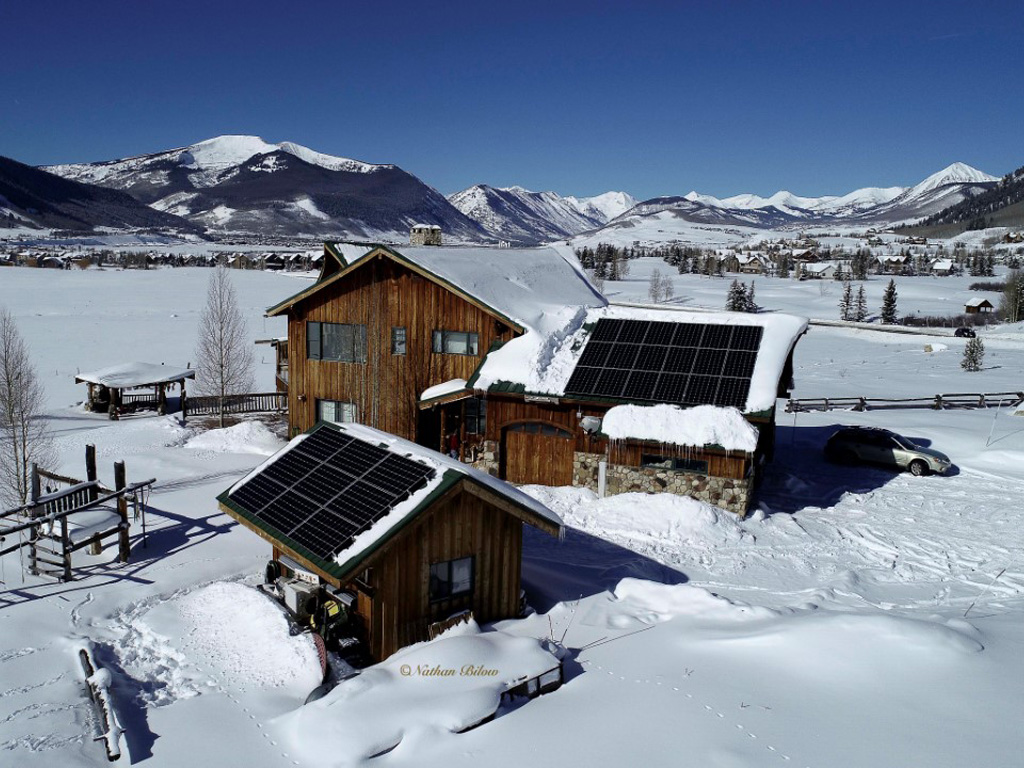 (27) Canadian Solar Panels rated at 305 watts each
Customer Feedback
It's always great to hear directly from the customer about their experience with our company. Feedback is highly valued, which allows us to deliver an even better product to the next customer.
How was the response time when you submitted an inquiry for a consultation?
Speed of processing was rapid to have my design complete by NAWS's design team. Logan, my salesperson asked me all the questions that was needed for the team to design the most efficient system for my needs.
Were our prices competitive compared to other competitors?
Even without the sales that NAWS offered, the prices were very comparable and working more with them they were very personable, so everything was like a hand in glove relationship.
Do you think the free consultation provided value to you?
I would not have gone with Northern Arizona Wind & Sun if it wasn't for a free consultation, and a great engineer (Logan) who walked me through every step and believe me it was every step.
How are our customized solar systems more beneficial than out of the box solutions?
Having the customize solar system design by NAWS to meet my needs was better than out-of-the-box solutions.
How would you rate the solar system installation process?
Since I planned this out with a local licensed electrical company, the panels I installed by myself and with someone who had installed them before, I felt it was quite easy.
Overall, did Northern AZ Wind & Sun meet your expectations?
The relationship with NAWS and myself as I mentioned was like a hand in it will fit in glove, thank you very much NAWS for your patience service and products.
Solar Power System Components
Below is a list of components that were used in this system.
Related Product Categories