This week's solar system spotlight features Jessa and Dan. They have been together for 19 years but decided that settling down wasn't the lifestyle they wanted. Owning their own business gave their family the opportunity to travel full-time. They purchased a 1972 Boles Aero Travel Trailer which they rebuilt from the frame up and hit the road.
Living on the road presents several challenges. Raising their son, Braxton, in an unconventional lifestyle can be very challenging, but the biggest hurdle was figuring out how to keep all their electrical devices running. Like Jessa and Dan, many full-time travelers prefer avoiding the RV parks and opt to boondock or dry camp to be embedded in nature. Gas generators were out of the question because of the noise pollution and propane wasn't an option for their setup.
When boondocking, the batteries in their RV trailer get a huge workout and it's difficult to keep them charged at a level that their needs require. Their batteries power all the lighting, fans, fridge, water pump, water heater, air conditioning, heater, induction stove, InstaPot, and even a blender. Other things like their laptops, cameras, phones, and miscellaneous electronic accessories also put a draw on the battery bank. Solar power was the perfect option for Jessa and Dan's travel trailer.
For many people, solar power can be daunting. There are many things to consider, such as making sure you build your system large enough to handle your power needs or choosing the right components for the job. Jessa and Dan wanted to make sure they could power everything in their travel trailer, including the AC while staying under $3,000 for the entire solar system.
After consulting with one of the solar sales engineers at Northern Arizona Wind & Sun, Jessa and Dan felt comfortable with the plan to get their solar system fully up and running. First, they were outfitted with (4) REC Solar 310 Watt N-Peak Monocrystalline Solar Panels for 1,240 watts of solar power to charge their existing 800 amp-hour AGM battery bank purchased at an earlier date. Next, the MidNite Solar MPPT 150 Charge Controller gave them reliability at a high amp rate for an affordable price.
The solar system works amazingly well with just a couple of upgrades, especially during the day. When the panels are pulling in over 400 watts, the system is powerful enough to run everything in the trailer including the AC. As expected, Jessa and Dan plan to upgrade to lithium batteries in the future to increase the performance of their solar system so they can run their AC at night without draining them. But for now, the setup is a great addition to their travel trailer and lifestyle on the road.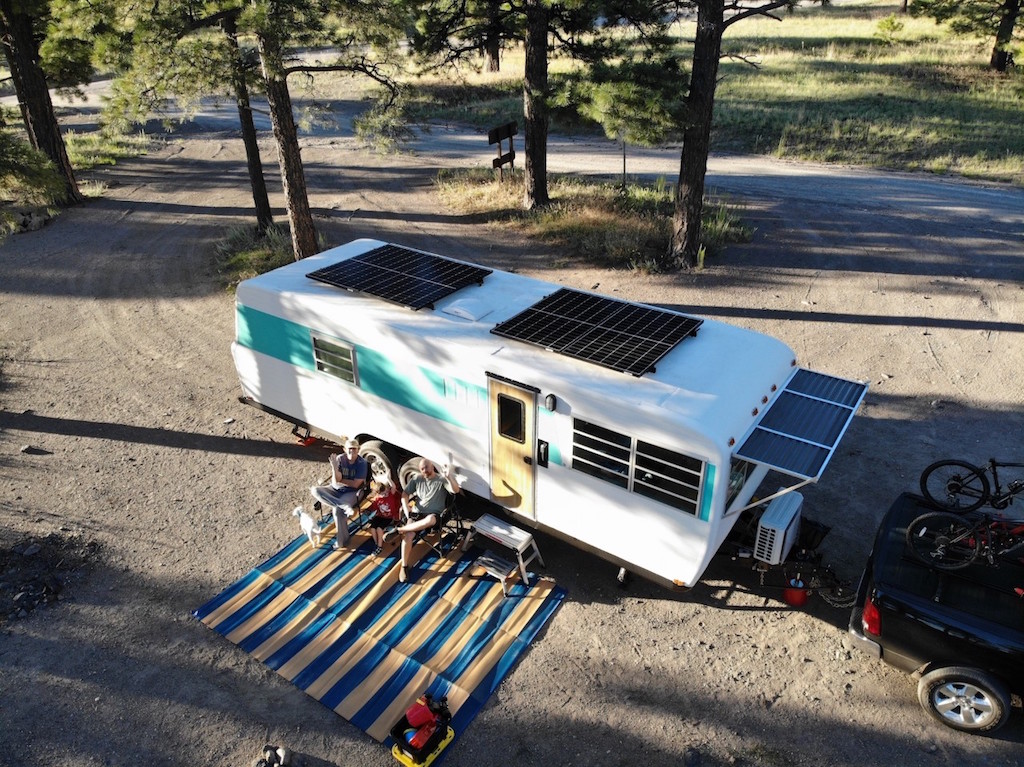 Jessa and Dan boondocking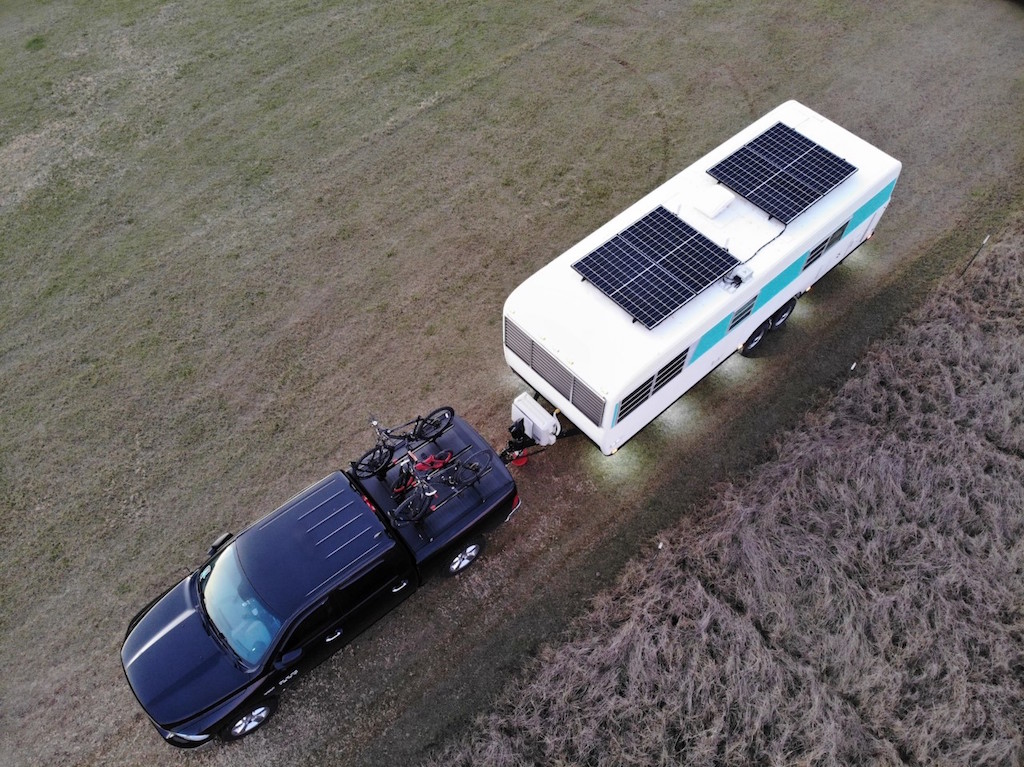 REC Solar 310 Watt N-Peak Monocrystalline Solar Panel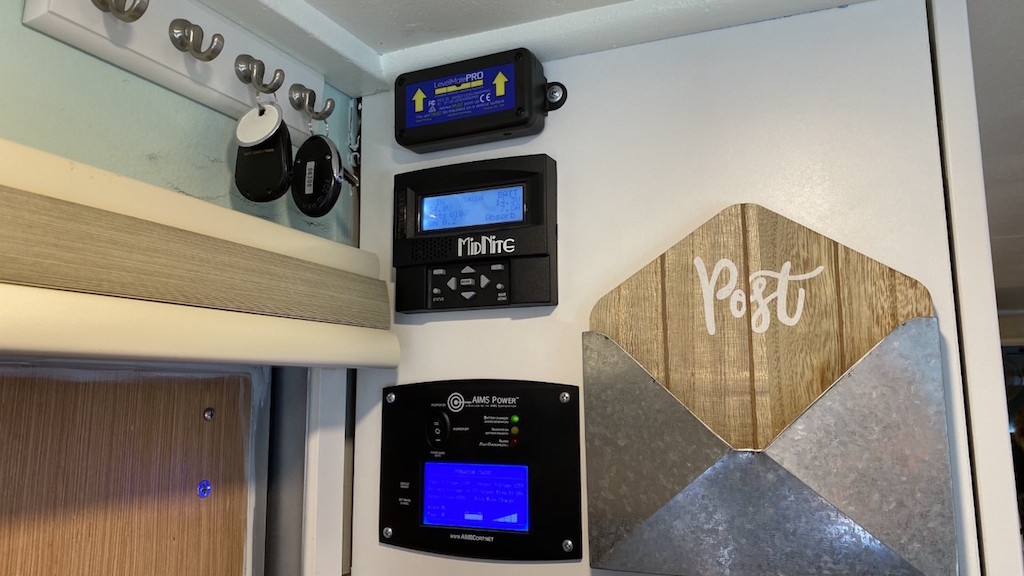 MidNite Solar MNGP Classic Graphics Panel
MidNite Solar Classic 150 MPPT Charge Controller
Customer Feedback
It's always great to hear directly from the customer about their experience with our company. Feedback is highly valued, which allows us to deliver an even better product to the next customer.
How was the response time when you submitted an inquiry for a consultation?
I walked in and I think the wait time was less than 5 minutes before I found myself sitting at the desk, talking to someone that was genuinely interested in my build and willing to help figure out how to complete my solar system.
Were our prices competitive compared to other competitors?
Price and quality are what drove us to NAWS in the first place and we purchased most of our equipment online. It wasn't until we arrived in Flagstaff to pick up the panels that we learned about the free consultation and extremely knowledgeable staff.
Do you think the free consultation provided value to you?
Absolutely. I wish I had known about the free consultation before starting the build, it would have made things easier in selecting the appropriate parts for our application.
How are our customized solar systems more beneficial than out of the box solutions?
When it comes to RV'ing, an out of the box solar solution does not work. There are too many variables from how much power you need, what appliance you use, how much room you have on the roof, etc. One needs a company that can help guide you through selecting the proper parts to build a reliable system for their RV and budget.
How would you rate the solar system installation process?
I was a bit worried about how to properly install the panels on the roof of the Travel Trailer in order to not worry about them coming loose while traveling but thanks to the knowledgeable staff at NAWS I was able to get the right tracks and hardware. We even did a double locking system on the front panels so the wind could not pull them off.
Overall, did Northern AZ Wind & Sun meet your expectations?
NAWS exceeded our expectations. In today's online shopping-world it is difficult to find a company that not only stands behind their products but has the knowledge to customize and think outside the box in order to build a proper solar system. The staff was amazing as well. From helping us figure out the panel layout and mounting. Allowing us to install the panels in their parking lot. Cutting the rails to our needs. Bringing parts out to us and even helping lift the solar panels onto the RV via forklift. The staff was extremely accommodating.
We know sooner or later we will buy some property. No matter where we decide to settle down, we know who to contact for our solar needs.
Solar Power System Components
Below is a list of components that were used in this system.
Related Product Categories