Being on the road is a desire of many, but only a few actually take the plunge. Living a mobile life has its pros and cons, but for those that live it, they understand it is important to have the everyday comforts they are used to having at home. Solar electricity gives RV owners the ability to get creative as to where they want to park their rigs. Super cramped and noisy RV parks or as is the case recently, closed state and federal campgrounds due to COVID-19, have forced campers to get creative as to where they park. Fortunately for one of our customers, he was already prepared for the worst.
Our story this week features Tom, a retired airline pilot that does his fair share of traveling in his motorhome. Tom enjoys doing hands on activities - more specifically, solar power. In 2011 Tom installed 80 ground-based solar panels on his home. When he isn't at home, he tows a 12' motorcycle trailer behind his 34' motorhome. He also owns a couple of e-bikes and an electric trailer dolly that rides inside the motorcycle trailer when traveling.
Tom needed line voltage in the trailer to charge the e-bikes and the dolly. This allows Tom to charge his e-bikes and the dolly not only when he's parked, but also when he's towing them down the road. In addition, he wanted to put solar on the motorhome to provide his own independent power source which gives him the flexibility to park anywhere without the need for grid power.
When it came to sizing the system and understanding the various options on the inverter charger and solar charge controllers, Tom had some questions. He reached out to Adam at Northern Arizona Wind & Sun for some advice. The free consultation Adam provided advised Tom to purchase (5) 325W REC Solar Panels. One of those panels is installed on the motorcycle trailer and the other four panels were installed on the motorhome. Tom also purchased a Victron 250/100 Charge Controller for the motorhome and a Victron 150/30 Charge Controller for the trailer.
These additions and the solar design provided by Northern Arizona Wind & Sun proved to give Tom the capacity to power everything in his trailer and his motorhome.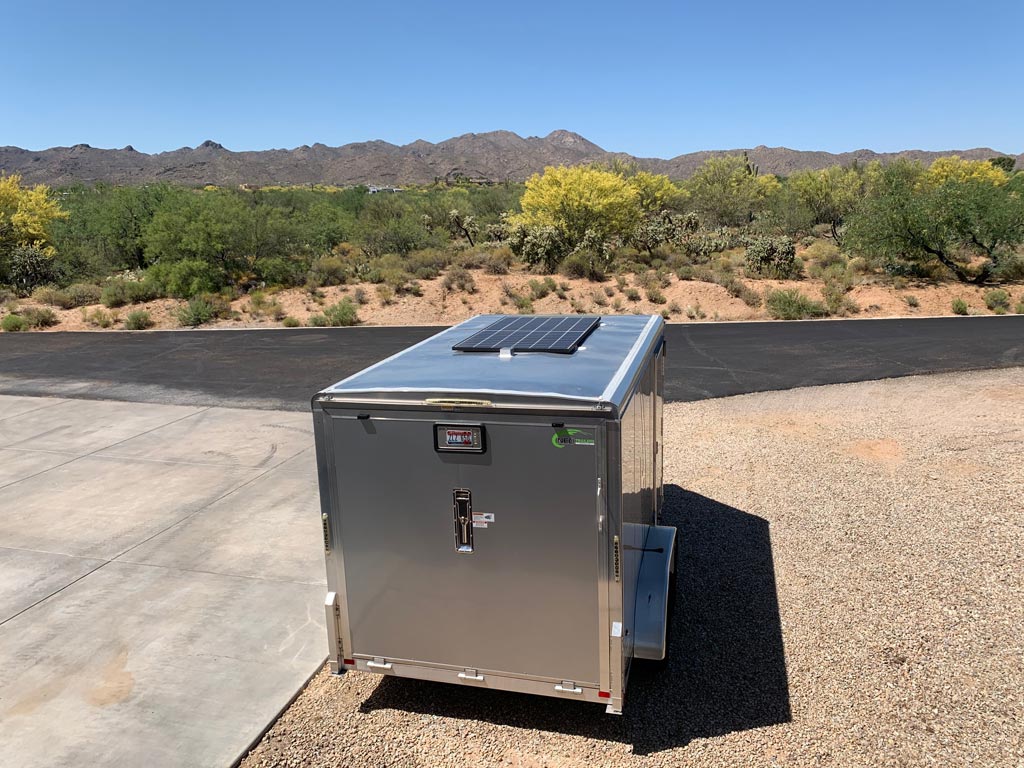 Tom's 12' trailer used for hauling his e-bikes outfitted with solar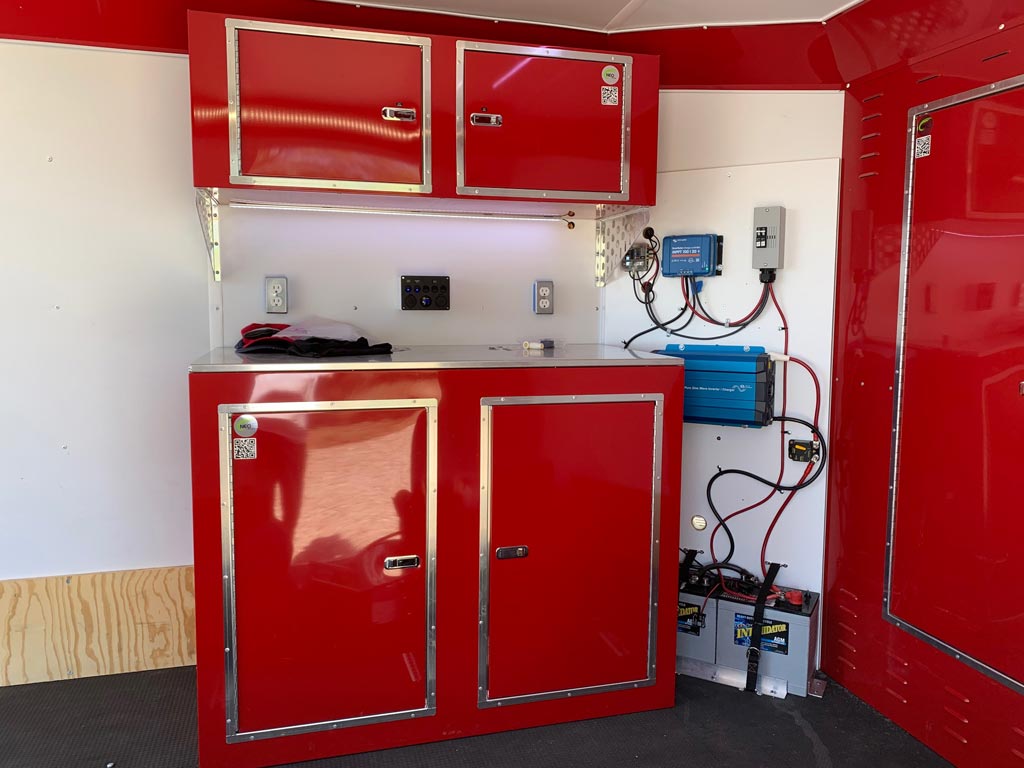 Victron Charge Controller, inverter and batteries inside the trailer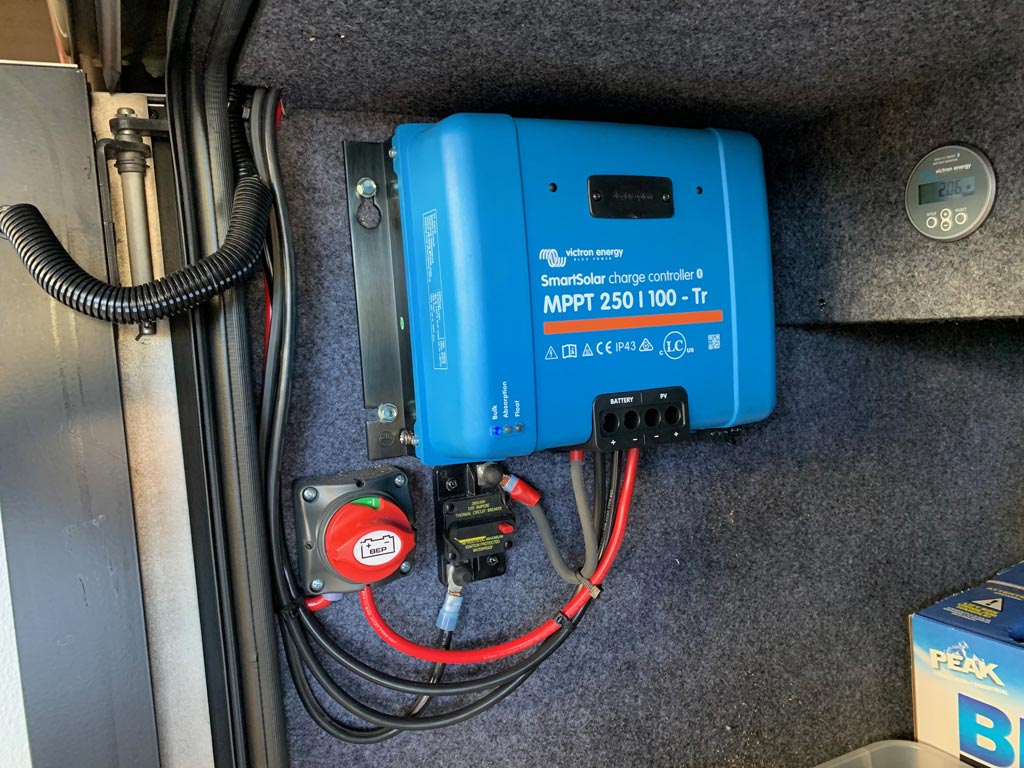 Another Victron Charge Controller inside the bay of the motorhome
Customer Feedback
It's always great to hear directly from the customer about their experience with our company. Feedback is highly valued, which allows us to deliver an even better product to the next customer.
How was the response time when you submitted an inquiry for a consultation?
Inquiry to response time was instant. Adam did an awesome job consulting and sizing the system.
Were our prices competitive compared to other competitors?
Excellent pricing!
Do you think the free consultation provided value to you?
Absolutely! Adam provided a complete engineer's drawing for the trailer install, which I followed exactly. The system works flawless and as advertised.
How are our customized solar systems more beneficial than out of the box solutions?
Not only are your systems customized and engineered to my individual installation, but I was able to choose high quality components as well.
How would you rate the solar system installation process?
I can recommend it to anyone with basic technical skills. This was such a fun, straight forward and rewarding process!
Overall, did Northern AZ Wind & Sun meet your expectations?
NAWS exceeded my expectations in every respect.
Our Take
Working with Tom was splendid! We nailed down what he needed for his trailer quickly and precisely. He needed one REC Solar panel, the REC325NP, a very impressive solar panel. It has a 325W nominal power output and comes with a 20-year product warranty and a 25-year linear power output decrease warranty of 0.5% per year. Coupled with the SmartSolar charge controller from Victron Energy and the SC-1200 inverter charger from Cotek Electronic Industries, this makes for a well-built, precisely sized, and long-lasting system. His installation work was also well done and aesthetically pleasing. The type of system he has is one that we design and create frequently.
Solar Power System Components
Below is a list of components that were used in this system.
Related Product Categories