Scott and Susan have been adventurers together since 1978 when they married at age 20. Much of their adventure came in the form of sailing. Living in the Pacific Northwest for many years gave them the opportunity to sail the Pacific Ocean as far as Maui and up to Alaska. After retiring from Microsoft and spending the bulk of their time on the west coast, they found themselves wanting to explore places east of Seattle which led them to moving their adventures from sea to land. Their first step was finding a vehicle that could get the job done.
Driven by their love to build things from existing foundations (such as their current sailboat, which was derived from an old racing sailboat hull, they found in a boat yard), Scott and Susan were on the search for something that could be built into an RV. One of the requirements was that it had to be comfortable height-wise since Scott is 6'8" tall and carry them safely around the United States for months at a time. Their goal was to find an existing rig and build out the systems and interior to their very own unique specifications.
Scott and Susan searched for their perfect RV-remodel candidate for 1.5 years until they found their RV hulk. Their search took them all the way to the hills of Northeast Tennessee thanks to an Internet search. They found a 45-foot freightliner that was originally built as a toy hauler by Optima. The vehicle was never actually used as a toy hauler because Microsoft leased it and turned it into a mobile computer lab and showroom. After the lease, almost everything was torn out of the vehicle leaving a mass of jumbled Cat 5 cabling and rotten wood. The vehicle was void of a bathroom, kitchen, and any kind of water storage tank however the engine and driveline were strong, and the aluminum cargo shell was well built, ready to support a renovated interior. After purchasing the freightliner, the couple started their 3,000-mile trek back to Seattle to start the renovation process. After spending lots of time on the open sea and naming vessels, they decided to name their land vehicle "Clyde".
After ripping most of the wiring out and preparing the inside for the build, they knew one of the first things that needed to be installed was the electrical system for the cargo area of the vehicle. Solar power was the first choice for Scott and Susan. They wanted the ability to boondock for 2-3 weeks at a time without using a gas generator or any connection to the grid. With that, they started doing their solar research and learned what it would take to get solar integrated with Clyde.
Once they made the decision to go solar, they needed to calculate their daily energy consumption. They had a basic understanding on what power draws were going to be needed for Clyde, but they were unsure how to calculate it. For instance, they needed to power the following:
Refrigerator (9 Cubic foot Unique DC Fridge)
All onboard interior lights and 5 exterior (360 degree) spotlights (12v LED)
All communications gear (wifi, router, cell booster)
Induction cooktop
Convection oven
Blender
Food processor
Coffee pot
Multi Pot / Pressure cooker
Slow cooker
Electric shaver
Electric toothbrush
Hair dryer
Water pumps
Domestic water
Hydronic heating system
Aux electric heaters (2)
Computer workstations (2)
Large LED TV (55 inch)
DJI Drone
3 cameras
2 iPhones
1 SPOT sat. communications device
Cooling roof vent/fans (2)
9' x 8' Lift gate / back porch
Anyone can calculate their energy needs by using our solar power calculator. Watch this video for an in-depth explanation on how to use this resourceful tool.
After spending some time trying to calculate their energy usage, they did not feel confident in their numbers. They decided to reach out to Northern Arizona Wind & Sun to really refine those calculations and have a system designed to specifically fit their needs. Logan, one of our engineers, was able to get down the specifics of their needs and size an appropriate system.
Logan suggested replacing much of their existing equipment, except the inverters. He helped them size the solar array and a charge controller, upgrade the battery monitor from an older BMV to the Victron Lynx system and specified all the cables sizes and breakers. He also added a Victron Color Control GX display to interface with the new equipment and allow them to remote monitor the system over the internet. The system install went perfectly and worked as expected powering everything in their wish list.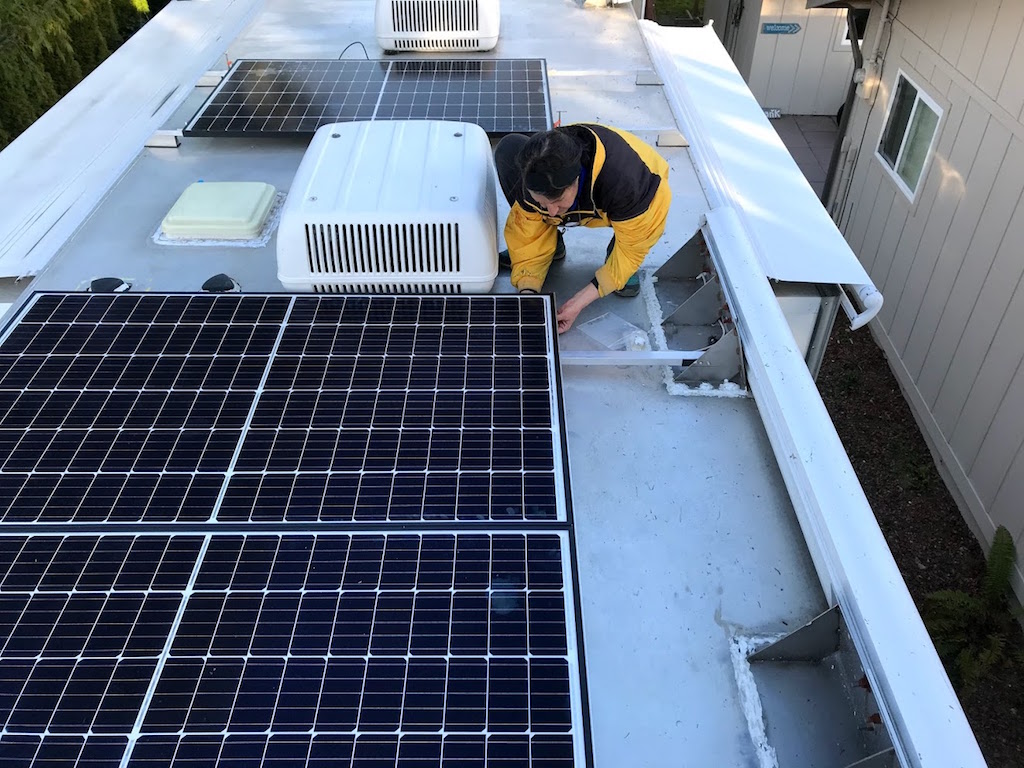 REC Panels going on top of "Clyde"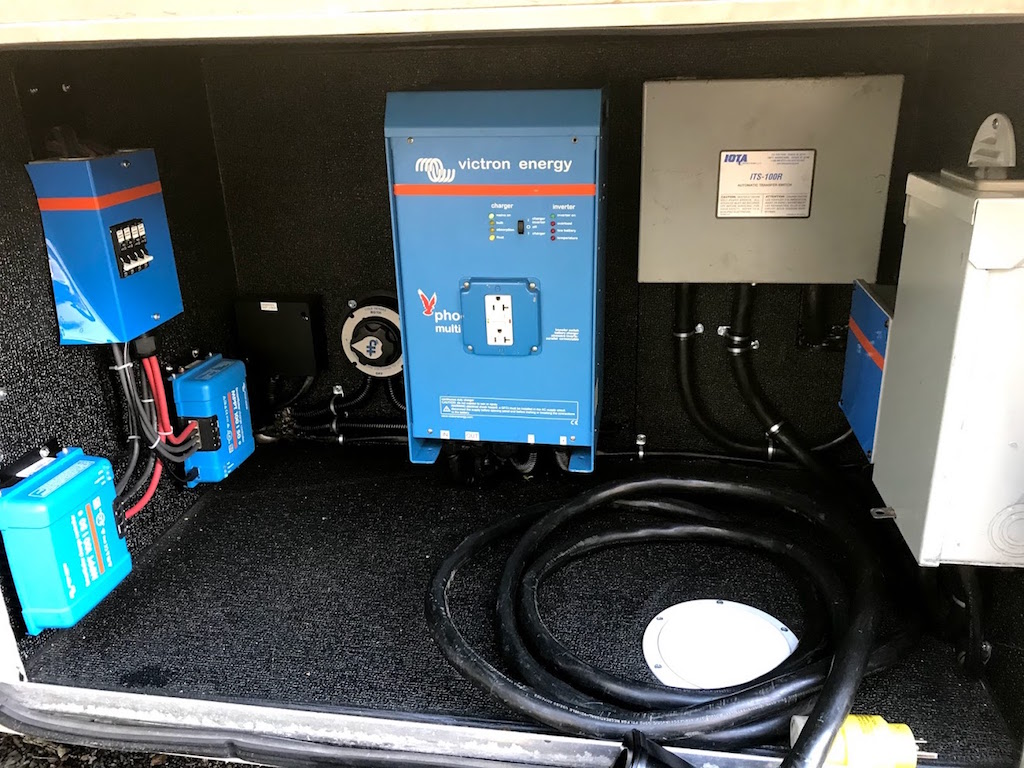 Power panel bay with Victron components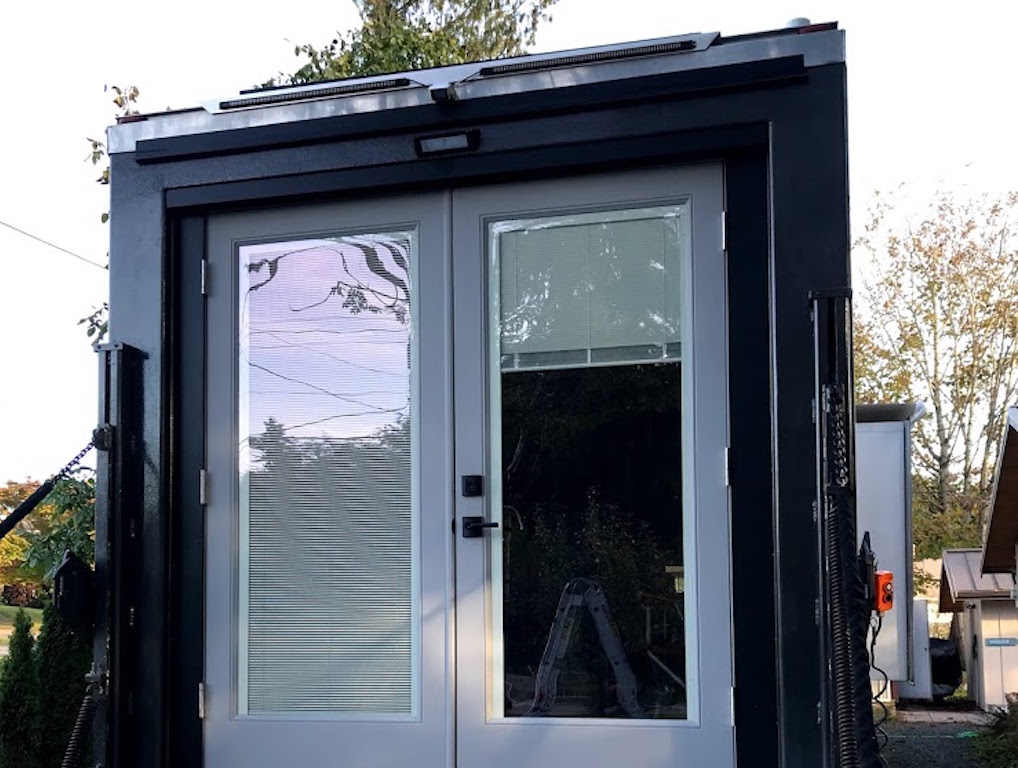 Entrance to the 45-ft freightliner
Large renovated body of "Clyde"
Customer Feedback
It's always great to hear directly from the customer about their experience with our company. Feedback is highly valued, which allows us to deliver an even better product to the next customer.
How was the response time when you submitted an inquiry for a consultation?
We called NAWS and Logan was the specialist that answered the phone. He did not know anything about us. We had so many questions floating around in our heads that it was difficult for us to know where to start. Fortunately, Logan was experienced with excited but clueless customers. Once he understood that we were looking for a solar package to power our boondocking RV desires, he started asking questions and walked us through the process of designing a system just for us. We had some Victron components left over from when Microsoft leased the rig and we were hoping to reuse them in the new system. Logan was great. He did some research to make sure our components would work together with the system he was designing for us. Once we had Logan's schematic design and parts list in our hand, it was very easy to put our purchase order in with NAWS. We could see and understand how everything would work together; and because we were building Clyde in Seattle and not in Flagstaff, we were going to try and do the installation ourselves.
Were our prices competitive compared to other competitors?
NAWS pricing was extremely competitive. When you factor in the expert consulting and system design, there was no one even close to the value proposition that NAWS offered.
Do you think the free consultation provided value to you?
YES! It is quite simple. Without the consultation service, we would not have been a NAWS customer.
How are our customized solar systems more beneficial than out of the box solutions?
Because we owned a Victron inverter (Microsoft left it for us) we needed a system that took advantage of our existing parts. NAWS took every one of our existing parts and integrated them into the final solution.
How would you rate the solar system installation process?
Really FUN! We loved learning about all the solar connectors, solar controllers, system displays, etc. that go into a quality installation. We had CONFIDENCE we were doing the installation of the right parts - the right way - because NAWS gave us everything we needed to move ahead…and we were complete novices with solar (and amateurs with electrical systems in general).
Logan was great about answering our questions. If he wasn't available and we needed an answer, it seemed like any of the techs at NAWS could step in and answer our questions. The schematic design that Logan created was our north star during the whole installation process. It made what could have been a confusing installation into an enjoyable - easily understandable – follow the picture – installation.
Overall, did Northern AZ Wind & Sun meet your expectations?
YES!! We are big fans of NAWS. We hope to travel through Flagstaff on our lap around America and bring the whole team some nice fresh sweet rolls (purchased locally) and good Seattle coffee (we might bring the coffee with us). We look forward to meeting Logan and the rest of the team face-to-face.
Solar Power System Components
Below is a list of components that were purchased for this system.
Related Product Categories