Lloyd, a retired aerospace purchasing agent travels with his wife and dog in a 30 ft travel trailer. They travel part-time but usually stay on the road for months at the time. Lloyd is a DIY like many others doing his own mods and maintenance on the travel trailer. For them, traveling on the road has become a way of life that required learning how to adapt, especially when it comes to a reliable power source.
As has been the case in several other customer stories, RVers prefer to stay away from the campgrounds with hookups or at least have the ability to stay at more basic campgrounds that may not have hookups, which tend to be less crowded. Many enjoy being off the beaten path for the solitude and privacy while some just prefer not listening to gas generators run. Others want to be in the company of a magnificent view that you normally can't capture in a campground. Lloyd and his wife fall into this same category. Unfortunately, when there are no power hookups you can't live your life normally when it comes to running electric devices that you need daily. Being in a location away from the crowds requires an entirely different solution when it comes to power.
Lloyd grew tired of waking up to dead batteries and solar seemed to be the best option for a quiet, eco-friendly solution to having power while boondocking. Their challenge was finding a system that could handle running a television, coffee maker, toaster, microwave, curling iron, blow dryer, furnace and multiple small items like phones and computers. Calculating these items can be done using our solar calculator, which digs down into the details of what you expect to run off your solar power system. The solar calculator can get very specific down to the type of device, number of devices and how often you intend on using each device. This helps you as well as our engineers when designing a solar system that's perfectly tailored to fit your specific needs.
After calculating Lloyd's energy consumption requirements, our team designed a system that consisted of (3) REC Solar REC370AA Alpha Series 370-Watt Modules, Victron Energy MultiPlus 3000-Watt 12 Volt Inverter & 120 Amp Battery Charger, Victron Energy SmartSolar MPPT 150/85-Tr Solar Charge Controller and (3) Battle Born 100aH Lithium Batteries.
With the design of Lloyd's solar power system completed, he made the trip from Washington down to Flagstaff, Arizona. He opted to have our sister-company, Mobile Solar Electric, install the system for the RV.
After a quick and seamless installation, Lloyd and his family were off to the hit road to tackle more of their boondocking adventures, completely off-grid.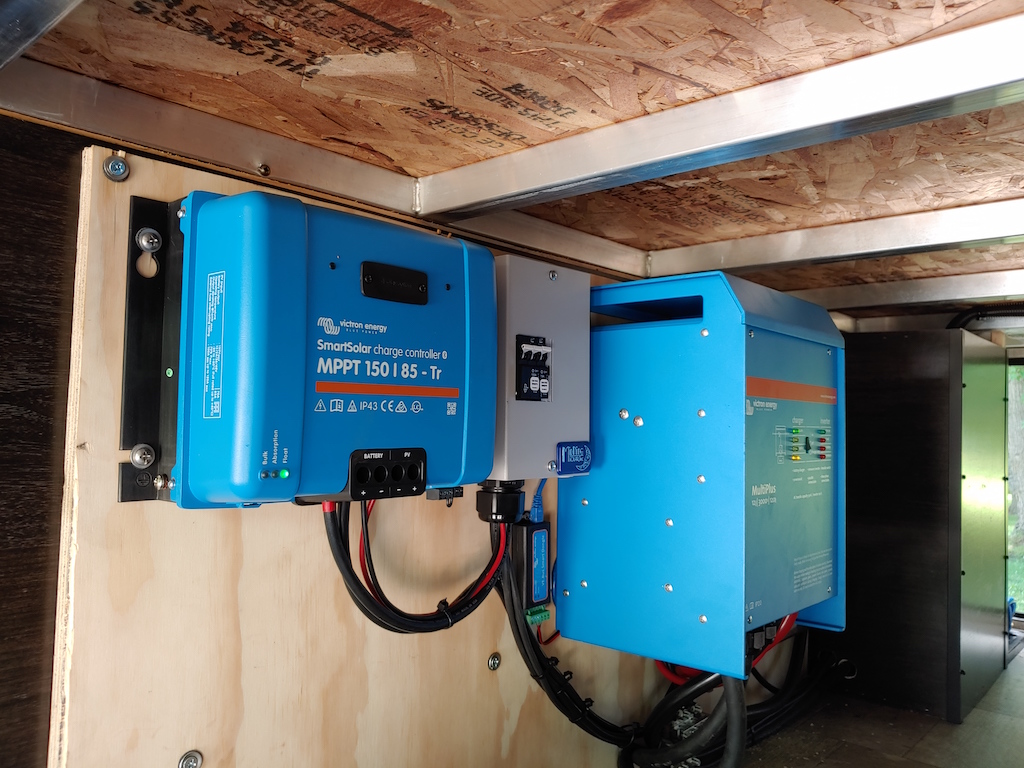 Victron Charge Controller and Inverter tucked away nicely in a storage compartment
(3) Battle Born Lithium Batteries connected to a Lynx Power In 1000 unit
Customer Feedback
It's always great to hear directly from the customer about their experience with our company. Feedback is highly valued, which allows us to deliver an even better product to the next customer.
How was the response time when you submitted an inquiry for a consultation?
I thought the response time was reasonable for the type of estimate we received. It was very detailed and exceeded my expectations. We wanted Battleborn batteries and Victron components and that's what was quoted.
Were our prices competitive compared to other competitors?
I think the price was very fair. I shopped around and was not able to find the equipment much cheaper anywhere. Most other places mark up the equipment.
Do you think the free consultation provided value to you?
Absolutely. Being able to speak to a knowledgeable tech gave me the confidence I needed to make the purchase.
How are our customized solar systems more beneficial than out of the box solutions?
I was able to scope the system to meet my needs with quality parts.
How would you rate the solar system installation process?
A+ Extremely well designed and the pre-assembly makes the installation go very fast. It doesn't hurt to have highly trained professional techs doing the work.
Overall, did Northern AZ Wind & Sun meet your expectations?
Every part of the process start to finish has exceeded my expectations. I'm so glad we brought our trailer from Washington to Flagstaff for the installation. I could have settled for a local installation but couldn't find anyone that quoted a similar system or parts. NAWS listened to my needs and quoted what I wanted then helped me understand some details I was unsure of.
Solar Power System Components
Below is a list of components that were used in this system.
Related Product Categories