This week's customer story features Jody and Shelle who spend their life on the road as full-time RVers in their 40' Fifth Wheel. Both Jody and Shelle have jobs that allow them to travel the country with complete freedom. Jody is a self-employed Solutions Architect and Shelle is a nature/travel photographer. The couple stays active on social media and vlogs about their experiences traveling on the road which helps keep their friends and family back home informed about their whereabouts.
Jody and Shelle want to be as close to nature as possible. That means avoiding crowded RV parks like most RVers that seek out solar power systems. Being they have technical jobs they needed solar power added to their rig. Initially, they started with a couple of 100-watt solar panels and an off-brand 175-watt modified sine wave inverter. While this quick setup was ok for the bare necessities, they wanted to have more power to enjoy more creature comforts while on the road.
Passing through Flagstaff on their way to Mesa, Jody and Shelle stopped in and spoke with Adam about a solar power system design to increase their power needs. Their power needs were basic such as powering a microwave, television, internet hotspot, two laptops, two cell phones, and all the 12v equipment that comes standard in RVs. Given the power needs described, Adam came up with a solid solar power system that would give them enough juice to get the job done and still have power left over.
Below are basic design specifications for the solar system:
Primary Solar: REC N-Peak Series 315 Watt Monocrystalline Solar Panel X4
Charge Controller: Victron 100 | 50 MPPT X2
Inverter/Charger: Victron 2,000 watt MultiPlus
Batteries: 6v Lifeline AGM - 4 @ 300 AH = 600 AH @12v
Below are the specs on their previous system:
Secondary Solar: WindyNation 200 Watt Solar Panel Kit
Inverter/Charger: 175-watt off-brand
Batteries: 12v Lead-Acid (Flooded) - 4 @ 148.5 AH = 297 AH @12v
As you can see, Jody and Shelle increased their PV input by 6 times and drastically increased their power storage while adding in quality Victron components.
REC N-Peak Series 315 Watt Monocrystalline Solar Panels mounted on the fifth wheel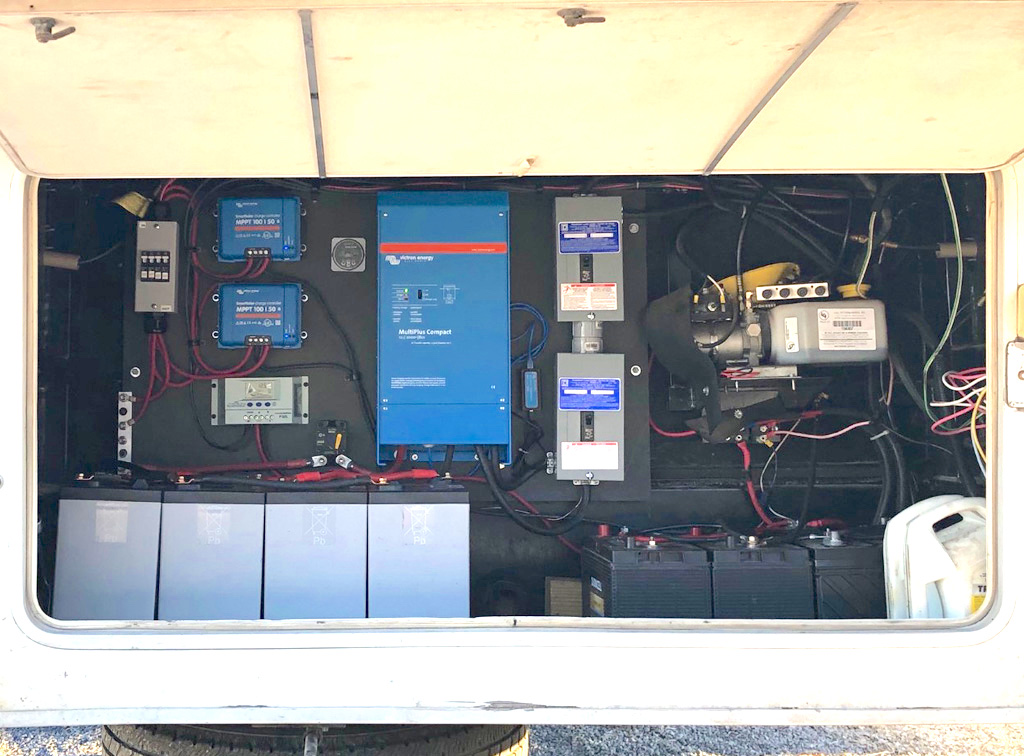 Storage area housing Victron Inverter, Charge Controllers and AGM batteries
Customer Feedback
It's always great to hear directly from the customer about their experience with our company. Feedback is highly valued, which allows us to deliver an even better product to the next customer.
How was the response time when you submitted an inquiry for a consultation?
We were walk-in customers so the response time was awesome! We were passing through Flagstaff on our way to Mesa and decided to stop in to see if we could find something we would want. Turns out, the cards were in our favor on that day.
Were our prices competitive compared to other competitors?
I had been researching solar products for most of 2019, so there are places and ways to get cheaper solar components, but I liked the one-stop-shop convenience of Northern AZ Wind and Sun. A lot of NAWS' hardware was the same or cheaper than I could get on my own, and they were very accommodating to work with us within our budget.
Do you think the free consultation provided value to you?
Absolutely. Adam was very knowledgeable and when it was all said and done, I didn't feel like I was being pressed to go in one direction or another. He really listened to what our needs/wants were and worked hard to build a kit to meet them.
How are our customized solar systems more beneficial than out of the box solutions?
This is my first attempt at solar, and the only other system I have experience with was a cheap $300 kit. While out of the box systems can be fine for people who just need supplemental power, the ability to build a completely customized system really helps those of us who spend nearly 100% of our time in our RV.
How would you rate the solar system installation process?
We've been in NE Oklahoma for the past few months and are just now getting back down south to really test out our solar. We are 100% happy with our product and the ease of installation. Any questions I had, Adam was quick to respond and help me understand my next step.
Overall, did Northern AZ Wind & Sun meet your expectations?
I would say that NAWS exceeded our expectations with service during and AFTER the sale. So often these days, once a sale is made, the support falls on its face. NAWS is top-notch with their after-sale and technical support. The only regret I have is that we didn't have more time to stay in the area and install the system while we were there...though I think Adam would have been owed a steak dinner for the number of face-to-face visits I would have made with him.
Our Take
Jody came in looking to add solar power capability to his RV and after his load evaluation, I knew exactly what he needed – we saw that 4 panels would be a good amount for him, as well as a 2000W inverter. After a few emails back and forth, the completion of a wiring schematic, and Jody's assembly, his system was fully operational.
Solar Power System Components
Below is a list of components that were used in this system.
Related Product Categories
Solar Price Breakdown
System Cost: $3,352
Federal Tax Incentive: Qualifies for $1,005 U.S. Federal Tax Credit (if installed before 2019)