Victron Energy - The professional choice for independent electric power...
---
Are you looking for a reliable and affordable solution for your off-grid solar power needs? We want to tell you about Victron Energy, a trusted partner for off-grid solar power solutions. Since 1975, they have been providing high-quality power conversion equipment for multiple applications and challenges. Our product offerings include inverters, chargers, batteries, and charge controllers that can deliver clean and reliable energy to your home, business, or RV. With advanced cutting-edge technology and features such as pure sine wave output, high peak power performance, Bluetooth connectivity and remote management, you can enjoy the benefits of solar power without compromising on convenience. On this page, we will show you some of the amazing products and how they can help you achieve your off-grid goals.
Victron Energy Inverters:
Besides solar modules, the power inverter is the heart of a renewable energy system. It's what converts the DC power from batteries or solar panels into usable grid-quality AC power to run your home, cabin, RV, or boat. Victron's inverters are durable and versatile enough to handle many different types of electrical loads, and the pure sine wave output guarantees a smooth and stable power supply for your sensitive electronics. Moreover, their high peak power performance enables them to start up inductive loads, motors, and compressors with ease. For customers interested in coupling your solar system with the utility grid, Victron offers some of the best solutions for a grid-connected system. The MultiPlus-II inverter is one of their most popular models for this purpose. In the event of a grid failure, or when shore or generator power is disconnected, the inverter is automatically activated and takes over the supply to the connected loads. This happens so fast (less than 20 milliseconds) that computers and other electronic equipment will continue to operate without disruption. For large projects needing high power split phase or three phase the Quattro inverters can be used. These inverters can be configured to suite a variety of unique high power off-gird applications. These inverters can support both DC couple and AC coupled micro grid projects. For strictly inverter applications, Victron manufactures the popular Phoenix line of inverters. They are available in a wide range of power output and capable of meeting almost any standalone power requirement. Victron's design criteria is to produce a true sine wave inverter with optimized efficiency but without compromising performance. This results in a top-quality versatile product with compact dimensions and capable of supplying dependable power to any load.
Victron Energy Solar Charge Controllers:
A solar charge controller is essential for any solar system that relies upon batteries; it regulates the voltage and current from your panels, ensuring optimal charging and preventing overcharging. Victron's MPPT (Maximum Power Point Tracking) charge controllers are one of the most advanced and efficient controllers on the market. They can quickly adjust to the changing conditions of sunlight and temperature, and increase the energy harvest by up to 30% compared to other technology like PWM. They also have several features that make them unique, such as compatibility with Victron's full line of Venus GX devices (Cerbo GX), Bluetooth connectivity with the VictronConnect app, and ultra-fast tracking. They offer solutions for a wide range of solar panel voltage inputs (up to 450VDC) and charging current outputs (from 10A to 200A). The chargers support nearly all battery types with nominal voltages of 12V, 24V, 36V and 48V, including flooded, AGM, gel, and lithium batteries. Some models in the SmartSolar series also have the option of adding a digital display that can show the battery voltage, charge state, PV power, and load output, along with 30-day historical values. Whether you need a small or large solar system, Victron's charge controllers can meet your needs.
Victron Energy Deep Cycle Batteries:
Victron Energy equipment is compatible with nearly all battery chemistries. Additionally, their advanced communication system makes them especially compatible with advanced lithium iron phosphate (LiFePO4) deep cycle batteries. Using a Venus GX device can allow for advanced closed loop communications with a wide selection of compatible batteries. This offers a safer and more resilient solution than the traditional constant current constant voltage charging methods. The built-in battery management system (BMS) that protects the battery from overcharging, over-discharging, overheating, and short-circuiting is also able to communicate to the Victron system, relaying accurate information about the battery state, and controlling the charging/discharging of the battery system. This very advance and cohesive solution offers peace of mind that the batteries powering your system will be properly charged and discharged throughout the life of the system.
Victon Energy Quality and Dependability:
With Victron inverters and charge controllers, you can have a reliable and efficient solar power system that suits your off-grid needs. You can enjoy the convenience of Bluetooth connectivity and remote management through the VRM site and VictronConnect app on your smartphone (available for both iPhone and Android), tablet, or Mac/PC. This allows you to monitor and control your system from anywhere with an internet connection, anytime, and access historical data and graphs to track your system performance. Victron Energy's solar equipment is a reliable, efficient, and affordable solution for your energy needs. Their advanced charge controllers, versatile inverters and battery systems make it easy to set up a seamless and efficient solar power system. By choosing Victron Energy, you are making a smart investment in a cleaner and more sustainable future. Contact us today for a free consultation and quote on your solar power system. We will help you design a customized solution that meets your needs and budget. Victron Energy's equipment along with NAZ Solar-Electric's lifetime support will give you the peace of mind that you deserve so that you can enjoy reliable and affordable solar power.
---
Take a look at these Victron Energy PDF brochures to learn more about their products, browse equipment technical specifications, and see examples of Victron Energy solar systems.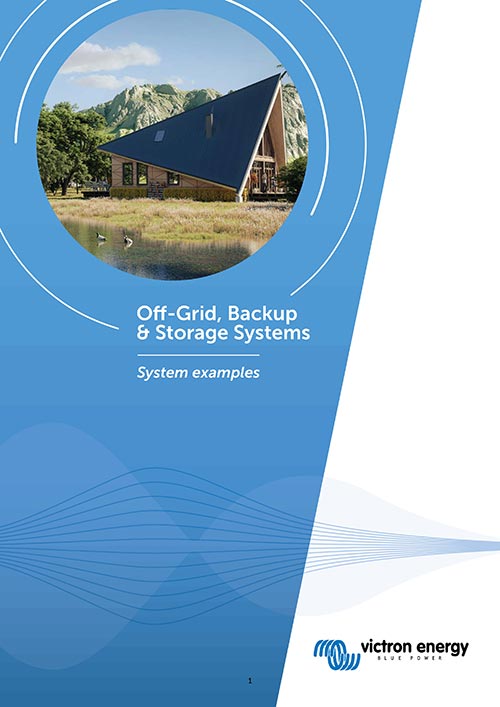 ---
Be sure to check out our YouTube playlist below featuring all of our videos related to Victron Energy and learn why we like the brand so much!
You can also browse our library of videos by visiting the NAZ Solar Electric YouTube channel.
---
Toll free: (800) 383-0195
Email us at: sales@solar-electric.com