The Following Offers and Promotions are Currently Available:
Free Ground Shipping
Your order subtotal must be a minimum of $500.

Shipping charges and tax do not count towards the $500 minimum order.

This offer cannot be applied to clearance or freight items and certain ground items.

The only shipping methods that can take advantage of this offer are UPS Ground and USPS Priority.

This offer is only available in the continental United States (excludes Hawaii and Alaska).

NOTE: the item you are purchasing must be able to ship via ground. Some items can only ship via freight.
When your shopping cart totals $500 or more with qualifying items, and your shipping address is located in the continental United States, a free shipping option will appear.
---
$300 Flat Rate Shipping on Select Solar Kits!
We're offering a special $300 flat shipping rate on many of our solar kits. If a kit qualifies, the flat rate shipping option will appear at checkout.
This offer is only valid in the continental United States.
It covers both freight and/or ground shipping for all items in the kit.
We will determine which shipping carrier to use (USPS, UPS, LTL Freight, etc.)
If your address requires a specific shipping method to be used, you must let us know in the order comments.
All eligible solar kits will display a badge advertising the flat rate (see image below)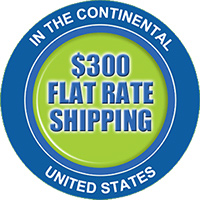 You can browse through all of our solar kit categories and you'll see the flat rate image on all eligible kits.
---
Toll free: (800) 383-0195
Email us at: sales@solar-electric.com