Company News and Announcements
---
Our last sale of the year starts Tuesday, November 21st!
Save 8% with the code: KIYAY8
Sale ends Nov. 30th. For all the details, please see our sales and promotions page.
---
Our Pre-sale starts November 15! Sign up for our newsletter to get the code delivered to your inbox. If you don't want to sign up for the newsletter, you can call our team or chat live on the website to get the code between Nov. 15 and Nov. 20.
Our pre-sale will be good for five whole days!
Sign up for our newsletter here:

Prefer to talk to a human? Call 1.800.383.0195 M-F 8 a.m. to 5 p.m. MST or chat live on our website M-F 8 a.m. to 5 p.m. MST.
Presale ends Nov. 20, Public sale starts Nov. 21
---
Win up to $2,500 in NAZ Store Credit!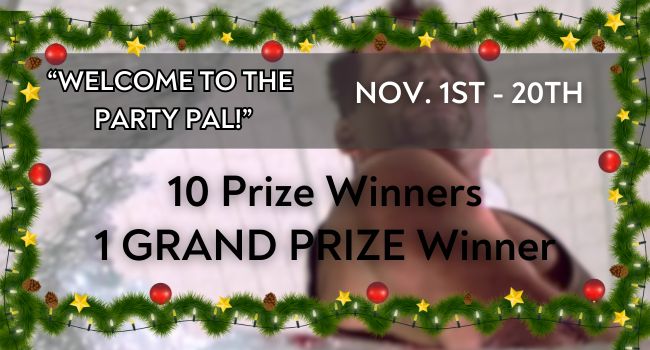 We are excited to announce that our BIG GIVEAWAY starts Wednesday, November 1st!

Get ready to say "Yippie Ki Yay!" because we are giving away $2500 in NAZ credit towards any products (no minimum, valid until June 30, 2024) and 10 lucky winners will receive a $150 gift card and a Die Hard Holiday Box filled with amazing Die Hard themed prizes!

To enter, simply head over to our promotions page and follow the instructions. All entries are tracked through the promotions page, follow the links to get your entries. We've provided a lot of ways to get entries every day!

Hurry, the promotion ends on November 20th! Don't miss out on this amazing opportunity to win big and celebrate the holiday season with Die Hard-themed prizes.

Remember to keep an eye on your inbox and follow us on social media for more exciting updates and announcements. Welcome to the party pal!

ALL OFFICIAL RULES ARE POSTED ON THE PROMOTIONS PAGE.
---
Webinar:
Sol-Ark Presents: L3 LimitLess HV Series and commercial hybrid inverters. Join John Cromer, senior technical manager at Sol-Ark, and James Hall, Engineering and Sales Manager for NAZ Solar Electric, to learn more about the L3 Limitless HV Series and commercial hybrid inverters.
You will also be able to meet and hear from Therese Umholtz, Wholesale Manager for NAZ Solar Electric, and Lauren W. with Sol-Ark, the Arizona Regional Sales Manager.
---
Get excited, because November 1st marks the start of our amazing giveaway! We're giving away some incredible prizes to 10 lucky winners, and you won't want to miss out. Keep an eye on our social media pages and website for more details on how to enter and win. Click the link to sign up for emails so you don't miss the announcement when entries open up!
Trust us, this is a giveaway you won't want to miss! Yippie Ki Yay Solar Lovers!
---
This is a limited-time offer good through October 31, 2023.
Fortress Power Envy 8K Inverter and eFlex 5.4 Bundled Promotion - $500 Off The Regular Price!

Fortress Power eFlex 5.4 and DuraRack Bundled Promotion - Four Batteries For The Price of Three!

---
Our Labor Day sale will start on August 23! To get all presale information including pre-sale discounts and special deals please sing up for the NAWS Newsletter below:

---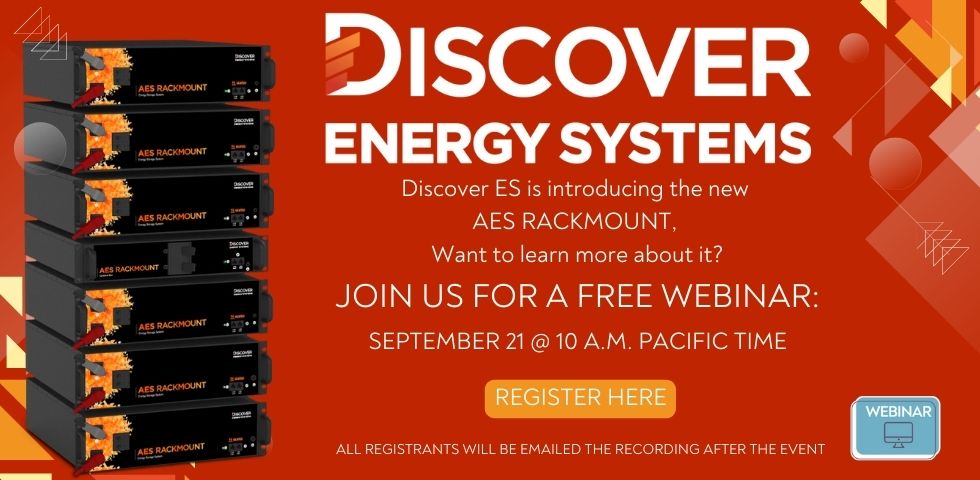 Free Discover Energy Systems Webinar.
Join NAZ Solar Electric and Discover Energy Systems for an introduction to the brand new AES Rackmount. This new product by Discover will be available in October so join us for this preview of this exciting new system by one of the industry leaders. Our team has had the opportunity to test and use this product and we are excited to share it with you! Resister here. All registrants will be emailed the recording after the event. Please register at the link below!
---
Free Pytes Batteries Webinar.
NAZ Solar Electric and Pytes invite you to our free webinar: "Introducing Pytes Batteries" on August 8th, 2023 from 4-5 PM PT!

Join us as we introduce the features and benefits of Pytes batteries and equipment. This webinar is hosted by NAZ Solar Electric and is completely free of charge. Please register at the link below!
---
Victron, Discover, and NAZ to host free on-site training event in Flagstaff July 21 & 22.
NAZ Solar Electric is excited to announce we are once again hosting a live training event for our customers in Flagstaff, Arizona. This event is free to attend but attendance is limited to 25 participants per day.

During this one-day hands-on training, you will work in small groups to commission and troubleshoot a small-scale system, utilizing Victron & Discover products, working alongside experienced trainers from Victron, Discover and NAZ Solar Electric who will be there to assist along the way.

Lunch will be provided, and coffee (from the Victron-powered trailer) will be available throughout the day.

This event will be held at our second warehouse in Flagstaff on Friday, July 21st and Saturday, July 22nd.

Secure your spot by registering at the links below.
If you have questions about this event, please email James Hall.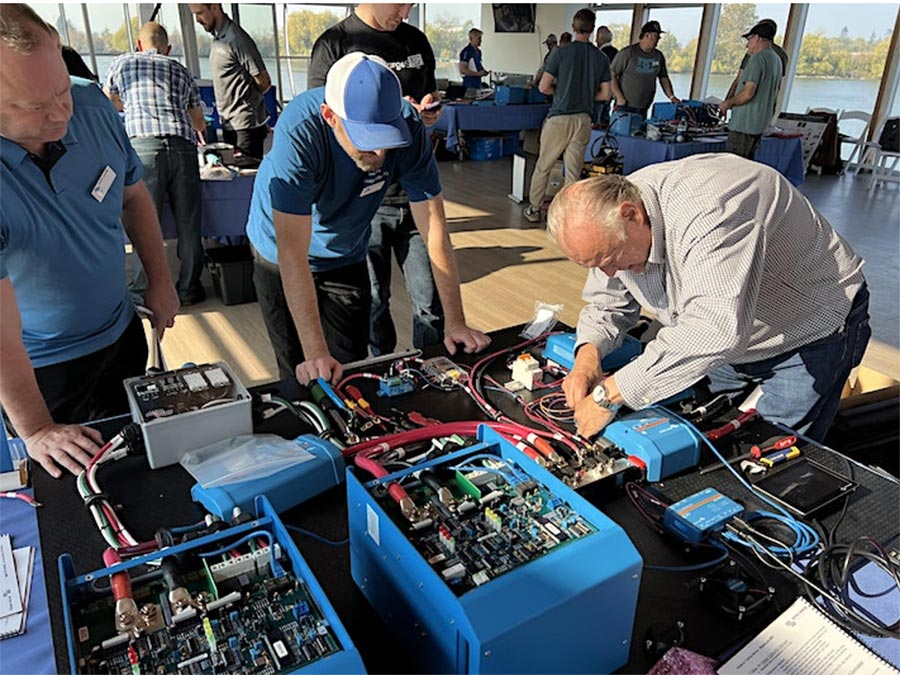 ---
Reduced equipment prices across major brands bring relief to consumers.
Great news for residential consumers and installers alike; recent price reductions in the solar industry are a welcome relief.
Consumers are taking advantage of major brands lowering pricing, sparking a late second-quarter spike in solar equipment sales.
It's good to see that manufacturers are taking steps to make solar energy more affordable and accessible. We have recently seen price drops in brands such as: Victron, Sol-Ark, REC, Pytes, Outback, and more and we are passing those savings on to you!


PRICE DROPS
Sol-Ark - Big savings!!
Victron -  Log in to your NAZ account to see the lowest available pricing on these products. Prices have dropped from 5-14% depending on the product!
120V Phoenix VE.Direct Inverters, most models 
120V Multis and MultiPlus-II, various models 
Most GX Devices, as well as GX Touch and its accessories: 
Various accessories 
All BMVs 
BatteryProtect 12/24V 65A 
SmartSolar MPPTs Chargers. 75/10 up to 150/45 
Lead-acid batteries 
Various lithium batteries
REC Solar Panels - We haven't seen pricing like this since pre-2020! This is a great time to replace degraded panels or increase your PV input.
Other price drops: 
Outback Power and Pytes batteries have also come down in price, rounding out your power options.
We have products in stock and ready to ship today!
If you have questions about a particular product or pricing, please reach out to our solar application engineers and they can make sure you are getting the best price for the products you need.
Through industry highs and lows, NAZ Solar Electric continues to buy in volume to help our customers get plugged in to solar at the best possible value with the best possible equipment. If you have questions about a particular product or pricing, please reach out to our solar application engineers and they can make sure you are getting the best price for the products you need.
We also offer wholesale pricing for businesses that qualify. You can apply for our
wholesale program here
.
---
Upcoming Webinars:
We are happy to work with great manufacturing partners who are willing to take the time to talk about their products with our customers. Our sales and wholesale team leaders will participate in these webinars to answer your questions. All webinars are recorded and hosted on our YouTube channel, so be sure to check out our past webinars!


June 20 @ 10 am PT - Fortress Battery
Fortress will discuss the compatibility, flexibility and serviceability of the eValut as well as introduce new products.
Register Here for the webinar.
July 10 @ 4:00 PT - Pytes Battery
Pytes will talk about what benefits Pytes Batteries bring to consumers as well as answer your questions.
Previous webinars can be viewed at our
webinar playlist
.
---
NAZ Solar Electric is excited to offer a direct path to financing. We have partnered with Affirm financing, a short-term lending solution. Affirm lends up to $17,500. Please call our office at 1.800.383.0195 for more information on using Affirm for your purchase.

Need help figuring out what components you need for a solar power system? Our sales and engineering team can help you design the best system to meet your solar needs.
sales@solar-electric.com
Call us at 800.383.0195
---
Webinar: Upcoming webinar with MidNite Solar as they introduce the Rosie 7048 Inverter and integration options.
James Hall, Engineering and Sales Manager has been using this inverter on his home system and will share his experiences and answer questions.
Therese Hall, wholesale manager will also be on hand to answer Installer specific questions.
Date: May 23 @ 9 AM Pacific
You can register here.
---
We are excited for the release of several new products from SMA!
If you aren't familiar with SMA Solar Technology, they are a global specialist in photovoltaic system technology and have been creating solar solutions for over 40 years. We will keep you updated on the availability of these products!
What's new in residential applications:
Sunny Boy Smart Energy – coming May 2023
This revolutionary new product by SMA can be grid forming and grid funneling. It can detach from the grid to do stand alone and is a game changer for residential applications. This is an exciting upgrade to a well-established product with a fantastic track record. Keep an eye out for more information on pre-orders.
New for commercial applications:
Tripower X models... Expected August 2023.
From the SMA website – "The Sunny Tripower X is the latest in commercial solar energy generation and the new centerpiece of the proven SMA Energy System Business. As a comprehensive solution, the integrated System Manager enables complete energy management from one platform while combining state-of-the-art technology into one device. This design ensures small- to medium-sized businesses can accommodate all energy management and needs, today and in the future.
Visit the SMA website and Check out the SMA Tripower.
SMA Sunny High-power PEAK3
From the SMA Website – "PEAK 3 stands for pure power. With its compact design, the inverter offers maximum power density at minimum weight. This results in less expensive transportation and simplified installation. In combination with the project-specific DC Combiner Boxes, the PV array can be oversized up to 150 %. The Data Manager powered by ennexOS completes the system and enables it to fulfill all of the grid operator's requirement."
Visit the SMA website and Check out the SMA Highpower.
---

We have big news!
Northern Arizona Wind and Sun is now officially NAZ Solar Electric.
Nothing has changed within the company. We haven't been bought and our operations remain the same. After more than 40 years in the business, we thought a refresh was in order.
As you know, solar has advanced tremendously in the last four decades since my father started this business. Systems are much more effective and efficient and cost a fraction of what they used to. As a result, the technology is now more accessible than ever. That's really exciting for us—because our goal is to bring the sun to everyone so that they can have the freedom to do whatever they want. This is a new chapter as NAZ helps us fulfill that mission.
We will continue to serve customers the way we always have, with expertise, approachability and service at the forefront.
Thank you for being a part of our success.
David Lauzon, Owner
Watch our brand video to learn more!
---
We have some big news coming!
On January 17th we have a big announcement.
Things that will NOT be changing:
Our ownership or our leadership
Our team
Our commitment to our customers
Our products
Our service
Northern Arizona Wind and Sun has been providing solar knowledge and equipment since 1979, and it was time to do a little update.
Stay tuned, we are excited to share what IS changing, soon!